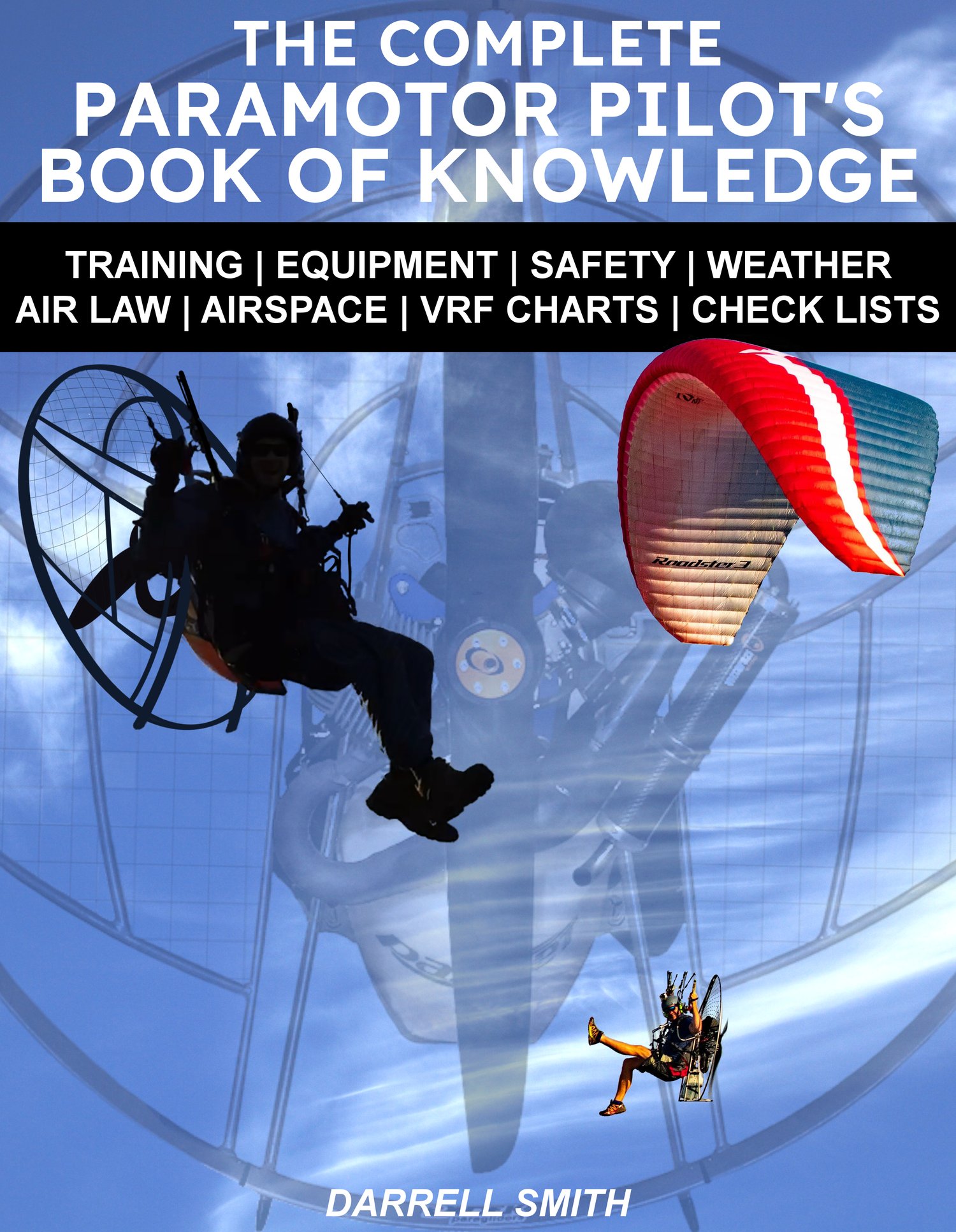 The Complete Paramotor Pilot's book of knowledge
The Complete Paramotor Pilot's Book Of Knowledge

An Amazon bestseller, reaching #1 in air sports & recreation!

This book was updated September 2023 containing a major update with an additional 54 pages, new diagrams and illustrations, updated illustrations, and added information on various aspects of the sport, plus a new section on how to read VFR charts for US and UK pilots, and a section from the CAA paramotor and Skyway code.

The Complete Paramotor Pilot's Book Of Knowledge will take you through the entire training process and beyond, and will teach you everything you need to know to become a safe and confident pilot. With helpful pictures, illustrations, and explanations of everything you need to know, from launching and landing, to handling emergencies.

Paramotor training is important, but unfortunately courses are incredibly short. Time is of the essence, so 95% of training is spent in the field ground handling, and with a few short flights. New pilots are coming away from training with less than 5 hours flight time and very little knowledge of so many important aspects of the sport. This book contains everything you need to know contained in a single book of 203 pages that you can return to whenever you need help, instead of using trial and error like many pilots do.

The book has been put together with beginners in mind, but even pilots with a few hours behind them are sure to find the information very valuable. It's designed to take you through the entire training process. You'll learn secrets that you won't be told during training, and essential information that instructors are failing to teach. Many people don't have the time to study an entire book, so everything is split up into handy bite-size sections that you can enjoy one at a time. With helpful images and illustrations and thorough explanations of everything from the theory of flight, to developing skills and confidence in the air.

Throughout the book, you'll find lots of tips and tricks, and handy yellow highlighted boxes that contain important safety information. And at the end there's even a multiple choice exam that you can take to make sure you've absorbed everything that you have learned. The book is designed to be read in the order that the sections appear, this lets you learn the basics first before moving onto the more advanced stuff, like handling wing malfunctions and emergencies.

There are sections that will appeal to foot launch and cart pilots. We look at setting up foot launched, and wheeled machines, and the solo flight section deals with both foot launched, and wheeled take-offs and landings. The rules and airspace sections are written with both US, and UK pilots in mind, there's a massive VFR chart reading lesson, and there is a small international air law section that will apply to pilots worldwide.

The book will give you a head start and will serve you well as you progress in the sport, but to note, the manual is not meant for self training. It's recommended that everybody seek professional instruction while using this manual alongside such training, and to increase their knowledge of the sport.
What you'll learn in each chapter of this 203 page eBook
Training and instruction 
Theory of flight
Glider, risers, and lines
Ground handling
Reverse kiting
Forward launching
Packing and storing the wing
Wing care
Towing
Top to bottom flights
Paramotors and their parts
Trikes and quads
Hang test (foot launched machines)
Hang test (wheeled machines)
The motor
Starting the engine safely
Pre flight checks
Fuelling the paramotor
Getting to know the paramotor
Rules and regulations
Reading VFR charts
Weather and its limitations
Avoiding dangers and accidents
Fast descent techniques
Reserve parachutes
Flotation devices and water landings
Clouds
Your first solo paramotor flight
Emergencies and worst case scenarios
Handling collapses
Buying your first paramotor
Buying your first wing
How to tie brake line knots
Buying a second hand paramotor
Buying a second hand wing
Essential paramotoring gear
After your training
Using speed bar
Post launch checks
Radios and communication devices
Click here
for more information, to see what's in the book, and to view its table of contents.