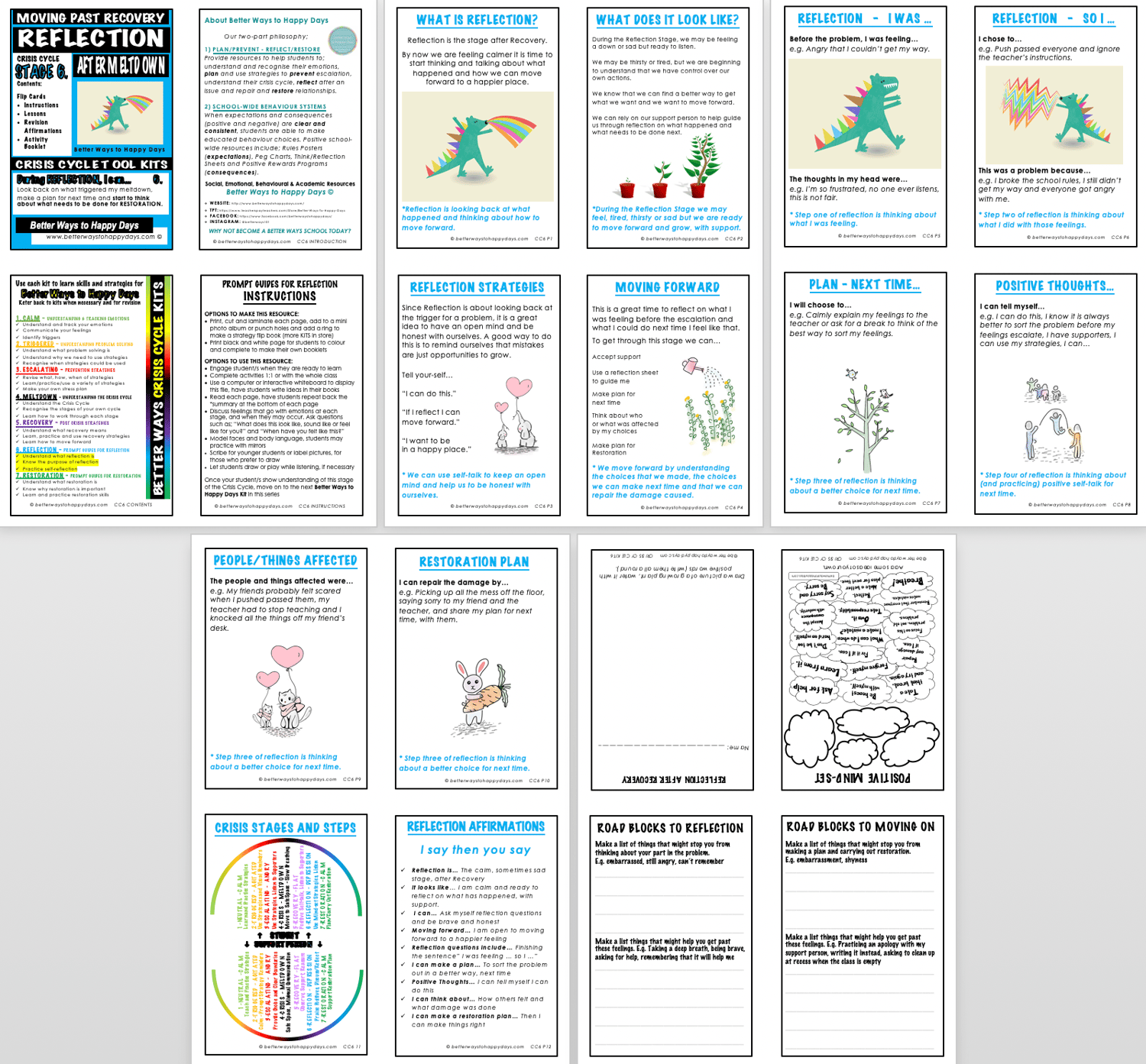 REFLECTION AFTER MELTDOWN - Visual Lessons Flip Cards
On Sale
Better Ways to Happy Days instagram @betterways101
This kit can be used to teach students how to REFLECT ON WHAT HAPPENED, AFTER A MELTDOWN and recognise any need for restoration to reset and repair.
It can also be used as a visual reminder of strategies, throughout the day.
PROMPT GUIDES FOR REFLECTION (Kit 6 in the CC series)
Understand what reflection is
Know the purpose of reflection
Practice self-reflection
Easy to use:
Can be viewed on whiteboard or computer
Can be made into flip cards (or slide into a mini album)
Use with whole class or individual students
Great for Education Assistant, one on one sessions
Includes affirmations, revision, tasks, worksheet
Social, Emotional, Behavioural & Academic Resources
Better Ways to Happy Days ©
TPT: https://www.teacherspayteachers.com/Store/Better-Ways-To-Happy-Days
FACEBOOK: https://www.facebook.com/betterwaystohappydays/
INSTAGRAM: @betterways101
DIRECT: https://payhip.com/betterwaystohappydays 
WHY NOT BECOME A BETTER WAYS SCHOOL TODAY?
*KITS CAN BE USED ON THEIR OWN TO MEET A SPECIFIC NEED
OR TOGETHER AS AN EMOTIONAL LEARNING PROGRAM
Check out the kits in this series:
1. CALM - UNDERSTANDING & TRACKING EMOTIONS
Understand and track your emotions
Communicate your feelings
Identify triggers
2. TRIGGERED - UNDERSTANDING PROBLEM SOLVING
Understand what problem solving is
Understand why we need to use strategies
Recognise when strategies could be used
3. ESCALATING - PREVENTION STRATEGIES
Revise what, how, when of strategies
Learn/practice/use a variety of strategies
Make your own stress plan
4. MELTDOWN - UNDERSTANDING THE CRISIS CYCLE
Understand the Crisis Cycle
Recognise the stages of your own cycle
Learn how to work through each stage 
5. RECOVERY - POST CRISIS STRATEGIES
Understand what recovery means
Learn, practice and use recovery strategies
Learn how to move forward 
6. REFLECTION - PROMPT GUIDES FOR REFLECTION
Understand what reflection is
Know the purpose of reflection
Practice self-reflection 
7. RESTORATION - PROMPT GUIDES FOR RESTORATION
Understand what restoration is
Know why restoration is important
Learn and practice restoration skills 
#Teachingemotions #Strategies #Prevention #Crisiscycle #Socialemotionallessonplan #Emotionprogram #Trackingemotions #Understandingemotions #Socialemotional #Socialemotionallearning #Socialemotionalbehavioural #Teachers #Educationassistants #Emotionalprogram #Behaviourprogram #Students #Classroommanagement #Classroom #Mental health #Special needs #Visualaids #Flipcards #Behavioureducation #Socialawareness #Easy to follow #Behaviourlessonplans