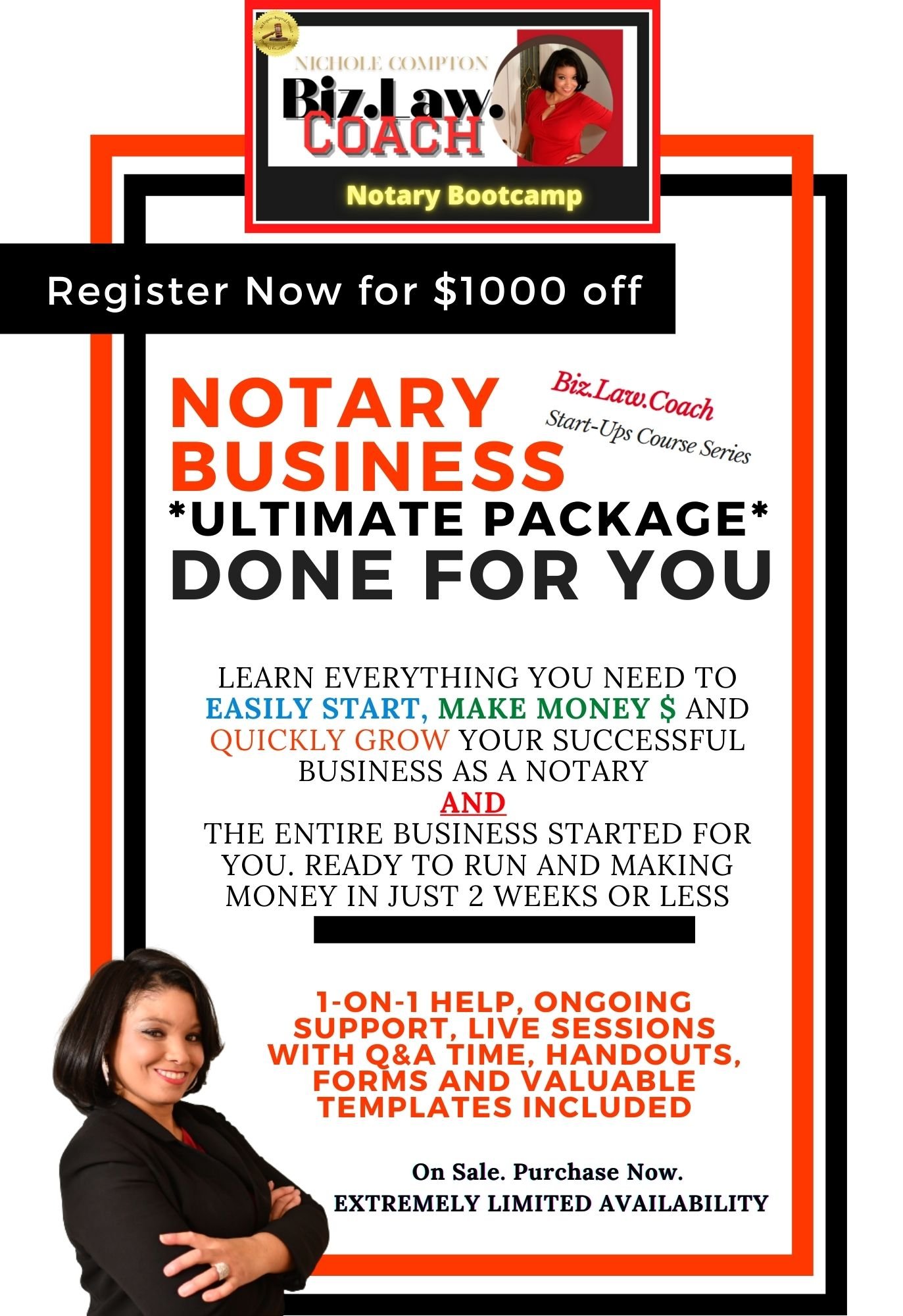 NOTARY BUSINESS - Turnkey Solution (done for you)
On Sale
$5997.00
Be A Successful Notary or Signing Agent In Making Money in Less than 2 Weeks! 😍
Starting a business is a big task and can be overwhelming. No matter how many YouTube videos you watch, free webinars you attend or self-help books you read, starting a business is hard. 
With this solution, we make starting your business easy and affordable. Attorney Nichole Compton, a business owner and Biz.Law. Coach, does more than just teach you, she will actually start your business for you, get you up and running and then hand over the keys per se. She will also show you in start to finish in step-by-step fashion how to run the business to be successful. AND you will get her ongoing support and follow up. Because she wants you to be profitable and successful, she explains everything in plain English and then also walks you through exactly what you need to do to keep your business up and running.  
Her prior customers say:"This was a godsend for me! I was so excited to finally get the help needed to start my business!" "I can't believe how simple this was!""I wish I had found you before wasting money on all the other classes I took! I would have saved a fortune in time and money."


BUT DON'T WAIT. Because she will be personally setting up your business, space is limited. This offer won't last forever.Have your business actually up and running with everything you need to be profitable in a matter of dats! Learn how to start your profitable business from a professional, attorney who has been in business for over 15 years…and is a business owner herself.
Let Nichole be your guide to starting your own Notary Public business, step by step. You'll learn how to get certified, how to get clients, how to get paid, and how to run your business like a pro.
With this purchase, you get:
4-weeks of Live Classes - Meeting weekly (or access to recording if after Feb 2022)
PowerPoint slide handouts
Your questions answered LIVE in real time
Q&A Session after each module
Bonus: handouts, workbook and checklists etc.
PLUS
Sales letter templates and contract templates to use in your business
Unlimited access to review session recordings later
Free admission to either the LIVE (or recorded) 1-day workshop or 4-week bootcamp
Access to video replays with transcripts
Bonus E-book, templates and lists
Exclusive VIP Follow-Up Session (Valued at $297)
BONUS: 1-on-1 session with Nichole (valued at $375)
PLUS
Custom corporate binder with tax calendar, financial templates. stock certificates and custom company seal embosser
Business started completely for you as basically turnkey solution
Nichole sets up the business entity legally for you including business plan
All you need is to start working and growing it like she teaches you
90 days direct support 
(*priced for LLC with individual owner – partnerships, corporations and other business entity types are additional)