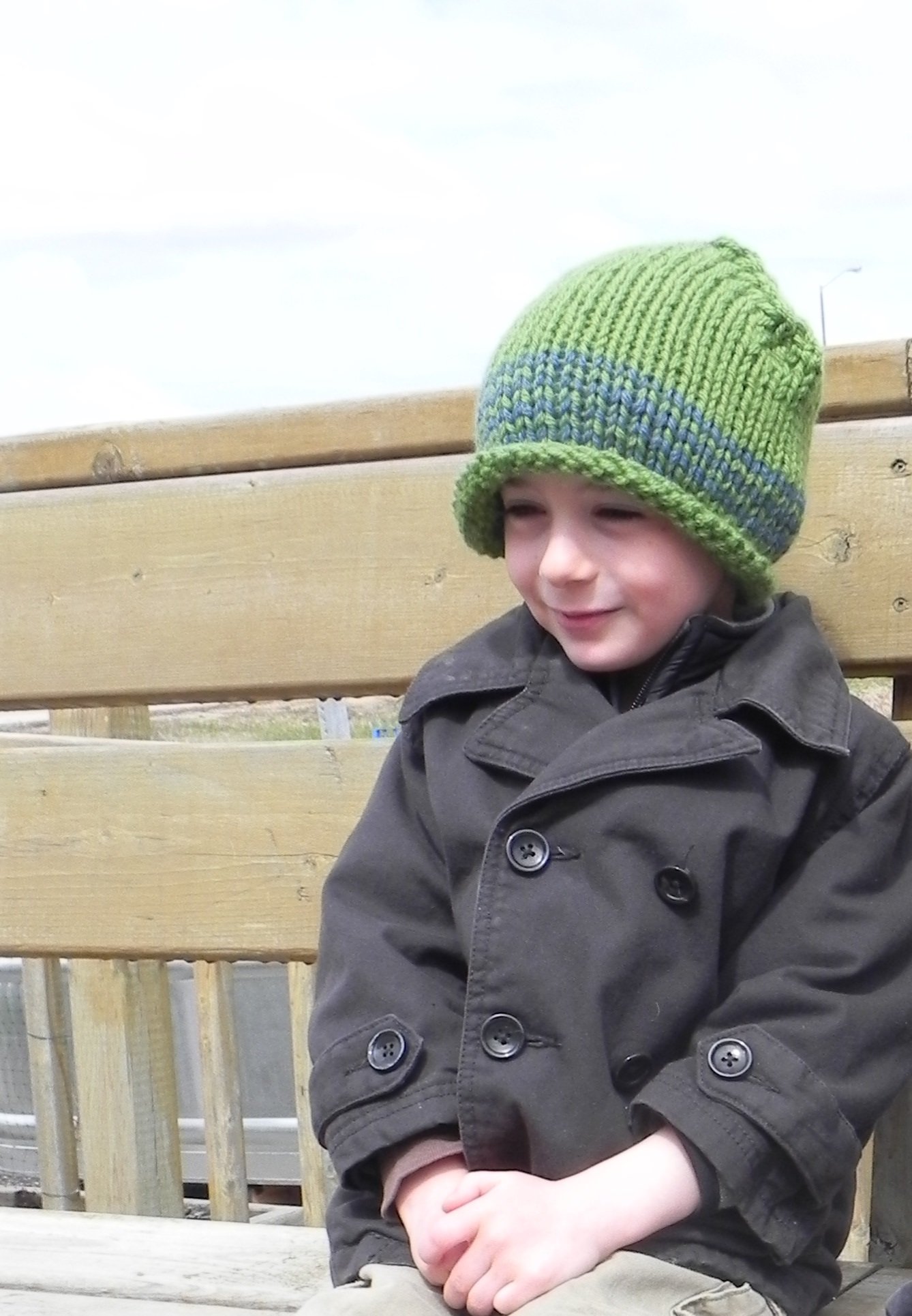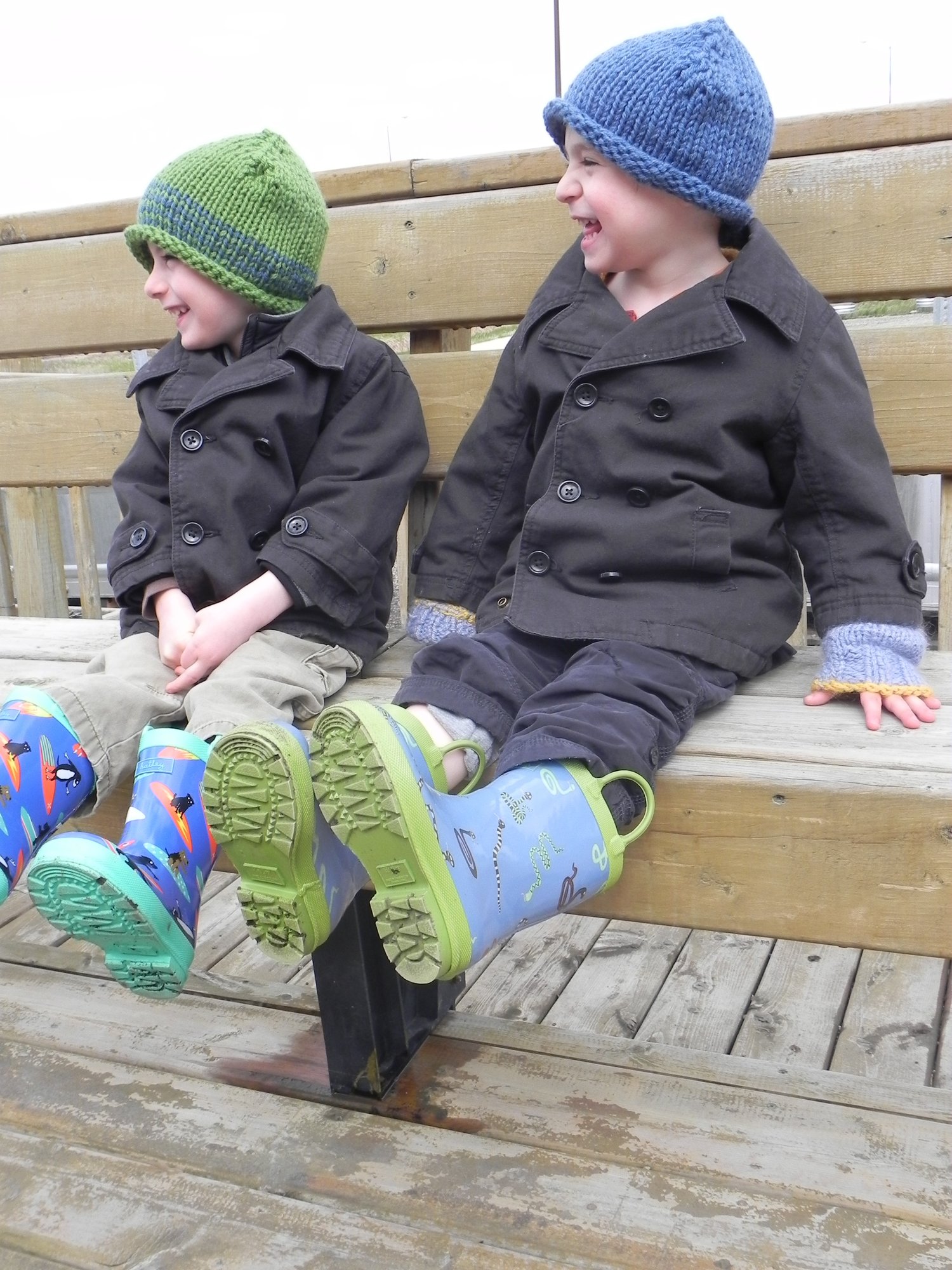 Riverbend Garden Hat
On Sale
$7.00
Introducing a new Yarn Spinner Story + Pattern!
This pattern is available as a stand-alone design or as part of "Three Ply"-a Yarn Spinner eBook with 3 stories + patterns.

This is a hat to fit everyone, from a small child to a grown man. It's a fast project; knit with super bulky or a doubled worsted yarn.

With three sizes (18", 20", and 22"), this project stretches to fit heads of all sizes, from preschoolers to men's XL. Knit in the round on size 11 (8mm) needles at 2.5 sts per inch, it uses only 75–125 yards/69–115 meters of super bulky yarn or any combination of yarn weights knit together to get gauge. If you've knit a pair of short-row socks, you'll recognize how the hat's crown "turns the heel" to match the head's curve. For those who've never tried a short-row heel, this is an easy introduction with big needles. Then you'll be ready for socks, too! This is ideal for an advanced beginner or intermediate knitter; to knit the Riverbend Garden hat, you'll need to be able to knit, purl, do yarn overs, k2tog or p2tog, work short rows, and do a three-needle bind-off.

This series allows readers who knit (or knitters who read) two pleasures at once: downloadable short fiction on Ravelry, accompanied by a pattern that stands on its own. This is a sweet combination for thinking knitters, particularly ones using a tablet or smartphone.

An adult learns his mother's biggest secret.

Riverbend Garden: A Love Story, features a middle-aged man as he rediscovers the familiar is not what it seems. A mid-20th century teacher, a loving mother, serious gardener and knitter, Dickie's mom lived an unremarkable, but lonely life. Yet, she has time for one last story; of a dappled river bend garden, an empty marriage, a widowhood, and a student whose love transforms all boundaries.

Size & Finished Measurements:
Child/Women's Small (Women's Medium/Men's Small, Men's Large/XL)
Circumference measures approximately 18"/45.5cm (20"/51cm, 22"/56cm)

Gauge:
10 sts = 4" (10cm) with size 11 (8mm) circ or double-pointed needles, or size to get gauge.

Notes:
• Row gauge is not important for this pattern; all measurements are given in inches/cm rather than rows.
• Super bulky yarns or doubled yarns vary greatly in terms of gauge. Please knit a swatch to ensure correct stitch gauge.

Materials:
Yarn Amount:
Approximately 75 (100, 125) yards/69 (92, 115) meters of super bulky yarn that knits to gauge. For a hat with a longer brim, you'll need more yarn.
Or:
Approximately 150 (200, 250) yards/138 (184, 230) meters of worsted weight yarn that knits to gauge when doubled.

Samples Used:
For Women's Medium/Men's Small hat:
2 skeins Briggs & Little Super, 100% wool, 85 yards (78m)/3.99 oz (113g) per skein, color 71 Dark Maroon

For Child/Women's Small hat:
Knitting with yarn doubled:
Blue Hat: 1 skein Paton's Classic Wool (also called Paton's Classic Wool Worsted or Paton's Classic Wool Merino), 100% wool, 210 yards (192m)/3.53 oz (100g) per skein, color 77115 New Denim

Green Hat: 1 skein Paton's Classic Wool (also called Paton's Classic Wool Worsted or Paton's Classic Wool Merino), 100% wool, 210 yards (192m)/3.53 oz (100g) per skein, color 77222 Clover Leaf

Note: For the green hat, I knit a few stripes in the brim, using leftover yarn from the blue hat, above. If you'd like to add a few stripes, do it before working the crown by using your leftovers. Use a "jogless stripe" method while knitting in the round. I referenced this tutorial for a reminder:

Needles:
Size 11 (8mm) double pointed needles (dpns)
Size 11 (8 mm) 16"/40cm circular needle (Optional)
or appropriate size to get pattern gauge
Note: You can work the hat entirely on dpns if you do not have a 16" circular needle.

Notions Required:
Stitch marker
Tape measure or ruler
Stitch holder
Tapestry needle with large eye

A Note on Yarn:
Dickie's mama knit these hats with whatever yarn she had. Worsted weight yarn, knit doubled, will get the same gauge as the Super Bulky yarn called for in this pattern. Experiment with different combinations of yarns to use every scrap to keep folks warm!