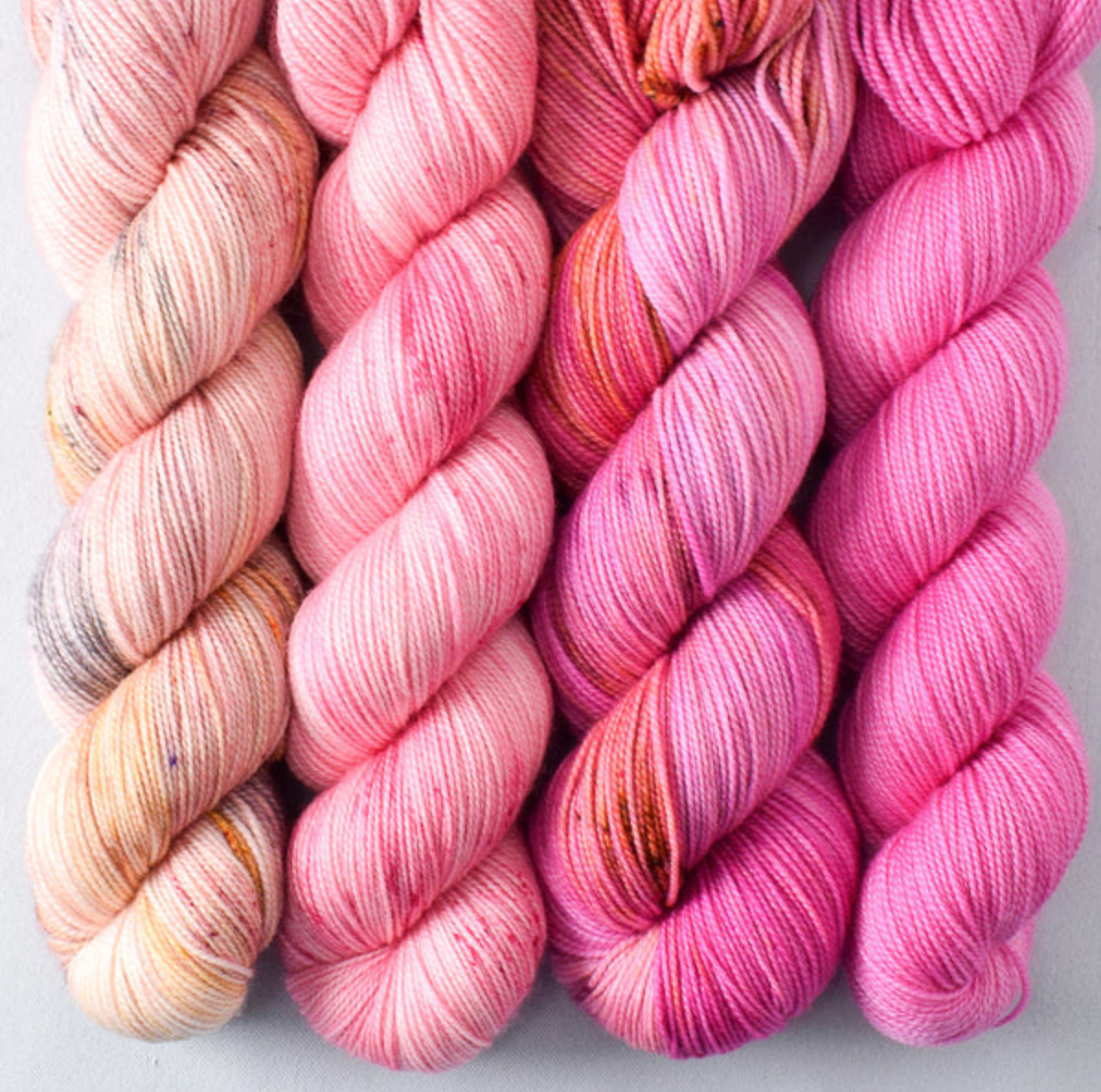 Sharon Air MKAL
On Sale
If a cat with a potty mouth bothers you, please do not purchase this pattern as I cannot control her mouth (could you?!)Sharon Air
is not just a knitting pattern; it is an experience! If you have lost your knitting mojo, or if you haven't, come help Sharon from Security capture her biggest nemesis yet. You will follow you on her travels (she is in prep mode right now) and enjoy our weekly surprises of recipes for different things.
Sharon Air
is Sharon From Security's airline with all of the rules that come with it. She manages to dodge the FAA but safety is her first priority so any EB on the plane will result in the SAMs (Sharon Air Marshals) depressurizing the plane and handing you a parachute. This is pretty much the tip of the iceberg so don't say you weren't warned!
Clue 1
drops on August 12, then every Friday at **Sharon From Security O'Clock** which is "When I feel like it" (you know cats.)
We will have 6 clues over 6 weeks...or maybe she'll give you a week off in the middle.
This is a new shape
of shawl for us and rather uncommon. It wraps nicely and can be made wider. There is some relaxing knitting and some pay attention knitting but Sharon really loves her "Sharon Snax" (a Sharon Snack is a mistake that you ignore because you can't see it from a speeding squad car) so all of you perfectionists who are trying to reform, Sharon's patterns are great for that! We do not appreciate perfectionism - go to the mall for clothes if that's what you're after!
Sharon here - fectionism is overrated but SUSHI SENT BY GRUB HUB TO Rhode Island to **STARVING CAT WHO HASN'T BEEN FED IIN A MONTH is not. Yarn GuidancePlan on
4 full skeins of fingering weight (400 yards.) US 6/4mm or whatever you like to use for shawls (gauge is 20 sts/inch on US 6 over 4" in stockinette after blocking.) This is a perfect stash buster and remember that you don't need to use all of the same brands of yarn. And you can mix merino and silk, merino and nylon, etc.
"Purists are for building planes, not knittin!" (SFS)You can use
any 4 colors of fingering weight yarn. Miss Babs has
kits here
. I've pictured my original set at the top. They can be a fade, variegated, color blocked, whatever you want. If they are a fade, they will not be staying in that order. A few sections will require contrast but you will have enough yarn to alter the assigned color when you get there so don't get hung up on that. You don't need a lot of contrast for this shawl so that black and white phone trick is useless for this.