HuntZman
Men's Line Of Leather Jewelry
Stiletto Leather Earrings
Handcrafted Leather Feather Earrings
Wood Hoop Earrings
Boho Inspired Hoop And Leather Earrings.
Leather With Feather Stiletto Earrings
Make A Statement.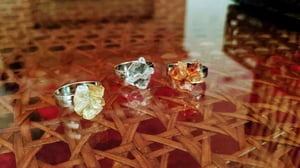 Fashion Meditation Rings
Always Stay Grounded
Our Jewelry
Made With Luv 4 U Collection. The name says it all. Each piece is handcrafted with love by hand with genuine leather material. We also provide a faux leather and suede option.
Inspired by the bohemian lifestyle, our jewelry is for the free spirited, whimsical, fashion forward individual. We create from a high vibration space and allow love and abundance to flow through each design.
We Create From Love
We love working with crystal/stones. Not just for their healing properties but also because they are beautiful.
We charge each of our stones and crystals to promote clarity, abundance and love.
Beautiful pieces that you can wear to bring you back to center. With over 20 years in the fashion industry we know the importance of feeling and looking your best.