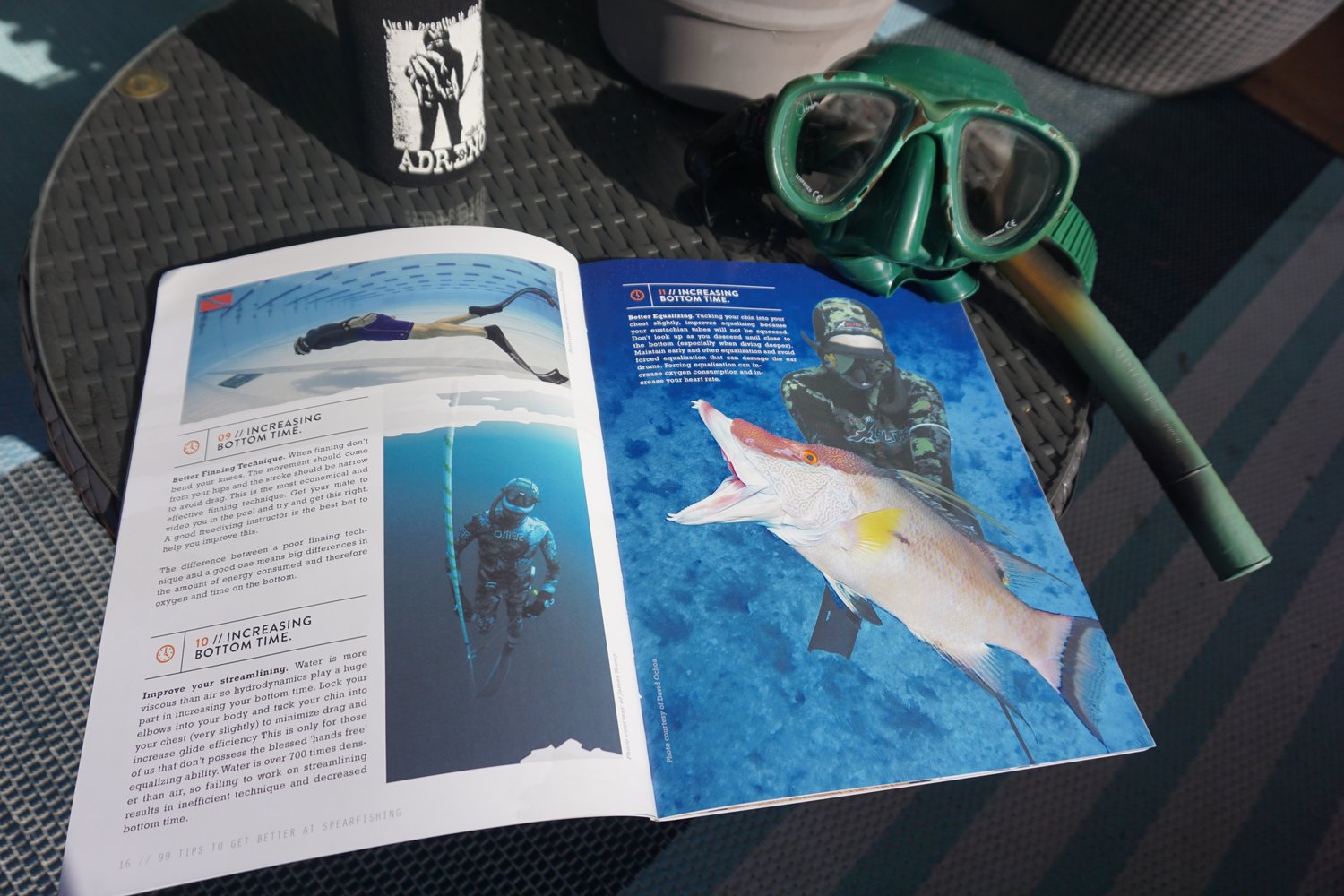 99 Tips To Get Better At Spearfishing - illustrated edition
On Sale
Illustrated E-book - 99 Tips to Get Better at Spearfishing PDF
300% crowdfunded by legends!

This fully illustrated spearfishing PDF e-book is the product of more than 40 interviews with spearfishing experts, authorities and characters from around the world. We boiled down some of the best advice into actionable bite sized tips for you to read and implement into your spearfishing. The original E-Book is available on Amazon and iBooks however this version has a full scale re-edit and some of the world's best photographers and our community submitted photos to include in the book. Needless to say it looks slick!
If you backed us on Kickstarter or Indiegogo on Demand you will already have a special code for your download!
Here is a little more specific information of what's inside 99 Tips to Get Better at Spearfishing.
99 Tips is jammed packed with tips, tricks and advice from spearfishing legends like Chris Coates (South Africa), Jim Russell (California), Darren Shields (New Zealand) and many more. This book will teach you something and improve your spearfishing.

"99 Tips more like a 101 and more tips... Even after 30 years of spearfishing there are tips in here that I never thought of. So for someone only a few years into spearing this is a must have resource. Best of all it's short concise and to the point, so it's just the good stuff that will make you a better diver right at your fingertips." - Chris Coates
Tips help deal with topics such as;
How to find good places to go spearfishing
How to increase your bottom time
Improve your spearfishing hunting technique
Overcome common difficulties such as cramp, seasickness, and equalizing
How to find a mentor, dive buddies and get involved in competitions
Tips for how to be effective at shore & boat diving
Blue water hunting and more

The book is fully illustrated by some of the worlds best spearfishing photographers as well as the Noob Spearo community. To bring it all together we recruited the talented Skye Bailey Graphic designer behind Spearing Magazine and it looks amazing to say the least.
" After getting into the Noob Spearo Podcast I bought the 99 Actionable Tips book and have been down here in the sea of Cortez doing some hunting. My bottom times have been way up and I shot my first Pargo! Thanks for the awesome tips and support from down under!!" - Pete Denton
" (99 Tips is) a really good collection of tips for spearfishing. The book is well written and the authors have a good sense of humour that makes it an easy read. I am new to spearfishing and this book has a lot of information that will help me improve. I have also been working my way through the noobspearo podcast that the authors run, and although it is not necessary to understand the book, I would recommend readers also listen to the podcasts; mainly because they are good both in an informative and entertaining manner. On the podcasts they interview renowned spearfishers and a lot of the tips are direct from their mouths. A lot of the tips are covered in the podcasts but the reason I like this book is it is a concise collection of the best tips from over 40hours of interviews and triggers my memory of the more in depth discussion on the podcast. Also having the points itemised helps me to pick one or two points I want to work on when I go for a dive rather then trying to work on 10 things at once.
Strongly recommend for all spearfishing enthusiasts particularly for those that are newer to the sport." - NJ McKeon
If you just want actionable information that will help you to improve your spearfishing then get a copy now