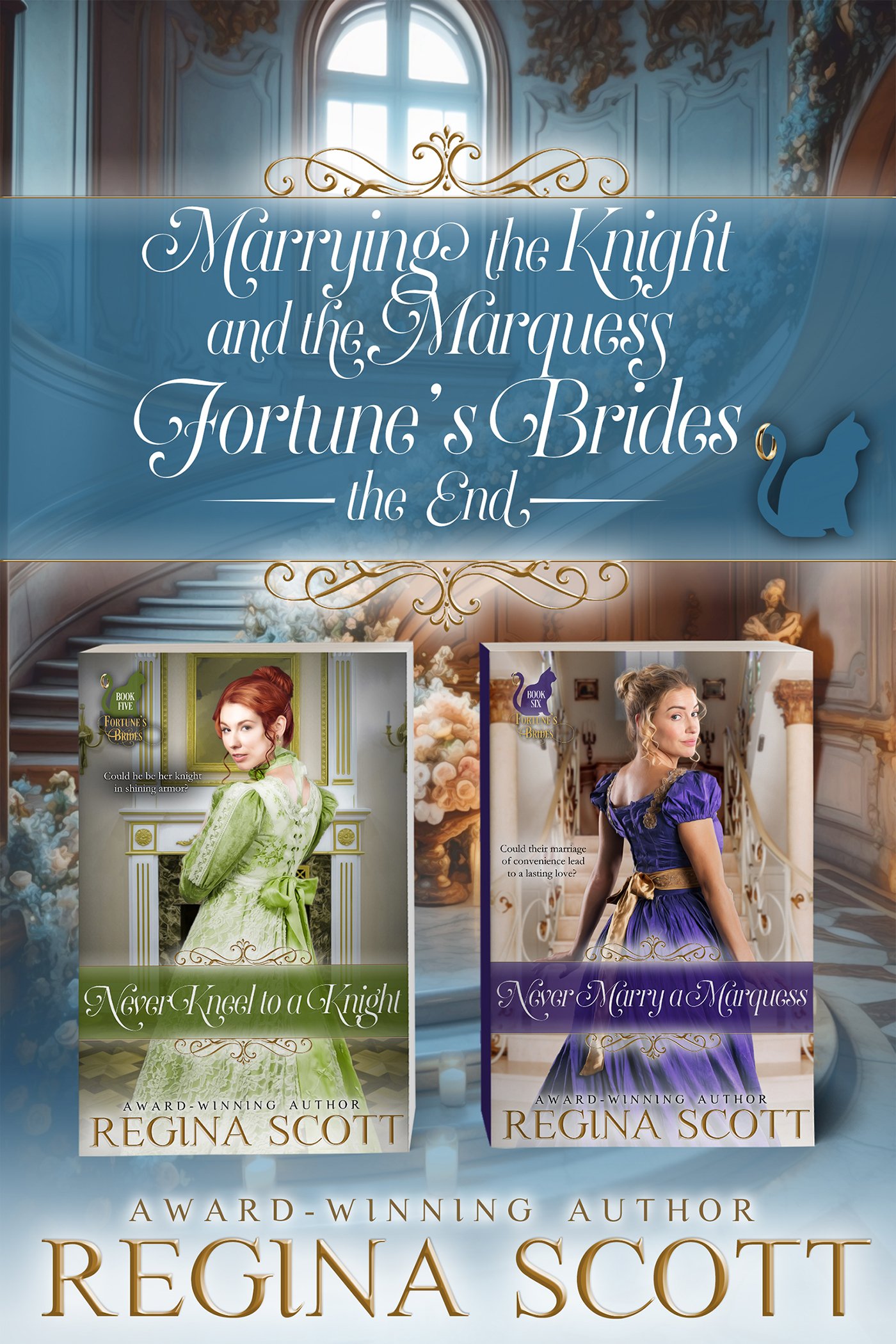 Marrying the Knight and the Marquess: Fortune's Brides, the End
On Sale
Knights and marquesses deserve love too.
The mysterious Miss Meredith Thorn and her beloved cat, Fortune, run an employment agency to help gentlewomen down on their luck. Odd how all their matches end up in matrimony.
Enjoy a duet of warm, witty romances from the bestselling Fortune's Brides series by award-winning author Regina Scott:
Never Kneel to a Knight—Charlotte Worthington never dreamed her first task as etiquette teacher would reunite her with Matthew Bateman, her brother's former bodyguard. How can she maintain her calm, cool demeanor when she harbors a secret love for him? About to be knighted for an act of valor, Matthew cannot forget the beauty who is miles out of his league. Once a boxer called the Beast of Birmingham, he would like nothing better than to be worthy of Charlotte's hand. As old enemies and new ones attempt to bring him low, can Matthew prove to Charlotte that their love is meant to be? "I love stories with a 'Beauty and the Beast' theme going on!" Heidi Reads Review Blog
Never Marry a Marquess—Shy Ivy Bateman is happiest caring for her family and baking sweet treats. She never expected the wealthy Marquess of Kendall to propose a marriage of convenience. His baby daughter needs a mother, and Ivy cannot deny the role's attraction, or the attraction she feels for the handsome marquess. Kendall's heart went to the grave with his first wife. Now, all he cares about is ensuring his frail daughter survives. Can a grieving lord and a shy lady learn that love, and a good cinnamon bun, heal all wounds? "

I loved this book from start to finish! Marriage of convenience stories are a favorite of mine, and this one was done exceptionally well." Britt Reads Fiction
Fall in love with knight and a marquess today.
This ebook comes in epub and mobi formats and can be delivered from PayHip or BookFunnel. You may receive an invitation to download from both. BookFunnel offers technical support for loading onto your device.