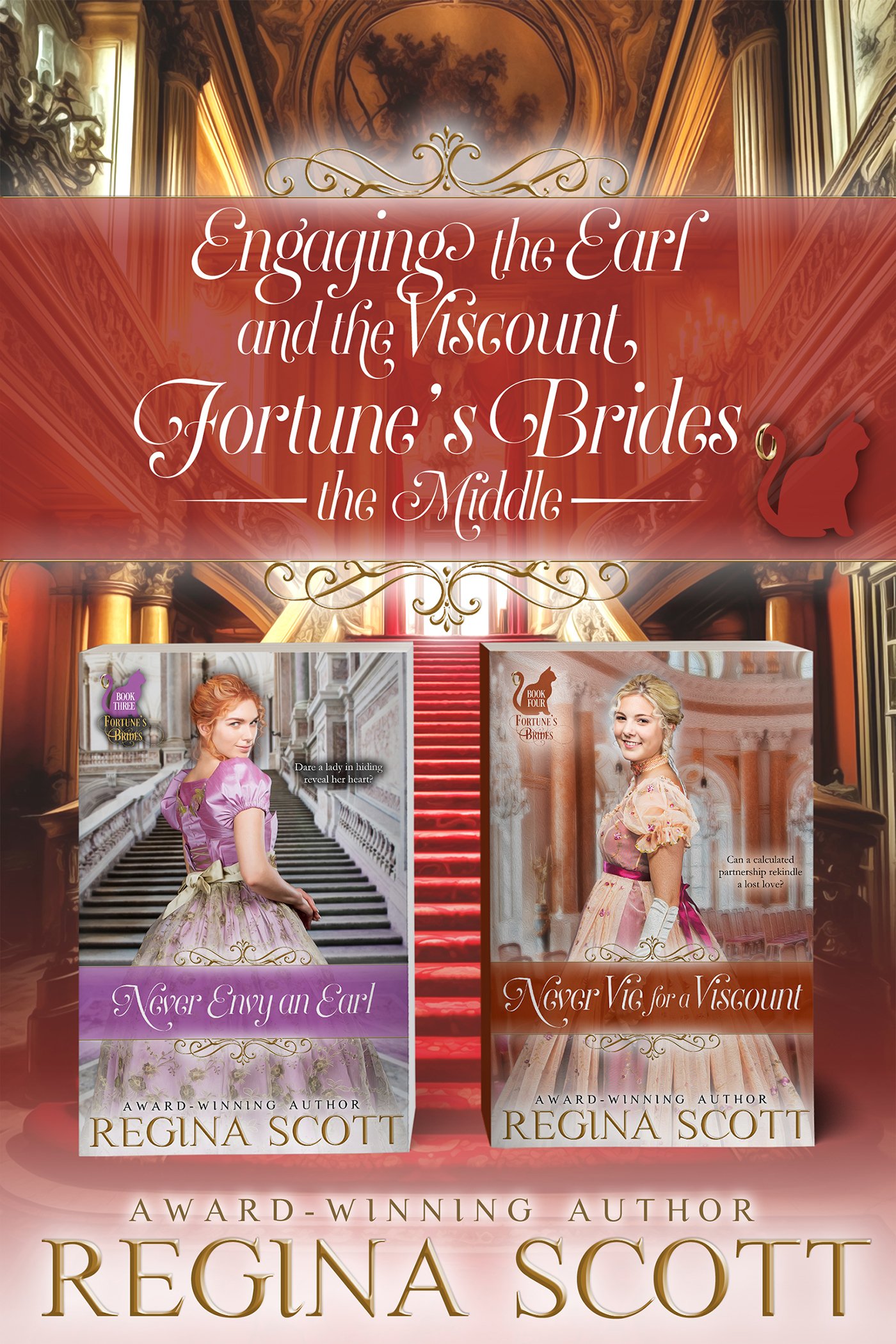 Engaging the Earl and the Viscount: Fortune's Brides, the Middle
On Sale
Earls and viscounts make for dashing grooms.
The mysterious Miss Meredith Thorn and her beloved cat, Fortune, run an employment agency to help gentlewomen down on their luck. Odd how all their matches end up in matrimony.
Enjoy a duet of warm, witty romances from the bestselling Fortune's Brides series by award-winning author Regina Scott:
Never Envy an Earl—Yvette de Maupassant was used to danger as a spy, until she was discovered. What better place to hide than Carrolton Park, where the earl has agreed to let her serve as companion to his sickly mother? Yet one look at the earl has Yvette rethinking why she wants to stay. As danger draws closer, the earl and Yvette must work together to protect her, his family, and England, as they discover the greatest danger and delight is falling in love. "From the first page until the last I was on the edge of my seat, reading as quickly as I could to see what happened next." The Huntress Reviews
Never Vie for a Viscount—Lydia Villers is determined to pursue her dreams of becoming a natural philosopher by apprenticing to a renowned scientist. Unfortunately, only one scientist is looking for an assistant, and he's the man she had once hoped to marry. Viscount Worthington has been betrayed too often, including by the bubbly beauty who now wants to work at his side. How can he believe Lydia's intentions are true this time? Perhaps an enthusiastic young lady and a wary lord can discover that only together do they make the perfect chemistry. "Whether you're looking for a great book or a great series, you won't want to miss Never Vie for a Viscount! I couldn't put this book down." Hott Book Reviews
Fall in love with an earl and a viscount today.
This ebook comes in an epub and mobi formats and can be delivered from PayHip or BookFunnel. You may receive an invitation to download from both. BookFunnel offers technical support for loading onto your device.