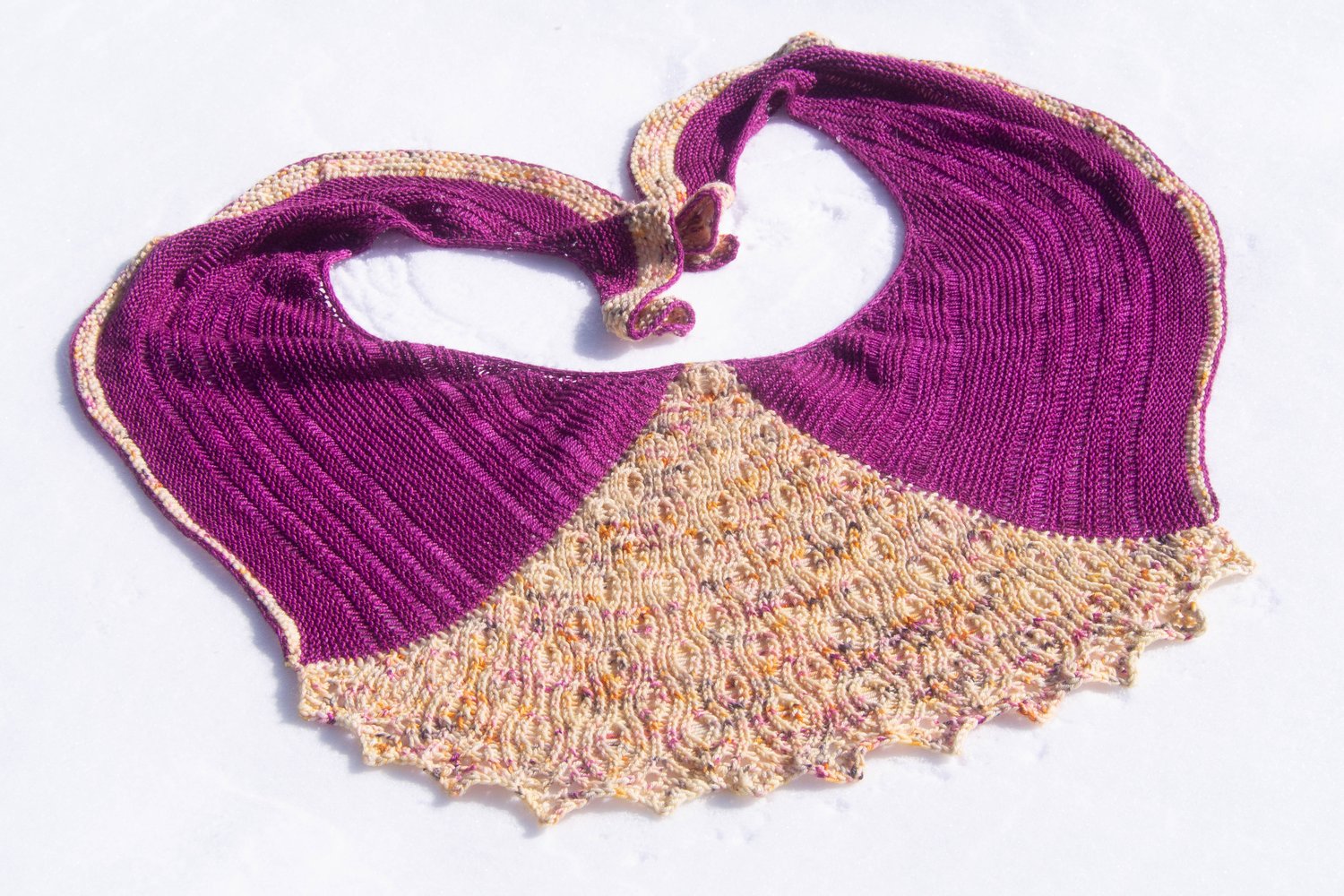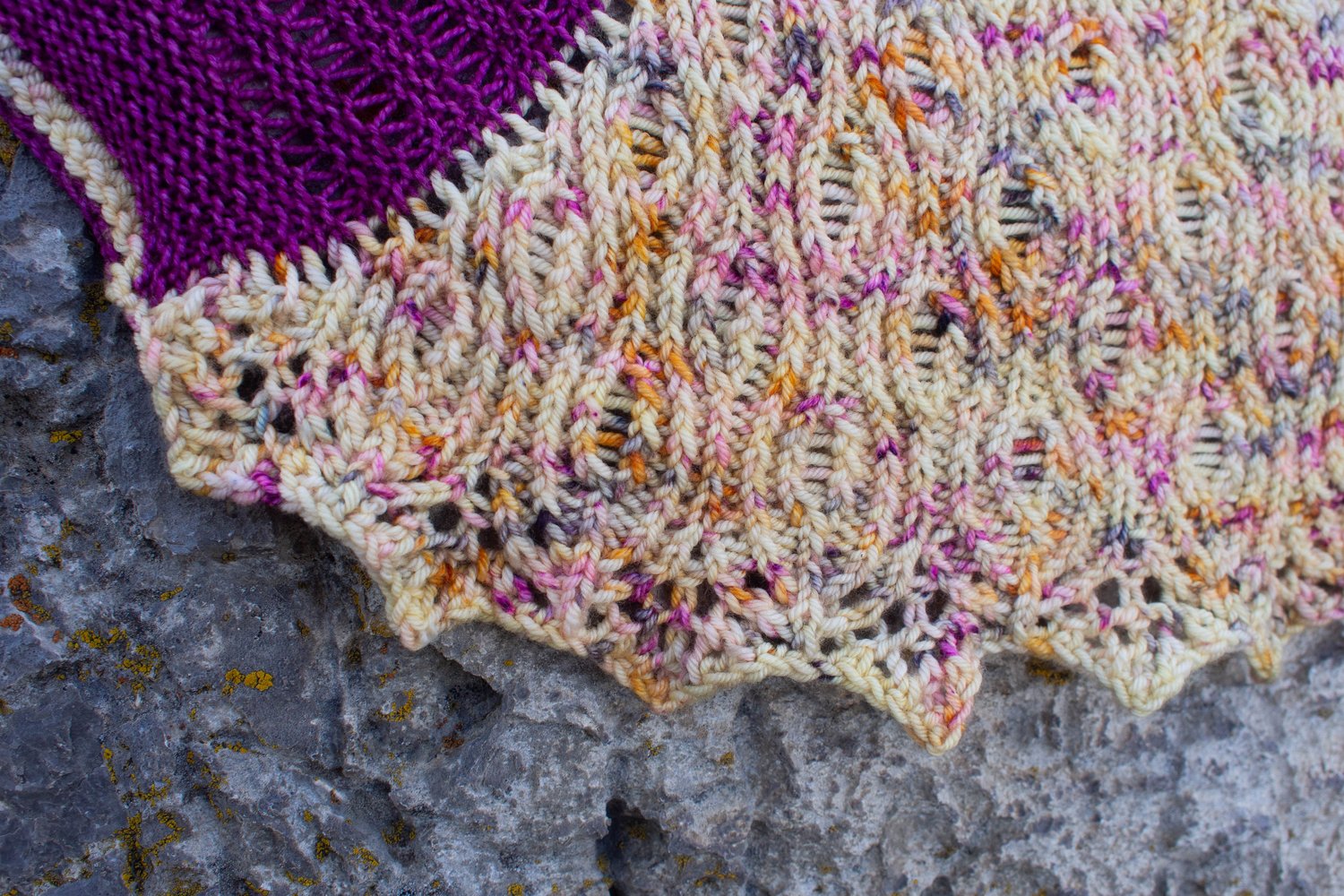 Janina's Sunshine
On Sale
$6.00
Pay what you want:
(minimum $6.00)
In Memory of my beloved sister, Janina, who left this earthly realm on August 31, 2009.
She was our sunshine and joy; her life was severely restricted by a birth defect. However, her love for life and everyone around her outshone everything else.
This shawl is in her honor. To remind us that even through life's difficulties, there is sunshine and beauty to be had. Joy to be found in the simplest, smallest of things.

Size:
55" (140cm) long and 18" (46cm) deep

Materials:
Yarn:
Color A: The Violet Valentine "Favorite Sock" J.A.M.berry (75% superwash merino/15% cashmere/10% silk) 430 yds (393m)/115g and
Color B: The Violet Valentine "Dylan DK" Good Morning Beautiful (100% superwash merino) 250yds (229m)/115g
Note: pattern can be worked in all fingering weight or all dk weight yarn.
For fingering weight shawl: use 2 complimentary hanks of at least 400yds (366m)
For dk weight shawl: use 400yds (366m) for color A and 250yds (229m) for color B.

Pattern notes:
Shawl is constructed using an intarsia knitting technique. Each ball of color A (CA) is used on the outside edges of the shawl, and the center between markers m1 & m2 color B (CB) is used. When working across rows, connect CA and CB with intarsia twists.
Only color B section is charted, and noted by an underline in the written pattern.
Increases are worked along the outside edge stitches and center panel on each RS row (by 6 sts), as well as along the outside edge stitches on each WS row (by 2 sts).

In Memoriam (I wrote this a week after she died)
Janina Annette Manning
April 6, 1976 to August 31, 2009

Janina, beloved daughter and sister,
you were special beyond comparison
and we will miss your wit and enthusiasm for live.

Your entrance into this world was overshadowed by darkness,
your first year spent in the hospital
dealing with the severe handicap you were born with,
limiting your life brutally to a minimum.

But this shadow did not dampen your lively spirit.
You were always laughing and chatting away,
hating to see anyone cry
finding a joke or cheering up your surroundings with your animated wit.

In your own limited world
your close family, school environment for the handicapped and
later in life, a home for the severely handicapped
you shone like a beacon, with your love for life.

It is humbling to think of how little it took to bring joy to your life:
A ray of sunshine on a cloudy day had you cracking up in laughter
a new stack of colored index cards to fit in your wallet
seeing a picture of your new nephew, exclaiming "now I am an uncle"
a set routine in eating out: first pasta, then chocolate cake
in a department store, trying out every single hairblowdryer on display
making bets on which elevator would arrive first

You always showed compassion and patience with your surroundings,
never once questioning "Why me?"
Your attitude to life was always positive
never wanting to burden anyone with your sorrows or hurts
and tried to brighten anyone up by saying:
"Even if we're doing badly, we wont let that ruin our good mood, right?"

You always needed action around you
you disliked the silence and quiet
a loud crash of something dropping or breaking
and you would roll with laughter

Even in your last days
burdened down by your sickness and failing body
your response to "Do you have any allergies?" was:
"Yes! I am allergic to this silence. There's nothing going on in here!"

You were such a humble, sensitive, character-strong, humorous person -
your love for life so simple
may you be an inspiration for all of us when we feel burdened down and overwhelmed
to look for something simple and find joy in it like you did.

Beloved Janina,
we miss you terribly,
but you are forever in our hearts.