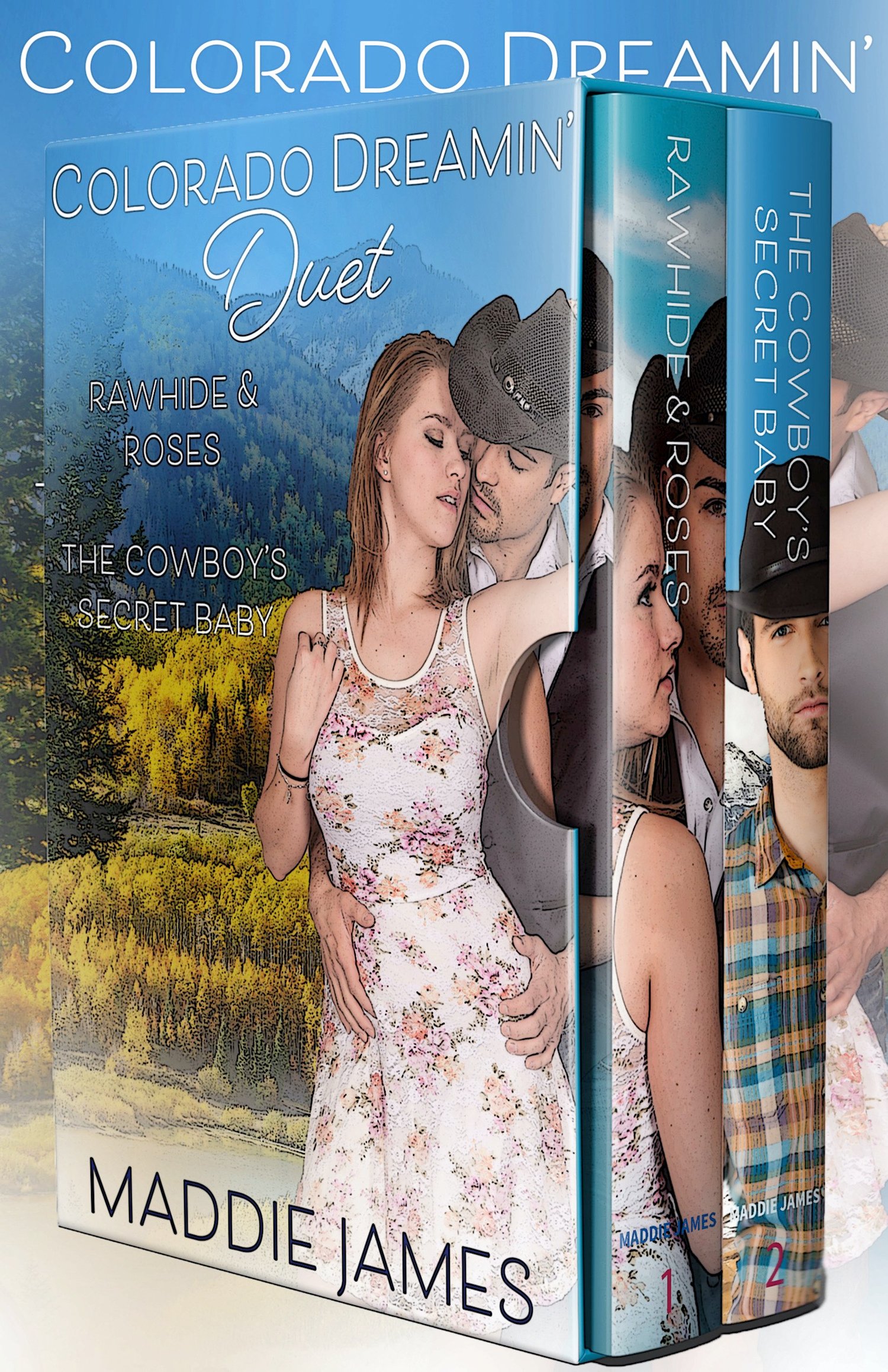 Colorado Dreamin' Duet - 2 Book Boxed Set
On Sale
This two-book boxed set pairs Rawhide & Roses and its sequel The Cowboy's Secret Baby. These stories share the same couples, setting, and two very angsty, slow-burn western romance happily-ever-afters.
RAWHIDE & ROSES
She's roses. Caving to her best friend's crazy ideas is one thing, but Kim Martin knows she isn't equipped for a two-week pack-horse trip into the Colorado mountains—especially with a rough-edged cowboy as their mountain guide. His outdoor style might jump-start some women's libidos, but a city woman like Kim finds him—(almost? barely? definitely?) irresistible.
He's rawhide. Thad Winchester's patience for city women wears as thin as the seat of his jeans—but there is something about the plucky blonde that puts his hard-and-fast, don't-touch rule, to the test. Kim Martin alternately aggravates and enchants him—but she might just be the woman he needs to share his Flying W. Ranch. If he can get past his rules and make the first move.
When things heat up between them, an argument sends Kim flying away from camp on her horse and into the wilds of the mountains. Alone. Can she navigate her way back to the camp? Will Thad find her? And if so, can they work out this push-pull magnetism between them to some sort of positive scenario?
THE COWBOY'S SECRET BABY
She's the maid of honor. He's the best man. Both are keeping secrets.
While Kim Martin and Thad Winchester find their happily-ever-after in Rawhide & Roses, their best friends, Jillie Abernathy and Mack Montgomery, end their sleeping bag sharing relationship during the rugged, two-week pack trip into the Colorado San Juan mountains.
But when Kim and Thad host their wedding at Thad's Colorado ranch a few months later, Mack and Jillie must come face-to-face with reality—and with each other. She's the Maid of Honor. He's the Best Man. Both are harboring secrets—secrets that could break a potential future relationship if they both keep avoiding telling the truth.
Can Jillie and Mack finally come clean and say what they need to say? Unveiling their secrets to each other? And if so, can they get past the withheld truths to plan a future together?
These opposites attract contemporary western romance novels will have you wondering if either couple will settle their differences and ride off in their happily-ever-after sunsets together.