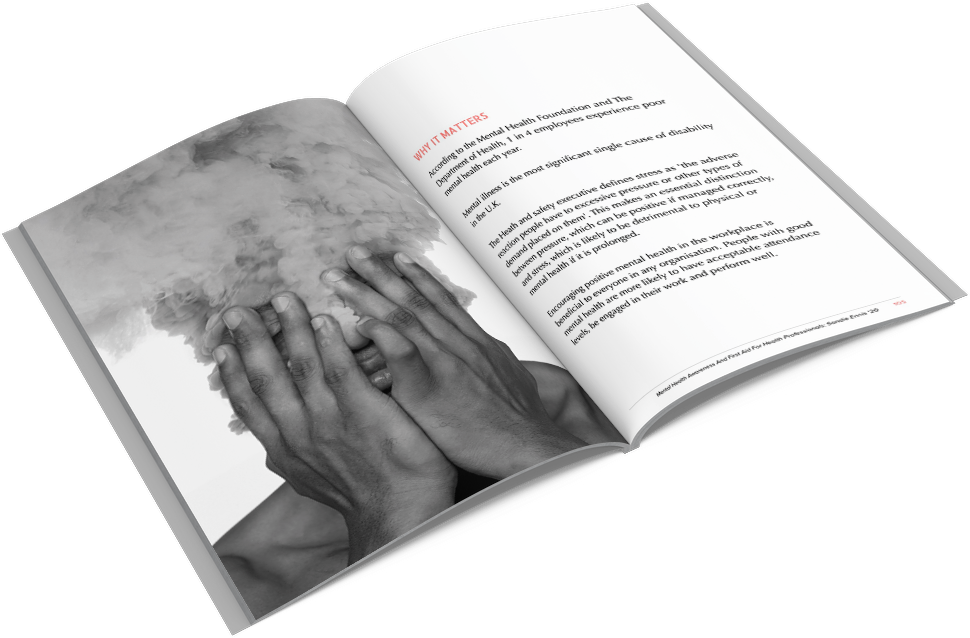 Mental Health Awareness And First Aid For Health Professionals
On Sale
£9.95
Mental Health Awareness And First Aid For Health Professionals
This 10,800+ word easy to read illustrated ebook aims to help you; 
Understand what mental health is.
Why people develop mental health conditions.
The role you can play in supporting and signposting people experience mental ill-health.
Understand how to advise and offer practical support for a person presenting with a mental health concern or condition: aka Mental Health First Aid.
While this ebook stands alone it's also a companion to my 1 and 2-day interactive courses in mental health awareness for health professionals and the general public.
Contents
What is first aid for mental health?
What is mental health? 
Mental health continuum. 
Mental ill-health risk factors 
Stigma
Mental health - words matter
Mental health conditions:-
Stress
Substance misuse 
Depression & Anxiety
Eating disorders
Self-harm 
Post-traumatic stress disorder
Personality disorders, psychosis and schizophrenia 
Suicide
Mental health in the workplace
Starting a conversation about mental health with C.A.R.E.
Stress management
Steps to mental wellbeing 
Resilience 
Summary
Support resources
At least £2.50 from each ebook sale will be donated to MIND, the leading UK mental health charity. It works to raise public awareness and understanding of issues relating to mental health, lobbies government and local authorities, and offers information and advice to those affected.
Please note: this ebook is aimed at those living in the UK.