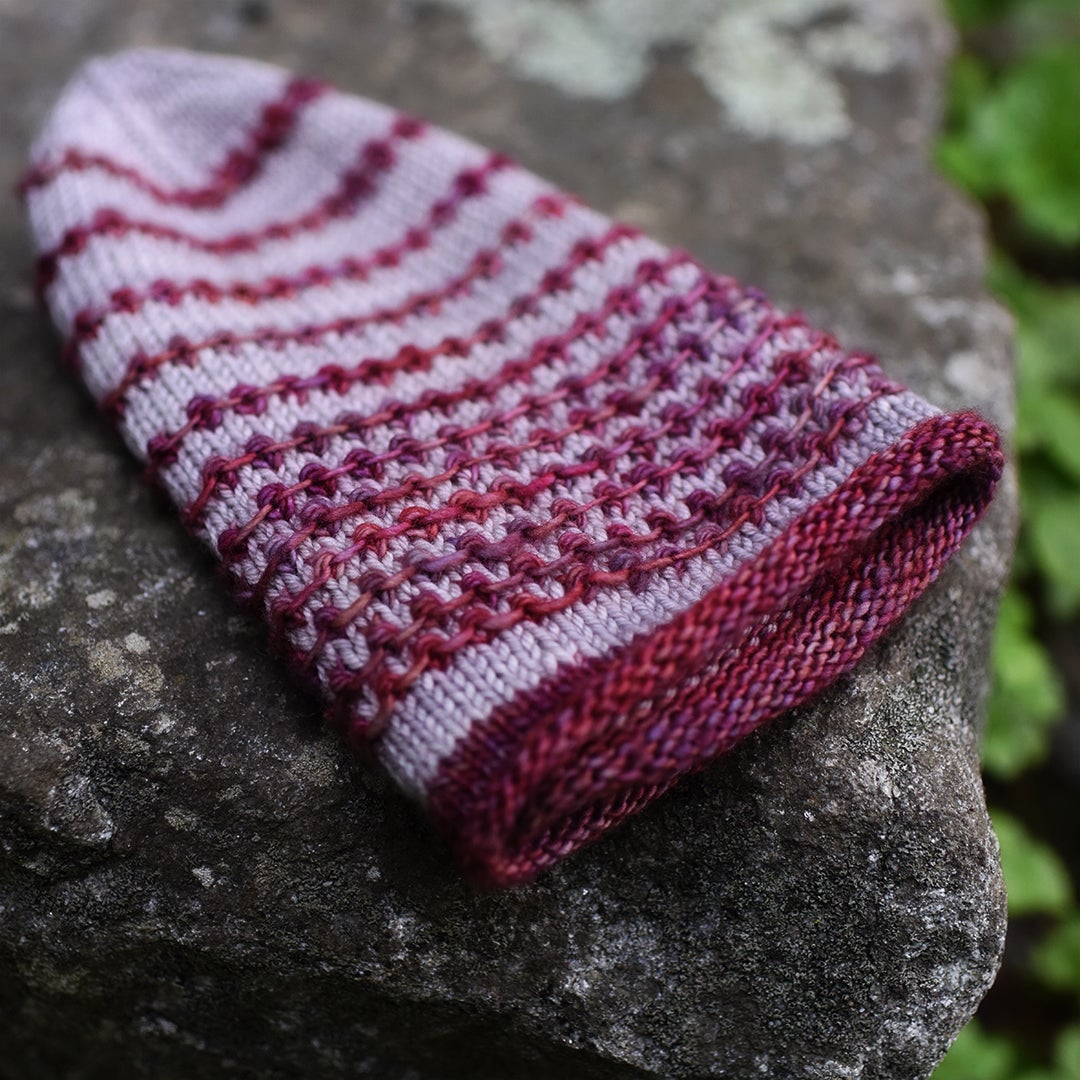 Misprision
On Sale
$8.00
---
Misprision
noun
concealment of knowledge of a felony or treason
---
So I love seeing everyone else's beautiful, intricate, multi-color masterpieces. I do. But if I'm being totally honest, the idea of making my own scares me. I've never quite gotten the hang of proper colorwork. And if we're being *super* honest, I feel a little scared combining colors, too.
But this? This I can do (and if I can do it, you can too).
All you need is a nice, quiet, respectable background yarn and a slightly flashier contrast yarn. Then you just sit back and let the stitch pattern do all the work.
It's easy (you're only dealing with one yarn on any given row), it's fun (I may possibly have found myself saying boop boop boop every time I made one of the nubblies), and it looks awfully cute when you're done. And, if you happened to use a more variegated yarn for your contrast yarn? Well then it will look even more like you were doing fancy (cough, intimidating) things with colors!
---
The hat is written in five sizes (castons of 96, 100, 104, 108, and 112 stitches), and you should feel free to adjust your gauge a bit to fine tune the fit of the hat. Just be sure that you're working at a gauge that gives you a fabric you like with your chosen yarn (you want something dense enough that you don't see the contrasting yarn behind your fabric).
I recommend working at something around 4.5, 5, 5.5, or 6 stitches per inch, and I've included a table to help you figure out what gauge you'll want to use for your size. With that range of sizes and gauges, the hat will fit a head between 17.5 and 25.5 inches (with lots of points in between).
Oh, and just to help you plan, I used about 150 yards of the gray and 100 yards of the pink yarn to make a hat for a large adult. If you're making a bigger or taller hat (or if you use a skinnier yarn), you might want more like 200 yards of the main color and 125 yards of the contrast yarn.
---
This is perfect for you if:
You share my secret fear of proper colorwork, but want don't want to miss out on all that pretty
You have some extra bits of fancy yarn you're looking to show off
You can't help wondering how that would look as a cowl (there might just be secret cowl instructions hidden away in there)
It's not for you if:
You don't like charts (the pattern uses charts)
You hate swatching (you need to swatch to check your needle size)
---
If you're interested in the companion
purple
and
blue
hats (shown in the next to last last few pictures), you can find them here and here. If you buy all three patterns together at the same time, you'll get 50% off the second and third patterns (make sure you see the discount before you pay, the price for all three pieces together should be $16.00).
---