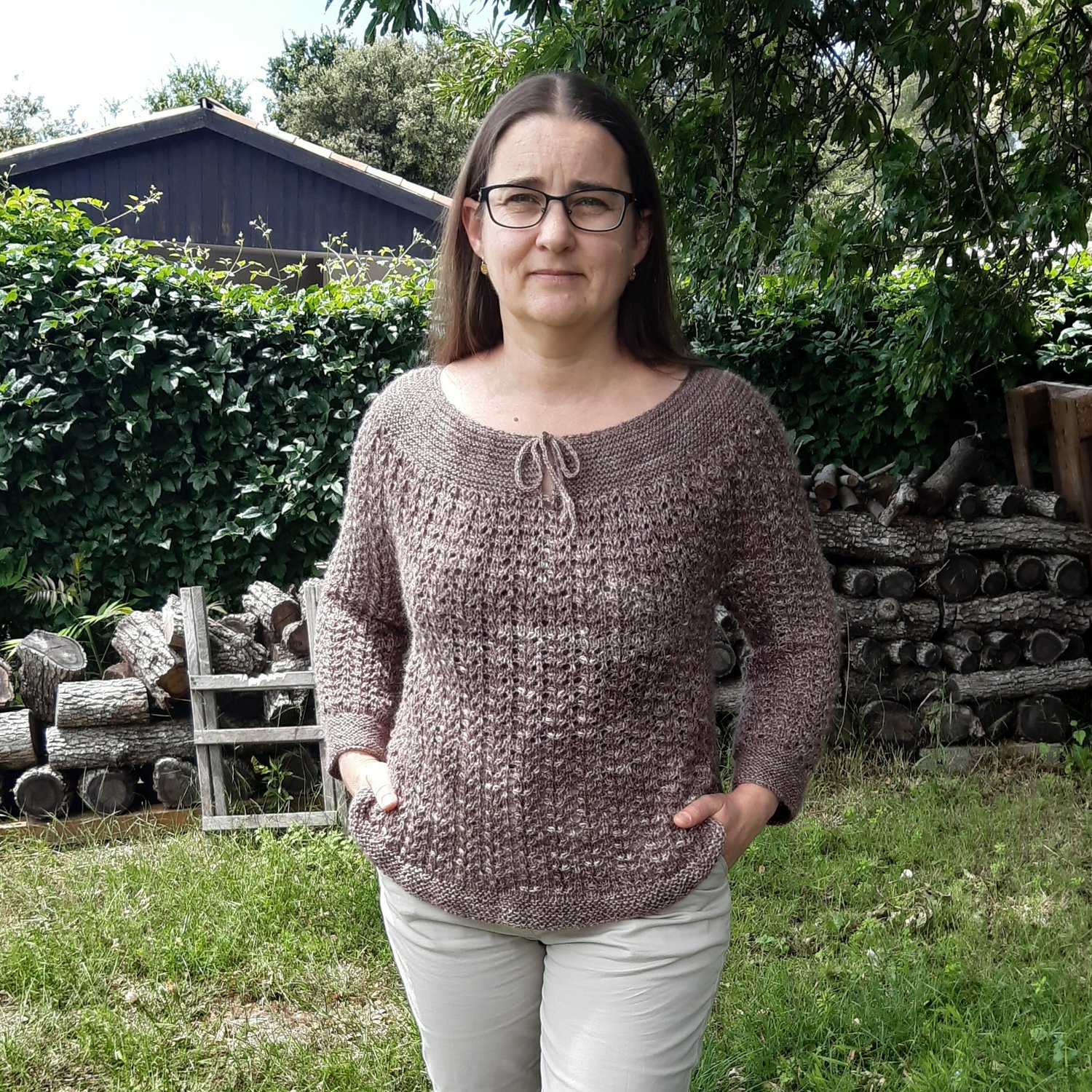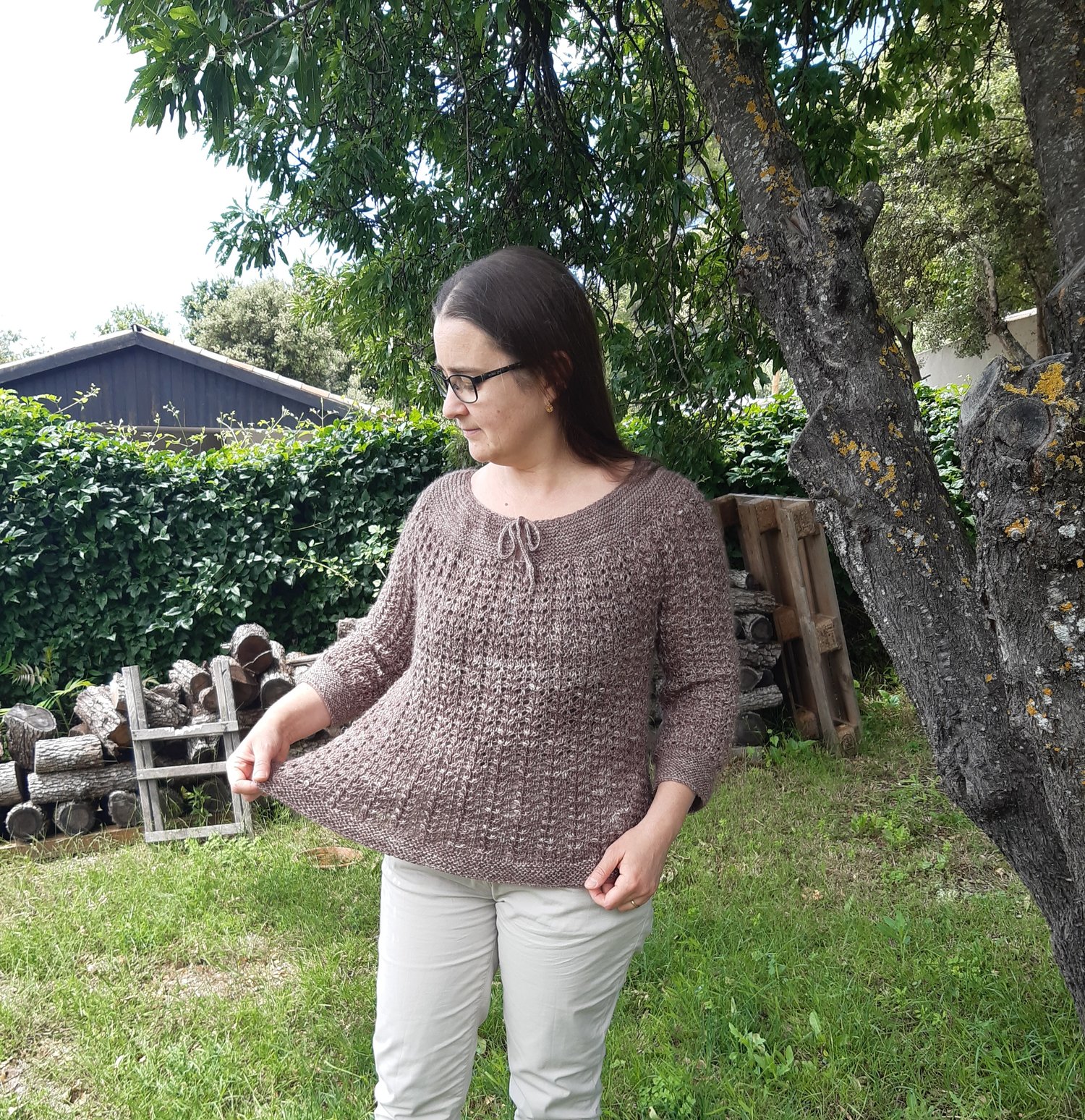 Epeautre - sweater for women
On Sale
Pay what you want:
(minimum €5.50)
Pattern in English and Français !

Epeautre is a sweater for women, loose and comfortable. This is the kind of sweater you'll love to wear everytime, whether you want to feel relaxed or need to put on a light sweater when the weather freshens…

Epeautre is worked from top down, beginning at the neckline, in garter stitich, with a little front opening. The yoke is then worked in the round and in lace. Afterwards, sleeves and body are worked separetely and in the round too. They are ended by a garter stitch border.

The sweater is proposed in sizes XS, S, M, ML, L, XL, 2XL, 3XL. It must be worn with a positive ease of at least 12 cm / 4 ¾ inches. The bust circumference of the finished sweater ranges from 96 cm / 37 3/4 inches to 138 cm / 54 1/4 inches. That means it fits your bust circumference from 80 cm / 31" up to 126 cm / 50", or even more if you want a more fitted sweater.

It is worked in DK yarn. I advise you to choose a rather light yarn, so the sweater is not too heavy. I made mine in Champêtres DK.
Depending on the size, you will need between 850 m / 930 yards and 1400 m / 1500 yards of yarn and circular needles 3.5 mm / US# 4 and 4.5 mm / US# 7.


<<<<<<<<<<<<<<<<<<<<<<<<<<<<<<<<<<<<<<<<<<<<

Epeautre est un pull pour femmes, ample et confortable. Le genre de pull qu'on a envie de porter tout le temps, qui convient aussi bien à une tenue décontractée, qu'à l'envie d'enfiler rapidement un pull léger quand le temps se fait plus frais…

Epeautre se tricote de haut en bas, en commençant par l'encolure, au point mousse, avec une petite ouverture. L'empiècement se tricote ensuite en rond et en dentelle. Les manches et le corps sont alors tricotés séparément et en rond eux aussi. Ils sont finis par une bande de point mousse.
La dentelle est très facile à réaliser et à mémoriser.

Le pull est proposé dans les tailles XS, S, M, ML, L, XL, 2XL, 3XL. Il se porte avec une aisance positive d'au moins 12 cm. Le tour de buste du pull fini allant de 96 à 138 cm, cela signifie qu'il convient pour les tours de poitrine de 80 à 126 cm environ, ou même davantage si vous souhaitez un pull plus ajusté.

Il se tricote en fil DK. Je vous conseille de choisir un fil assez léger, pour ne pas alourdir votre pull et risquer qu'il s'allonge au blocage. Le mien est tricoté en Champêtres DK.
En fonction de la taille, il vous faudra 850 à 1400 mètres de fil et des aiguilles circulaires de 3.5 et 4.5 mm.