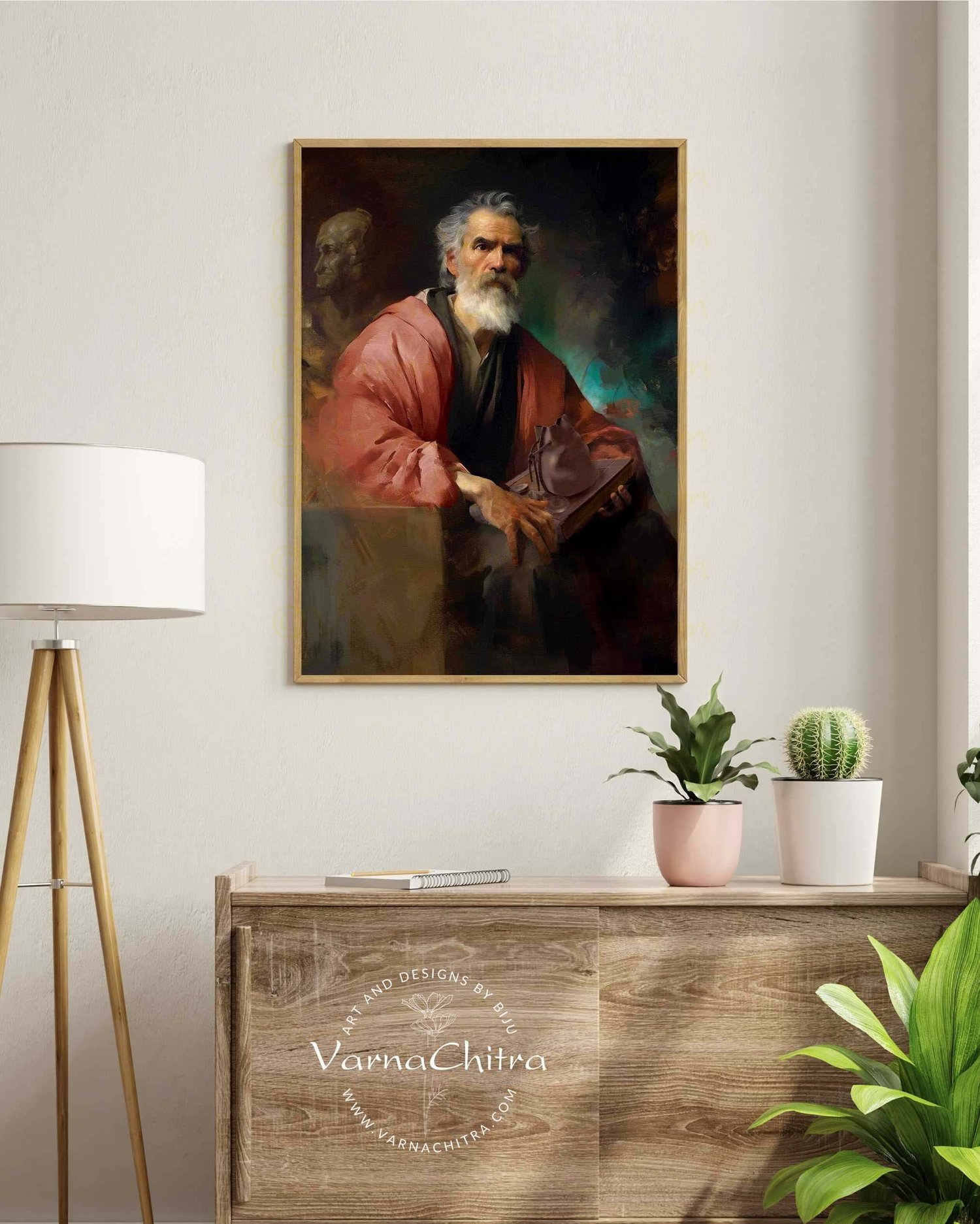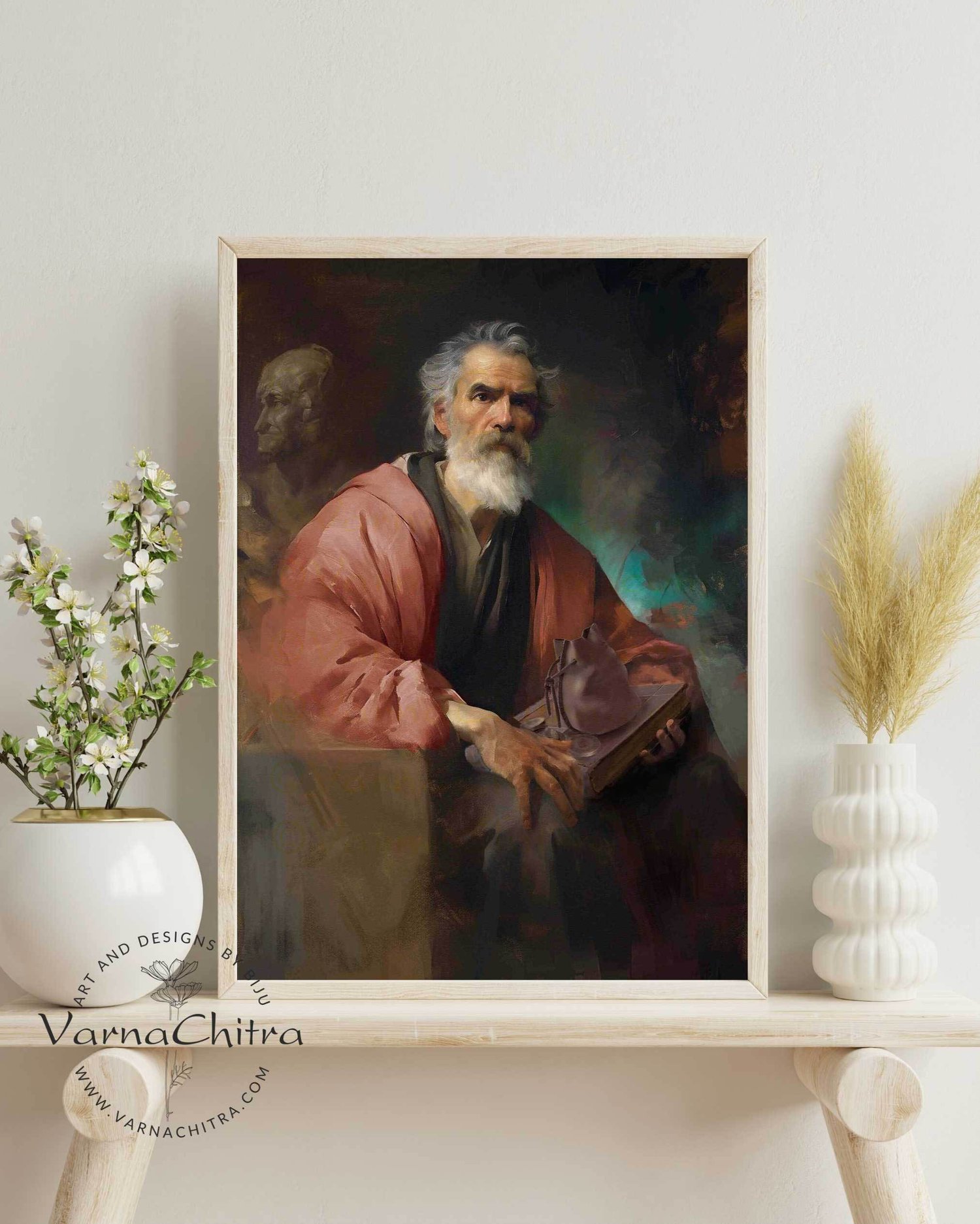 The Benevolent Intercession of St. Matthew, A Saint to Pray to in Times of Financial Troubles; Large classical style painting, Printable
Title: "The Benevolent Intercession of St. Matthew"
In this captivating classical painting, titled "The Benevolent Intercession of St. Matthew," we are presented with a powerful portrayal of the beloved saint as a guardian to turn to during times of financial hardship. Created in the timeless style of classical painting, this artwork captivates the viewer's imagination with its rich symbolism and meticulous attention to detail.
At the center of the composition stands St. Matthew, illuminated by a soft, divine light that casts a warm glow upon his face. Dressed in flowing, elegant robes, he exudes a sense of grace and tranquility. In his left hand, he holds a money bag, symbolizing his past occupation as a tax collector. It serves as a reminder that he understands the burdens and anxieties associated with financial struggles.
In St. Matthew's right hand, he clasps a book or a set of records, signifying his role as a Gospel writer and evangelist. The book represents not only the teachings of Christianity but also the hope and guidance he offers to those seeking assistance in their fiscal matters. It serves as a reminder that St. Matthew's influence extends beyond the earthly realm, bridging the gap between worldly affairs and the divine.
In the background, we catch a glimpse of a bust statue of a Roman emperor, a subtle reference to St. Matthew's past as a tax collector for the Roman authorities. This detail emphasizes his transformative journey from a collector of material wealth to a spiritual figure dedicated to spreading the teachings of Jesus Christ.
The overall composition exudes a sense of serenity and hope, inviting viewers to contemplate the intercession of St. Matthew in their lives. By emphasizing his unique understanding of financial difficulties, the painting encourages those in need to seek solace and guidance through prayer. St. Matthew stands as a beacon of comfort, ready to assist and guide individuals facing fiscal challenges, offering solace and the potential resolution of their burdensome tax issues.
"The Benevolent Intercession of St. Matthew" serves as a testament to the enduring power of faith, highlighting the saint's ability to connect with the struggles of everyday life and provide solace to those who seek his intercession. Through this classical masterpiece, viewers are encouraged to embrace the spiritual dimension and find strength in their financial challenges, knowing that St. Matthew is ever-present, willing to alleviate their burdens and bring them closer to a brighter, more prosperous future.
Upon purchase you will receive 1 jpg file as instant download.
Use the downloaded files for customized printing and framing at any of the online printing and framing services like shutterfly, canvaschamp etc. You may also utilize the service of your local printing and framing shops.
THIS ITEM IS A DIGITAL DOWNLOAD ONLY. NO PHYSICAL ITEM WILL BE SHIPPED.
YOU WILL GET 1 JPG FILE OF SIZE 32x48 inches with 300 ppi AS A DIGITAL DOWNLOAD.
The file can be easily resized to
24x36 inches(2:3 aspect ratio) and below
24x24 inches (1:1 aspect ratio) and below
18x24 inches (3:4 aspect ratio) and below
16x20 inches (4:5 aspect ratio) and below
11x14 inches
A3 (ISO) 11.7x16.5 inches
You can contact me for any other size after purchase.
For personal use only. No commercial use permitted.