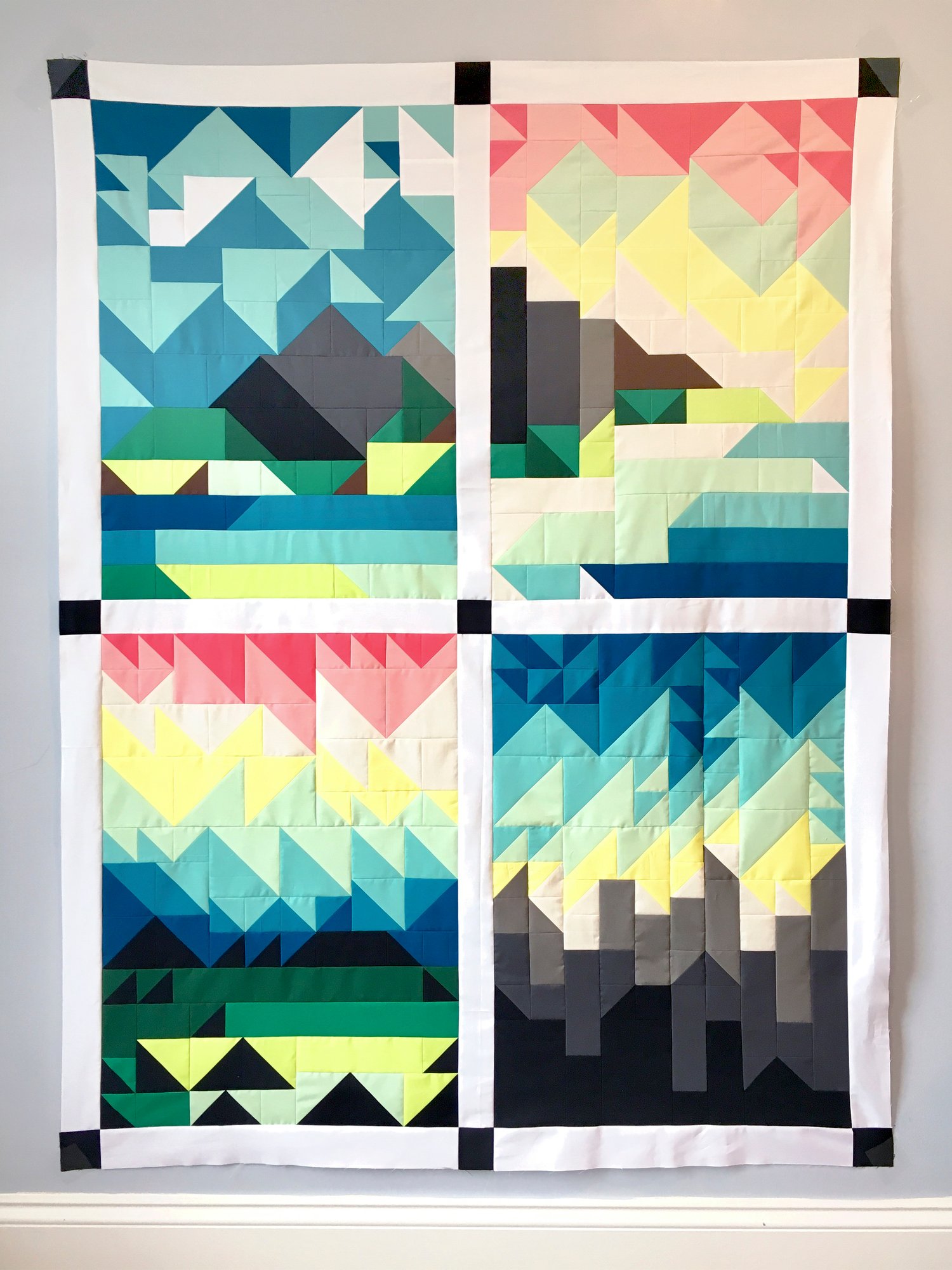 Postcard Skies Quilt Pattern, a Sky Series Quilt Pattern featuring Mountain, Tropical, Country, City Quilt Patterns
On Sale
The Postcard Skies Quilt Pattern is an original quilt pattern designed by me but uses the traditional Half Square Triangle (HST) block with squares and rectangles as the base. This pattern is for advanced beginners and is designed to be made quickly. It looks complicated but it really isn't. This pattern can be made in so many ways.

This is a combination of all in the series of Sky Quilt Patterns, making the mini/wall hanging size of each. Please see my other listings for the original Country Sky Quilt Pattern, Tropical Sky Quilt Pattern, City Sky Quilt Pattern and Mountain Sky Quilt Pattern, which includes three sizes in each including throw, baby and mini/wall hanging. All of the patterns were inspired by photos I took, with the exception of the Mountain Sky Quilt Pattern. It was inspired by a friend's photo when she was on honeymoon in Montana. However, with changes in fabric placement and colors, the quilt patterns can represent any place you'd want. 

Pattern is digital and will be automatically sent to you after purchase. This listing does not include a physical pattern and is digital only; you will need to print the pattern yourself. I have used lower opacity colors to help save ink. Due to the nature of digital patterns, item cannot be returned or refunded. Quilts shows are examples only.

I have not included any basic sewing instructions or piecing instructions and assumes that the buyer has sewing experience. However, if you need help, please contact me and I will try to help you any way I can.