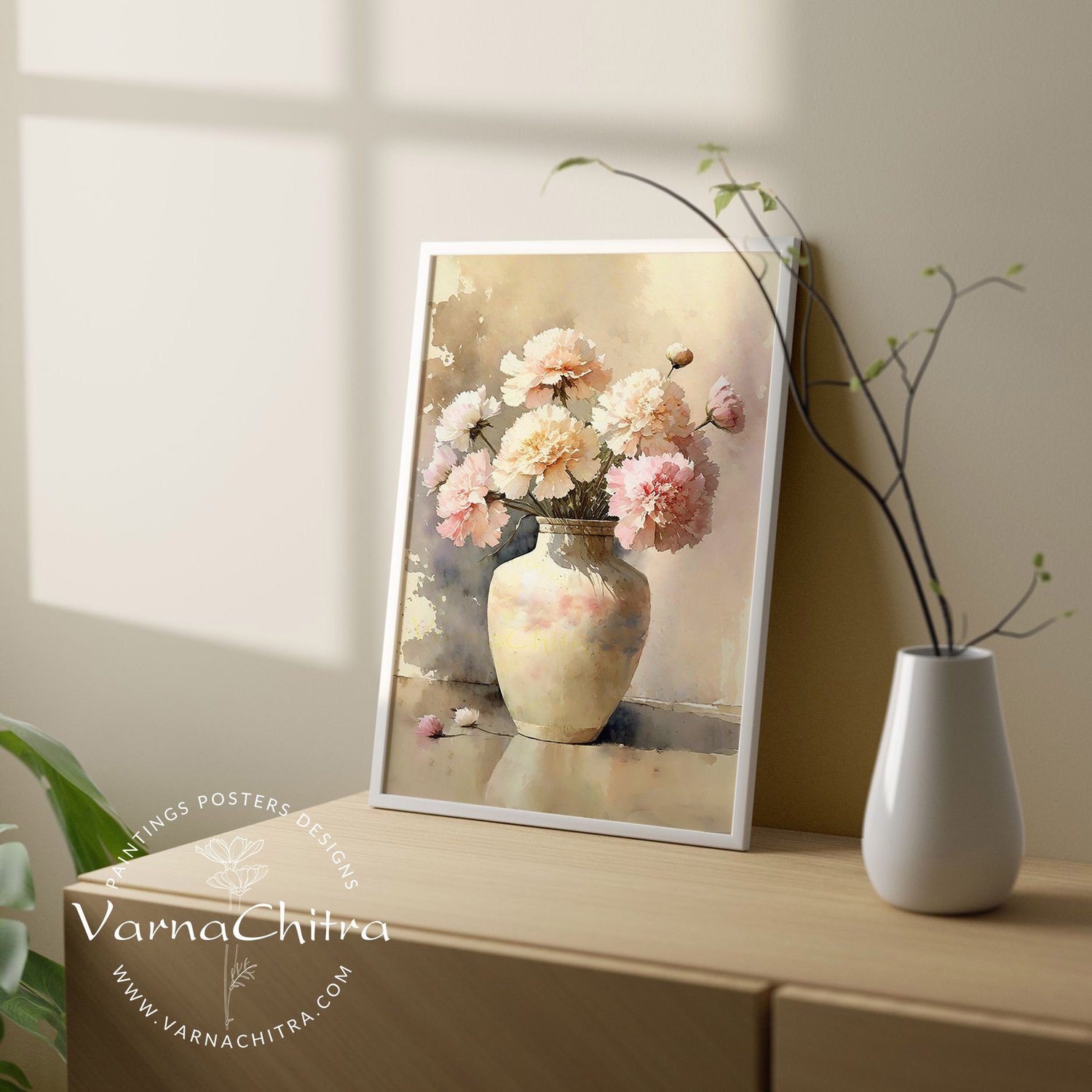 Carnation2 Watercolor Floral Still Life Painting - January Birth Flower Large Size
Ref: Carnation2
In this mesmerizing watercolor artwork, a delicate bouquet of carnations adorns a beautiful vase, exuding an aura of timeless elegance and profound emotion. The painting captures the fluidity of watercolors breathes life into each petal, revealing the soft, ethereal beauty of carnations in a symphony of vibrant hues.
Carnations, steeped in rich symbolism, occupy the heart of this composition. Traditionally associated with love, fascination, and distinction, each bloom whispers its own unique story. The spectrum of colors, ranging from soft pinks to pastel reds, conveys a kaleidoscope of emotions, making carnations an ideal subject for evoking complex feelings.
Often linked to admiration and deep affection, carnations gracefully enhance spaces where warmth and connection are cherished. Their enduring symbolism has the power to transform the ambiance of a room, infusing it with a palpable sense of love and appreciation.
This is suitable as a gift for any occasion, especially for those born in January. 
Upon purchase you will receive 1 jpg file as instant download.
Use the downloaded file for customized printing and framing at any of the online printing and framing services like shutterfly, canvaschamp etc. You may also utilize the service of your local printing and framing shops. Read more about it here. Or buy framed print choosing your custom size, frame, mat and material from zazzle.
THIS ITEM IS A DIGITAL DOWNLOAD ONLY. NO PHYSICAL ITEM WILL BE SHIPPED.
YOU WILL GET 1 JPG FILE OF SIZE 32x48 inches with 300 ppi AS A DIGITAL DOWNLOAD.
The file can be easily resized to
24x36 inches(2:3 aspect ratio) and below
24x24 inches (1:1 aspect ratio) and below
18x24 inches (3:4 aspect ratio) and below
16x20 inches (4:5 aspect ratio) and below
11x14 inches
A3 (ISO) 11.7x16.5 inches
You can contact me for any other size after purchase.
For personal use only. No commercial use permitted.