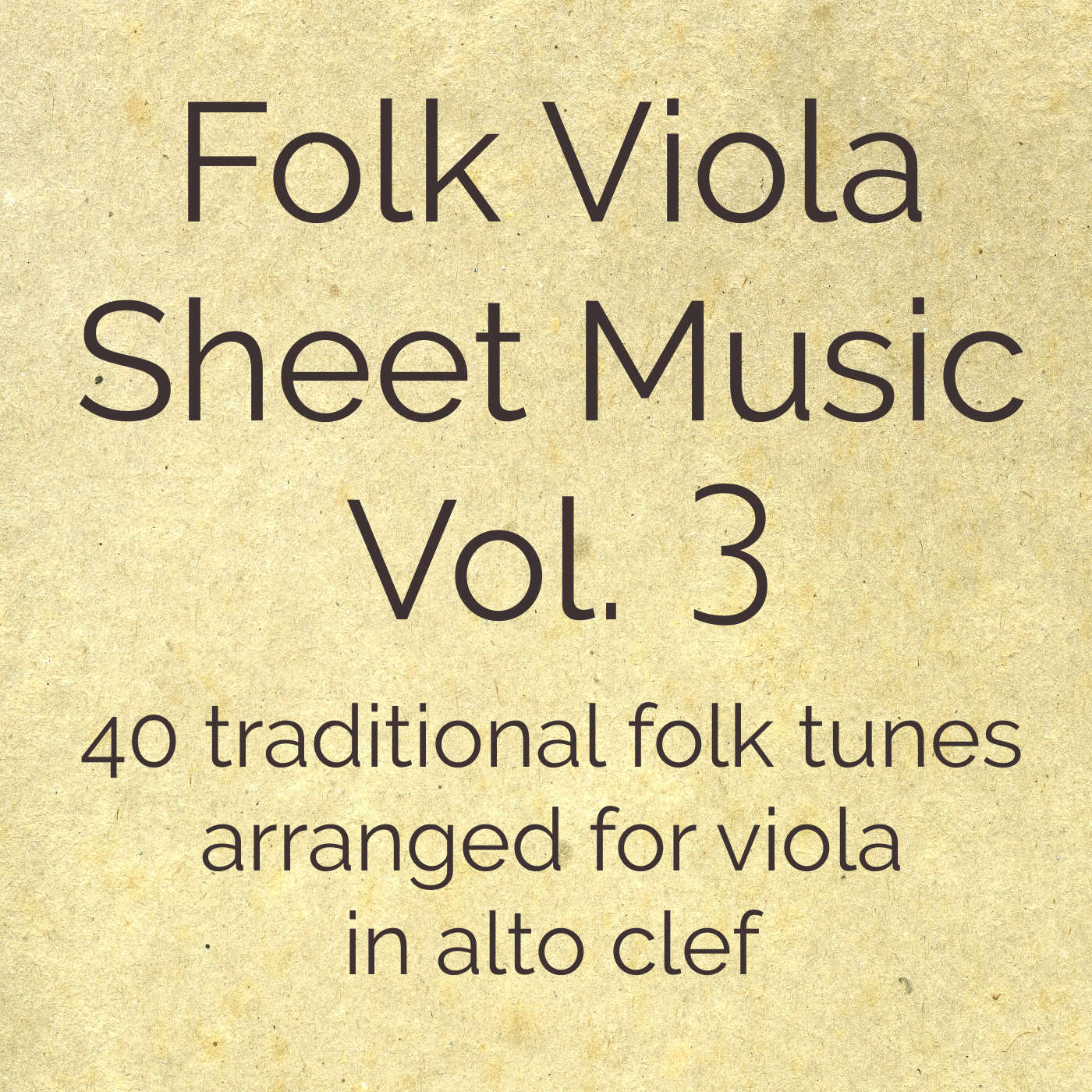 Folk Viola Sheet Music Collection Vol. 3
On Sale
Pay what you want:
(minimum £7.00)
DIGITAL (PDF) SHEET MUSIC
A collection of 40 traditional folk tunes from the Irish, Scottish and English traditions, arranged for viola and presented in alto clef, with chord symbols for accompanists.
Each tune comes in two versions: a Solo Viola Version, and one or more Session Versions. Both versions of every tune are included in this collection.
The Solo Viola Version is transposed down a fifth from the original key, so that it fits on the viola in the same place under the fingers as it would on a violin (i.e. all in first position). This version is for playing solo, or with accompanists who play the chords.
The Session Versions are are in the original key so that they can be played with other (non-violist) musicians in traditional music sessions, but are arranged to be played in an octave that fits on the viola in first position.
The scores are provided without bowings or grace notes, as these are personal to each player and should be developed independently according to preference.
The tunes in this collection are:
All in a Garden Green
The Bellingham Boat
The Boy in the Boat
The Brown-Sailed Boat
Cam Ye O'er Frae France
Captain O'Kane
Carolan's Concerto
Carolan's Welcome
The Cliffs of Moher
The Cup of Tea
Dearest Dicky
Drive the Cold Winter Away
A Fig for a Kiss
The Fox and the Geese
The Geese in the Bog
Green Mountain Petronella
Highland Boat Song
Hunting the Squirrel
I Have Two Yellow Goats
I Rowed Up in a Dory
I Was Born For Sport
Ievan Polka
Jenny Dang the Weaver
The Lady on the Boat
The Longacre
The Maid on the Green
Maids of Castlebar
Mazurka La Pleau
The Merry Sisters
Metsäkukkia
Newcastle
Niel Gow's Lament for His Second Wife
Nonesuch
The Parson's Farewell
The Pretty Girls of Mayo
The Price of a Pig
The Princess Royal
Scotch Cap
The Twisted Bridge
The Vandals of Hammerwich
Visit
folkviola.co.uk for more folk viola resources and sheet music.