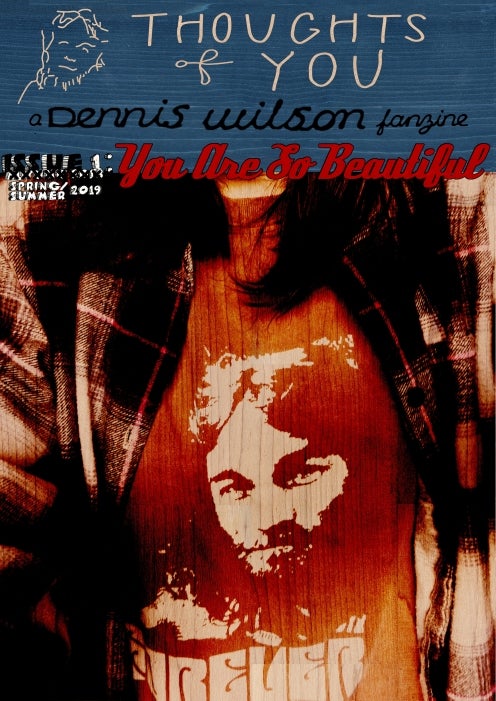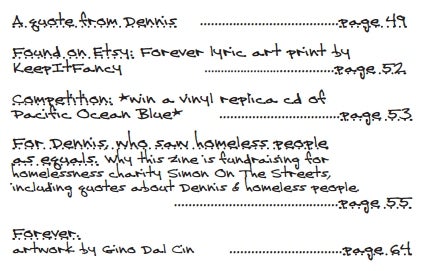 Thoughts Of You fanzine issue 1
On Sale
£1.00
Pay what you want:
(minimum £1.00)
A charity fanzine for Beach Boy Dennis Wilson.
Issue 1:  You Are So Beautiful. 68 page pdf. 
Pay what you want / pay what you feel (minimum £1)
All profits will go to a UK grassroots homelessness charity.
More information: 
https://denniswilsonzine.tumblr.com
The launch issue. Contents include: fashion features inc. unofficial t-shirts from Bathroom Wall,  a personal Valentine's Day tribute; what Dennis, The Tug Of Love, & You Are So Beautiful mean to me, Dennis Wilson For President t-shirts, thoughts on a spot of facebook wtf***ery re Dennis, Carrie Fisher & the Inauguration, an appropriate quote from Dennis; photos by Erin nicole , Star Wars mash up art by Why The Longplay face?; why this zine is fundraising for homelessness charity Simon On The Streets - including quotes re Dennis & homeless people; Forever inspired artwork by Gino Dal Cin plus more...
Zine is from 2019, some information is out of date & some things & web links featured in the zine may be no longer be available.
This is the slightly updated version (the original accidentally missed off a photo credit & mangled a instagram link - Dongh_Art/Jazz Tobacco's insta seems to be no longer online, if anyone really needs to see the cursed face swap image mentioned on page 48 I've re-upped it here - shared with permission imgur.com/a/lbPnh7s )
Content warning: contains brief mentions of abuse and mental illness, and a small amount of swearing. & if you're avoiding pre 2016 - Feb 2021 US politics it's best to skip pages 46-48.
All profit will be donated to Simon On The Streets (Registered charity no. 1088245), a grassroots homeless charity.
"Simon on the Streets remembers and engages those that so many forget".