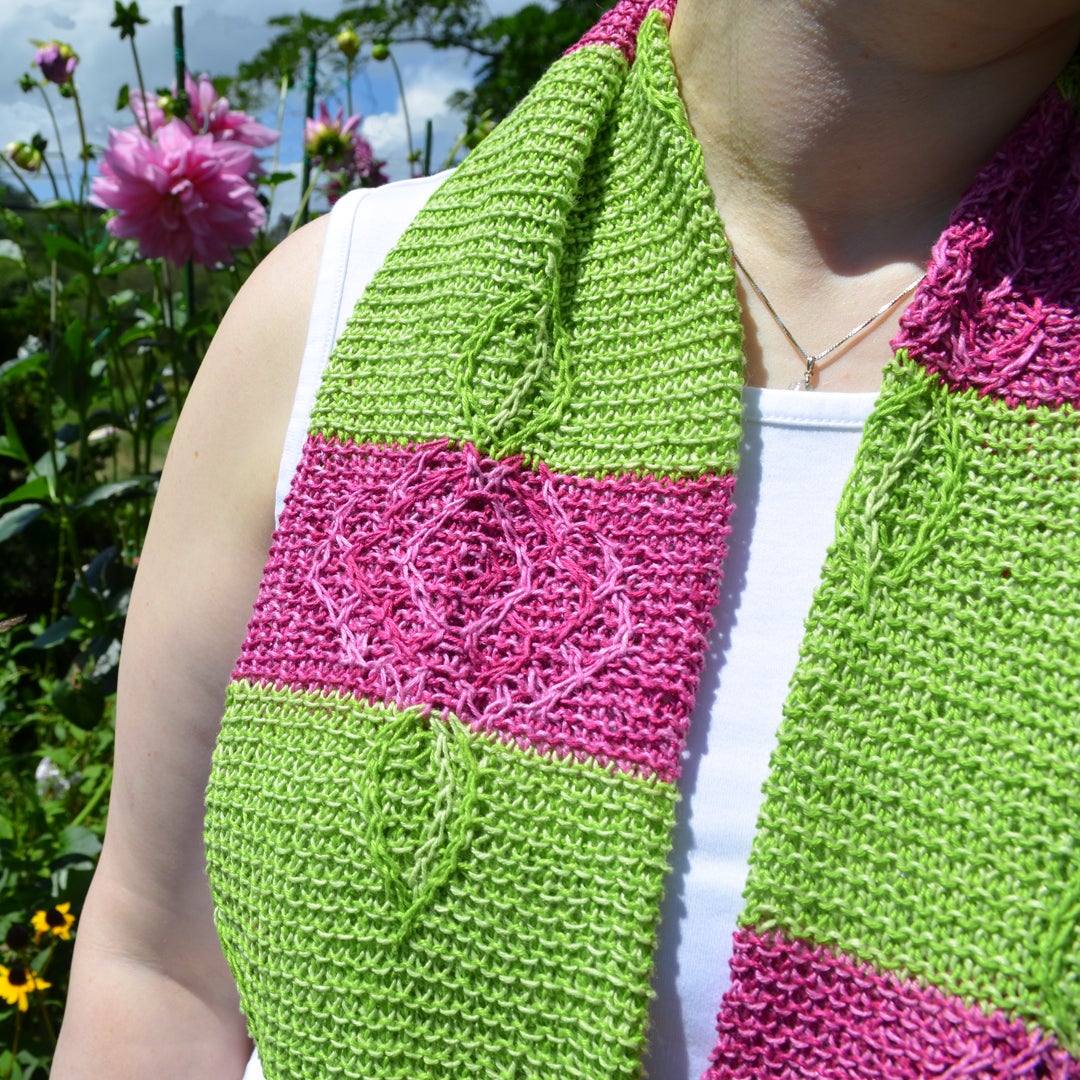 Slip and Rise 2022 Pattern Club
On Sale
$27.00
Preview
The morning frost warms into morning dew as winter turns to spring.  Within these first few months of 2022, enjoy some simple designs to awaken your senses to the joyful colors and textures of double slipped designs.  The final two designs will appear as we say "goodbye" to warm summer mornings and "hello" to frosty sunrises. 
Slip and Rise includes six accessory patterns all featuring double slipped designs.  Design themes include cables, hearts, stripes, arches, flowers, and flakes.
Prior to publication the patterns will be tech edited and posted for testing.  Each pattern will be written and charted.  All will be beautifully presented in a PDF eBook.  With each release the price will rise to reflect the new addition.  
January, Release 1 - Shadowlands Headband: Double the warmth with Shadowlands Headband.  Light filters through shades of dusk on the top while ribbing underneath adjusts for a snuggly warm fit.  Contrasting cables interplay in two styles for two winter weather needs – a fashionable warm winter headband that's great for keeping your hair in place and a built for the Northern winter width that keeps you warm and stylish!
February, Release 2 - Love Letters Cowl: What better a way to celebrate love than by creating hearts on your stitches.  Ever mindful of the warmth of puppy kisses on the neck, Love Letters Cowl wraps you cozy even when your love is away from your presence.  Write your Love Letters Cowl on your needles in your two favorite colors.  This happy heart cowl keeps you smiling from picot cast on through winter's frosty chill.  
March, Release 3 - Vertical Hiker: Spin your stitches round and round as you hike to the crown in Vertical Hiker.  This colorful design features an easy knitting trick – only one color is used per round!  No floating on this trek.  Choose your free style hiking pace; knit up your Vertical Hiker as a beanie or a slouchy.  Vertical Hiker keeps you warm from base camp to summit and back again. 
April, Release 4 - Archways: After basking in this pastoral setting, visions of these beautiful archways and the watery hues beyond beaconed the next design.  Stitch your way through architectural slipped stitch cables atop a fluid background of Garter stitch.  Reflections of this serene environment mimic the calm rhythm of the planned stitches.
September, Release 5 - Floral Chic: Beautiful textures in summer gardens inspired Floral Chic.  From a distant glance, bold color blocking appears.  As your eye is drawn closer, the stitches reveal intricate cabling textures with a peony and leaf design.  Spring, Summer, and Fall, with multiple styles included, Floral Chic gives a joyful freshness to your day. 
The tech edited and test knit pattern is fully written and charted.  Pattern includes two styles of cowls!  Check out the blog for the quick stitch demos.
Finished Measurements:
Reversible – 6"/ 15cm wide and 40"/ 101.5cm long
Single Sided – 24"/ 61cm around top and bottom and 23"/ 58.5cm around middle by 8"/ 20.5cm tall
Materials:
4 skeins Eco-Stitch Sport, shown in colour names Pistachio, Lime, Magenta, and Vintage Rose
   Single skein info: hand dyed 100% linen Sport; 268yds/ 245m per 100g/ 3.53oz
US 5/ 3.75mm circular needles with a spare DPN for grafting
Yarn needle
Reversible Only:
1 stitch marker & 1 unique stitch marker
Spare US 5/ 3.75mm for grafting
Single Sided Only:
3 stitch markers & 1 unique stitch marker
Blocked Gauge:
20 sts and 35 rows over 4"/ 10cm in CA & CB section pattern stitch.  Note: exact gauge is not critical to this design. Gauge variations may impact final size and yardage requirements.
Special Notes:
Stitch It: gauge is given in the leaf section.  Due to the heavy cabling in the peony flower section, this area carries a different stitch gauge.  Increases, decreases, and blocking are used to help mitigate the difference, which becomes unnoticeable on the Reversible version.  The cool concave shape of the Single Sided design is a result of the gauge difference.
Slip It: always slip as if to purl with yarn in back.
Cable It: Floral Chic cowl features a medley of 1/1 cables.  A cable needle is optional.  You may choose to work the sts out of order without one.  To delineate the 1/1 cables from each other, the stitches worked are included in the cable names.  For instance, 1/1 LKSC knits the st from the working needle and slips the st from the cable needle. 
Graft It: though a provisional cast on is called for, if you are like me and hate undoing those, cast on with a cable cast on and follow this grafting live sts to the first row of stitches trick.  Check out the blog here for the grafting and cabling video demonstrations.
Yarn It: one set of 4 skeins makes both sizes or one 56"/ 142cm or one 64"/ 162.5cm Reversible cowl.
1 Peter 1:22-25.