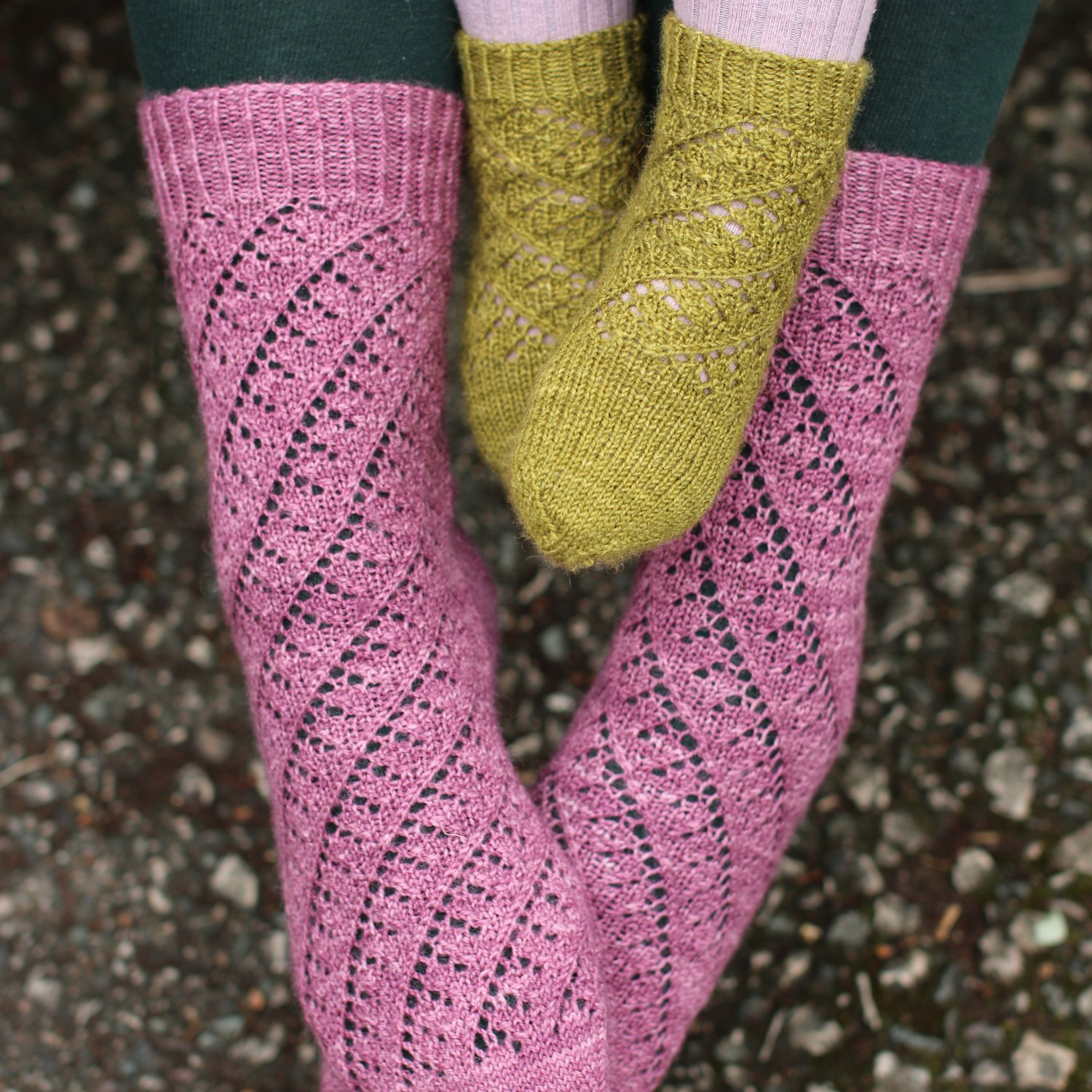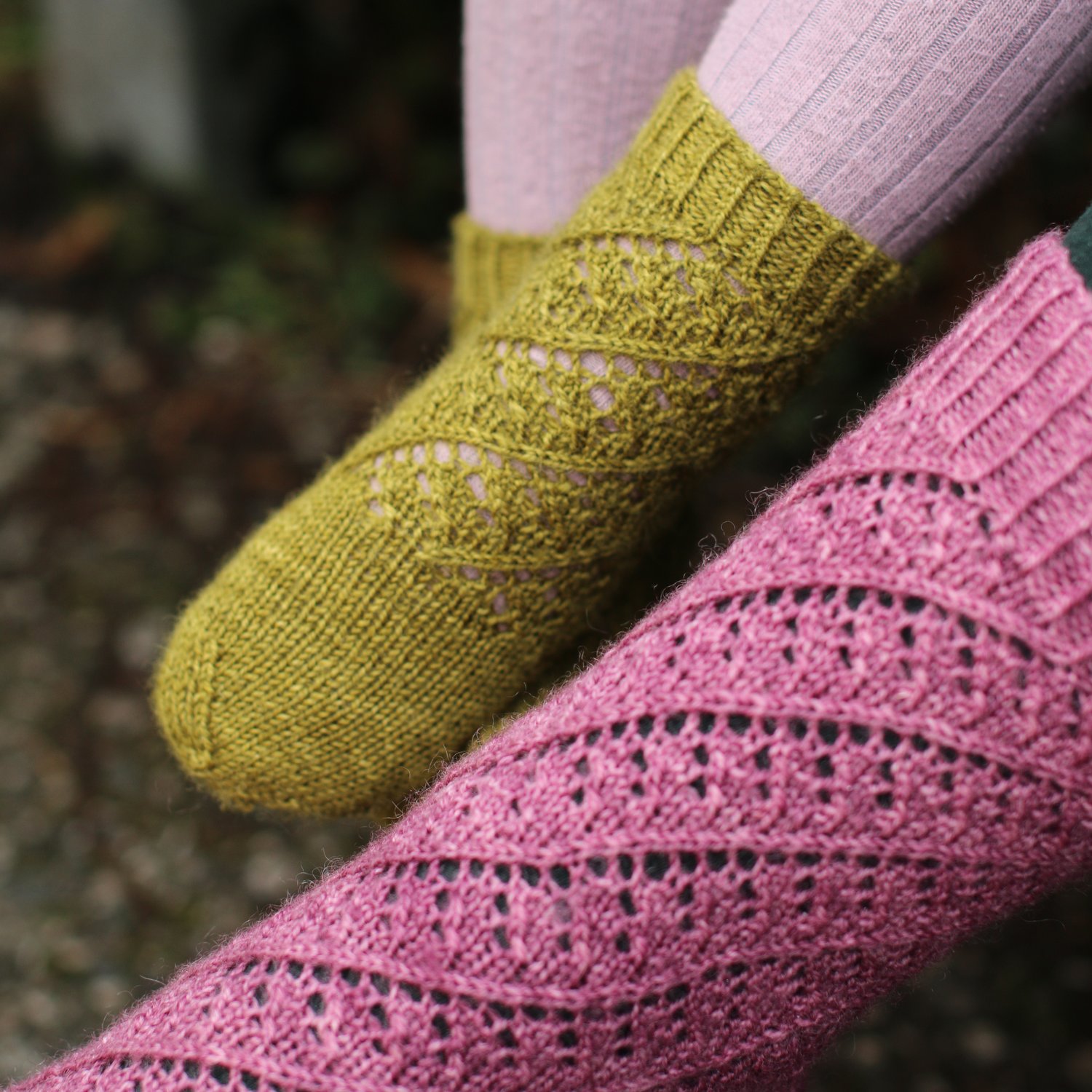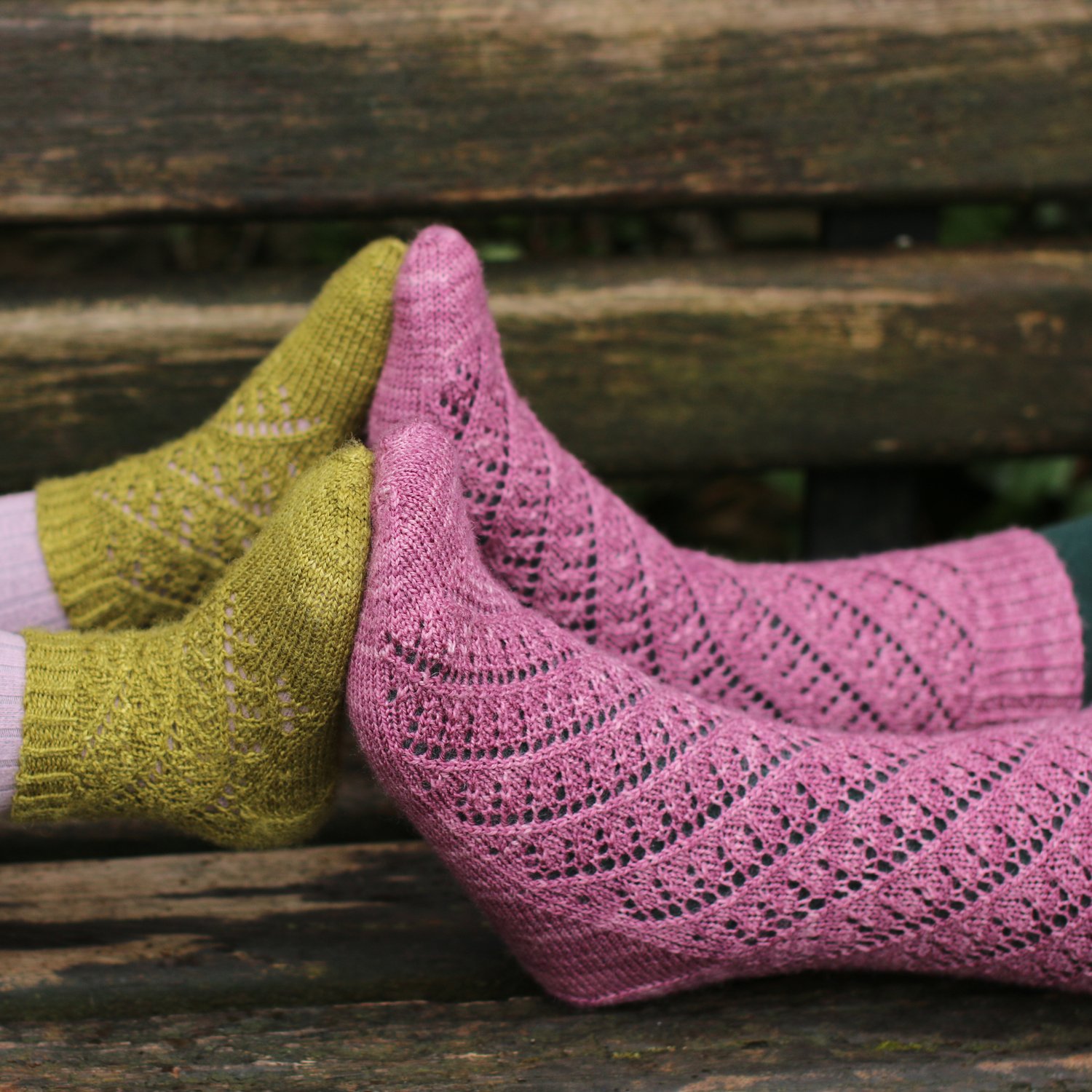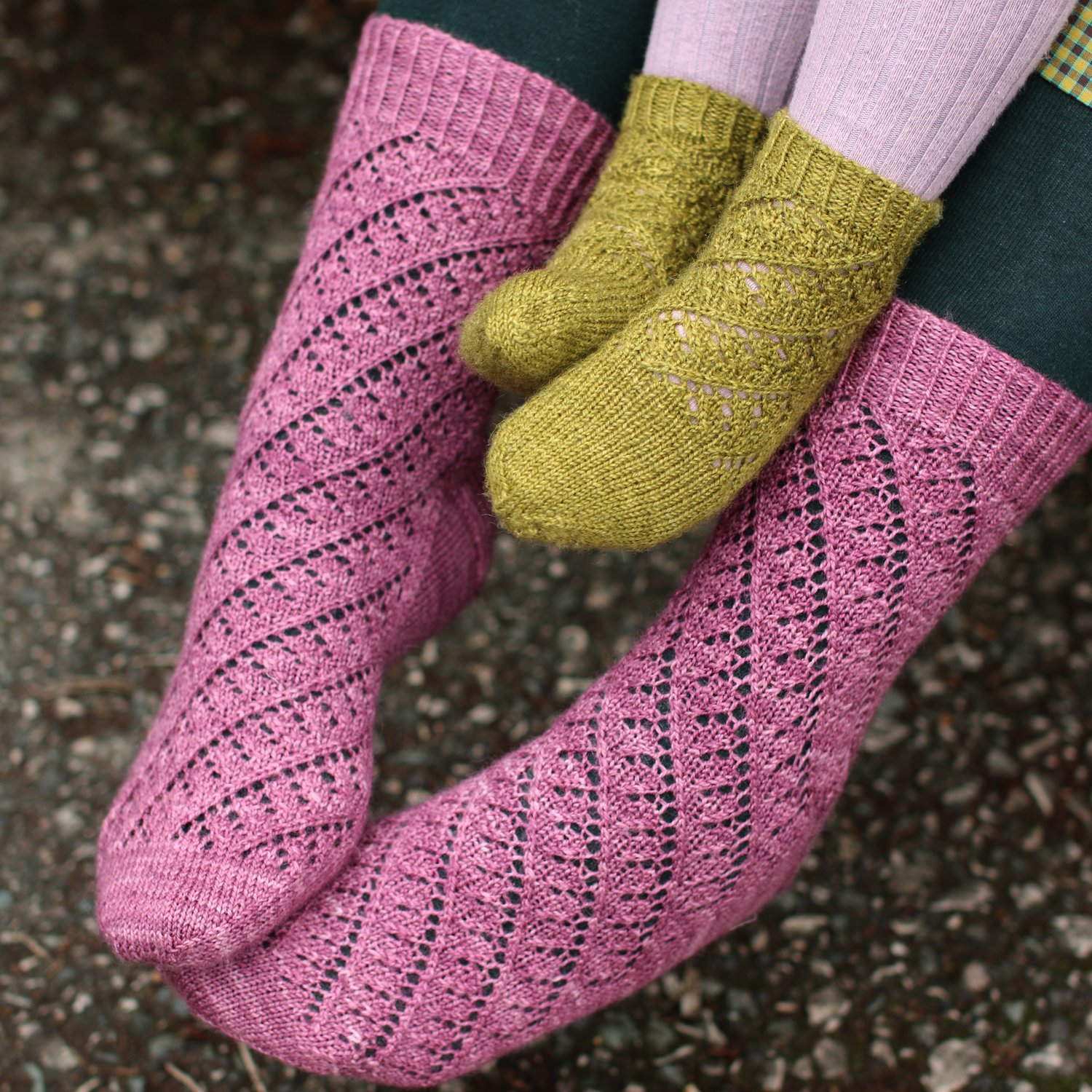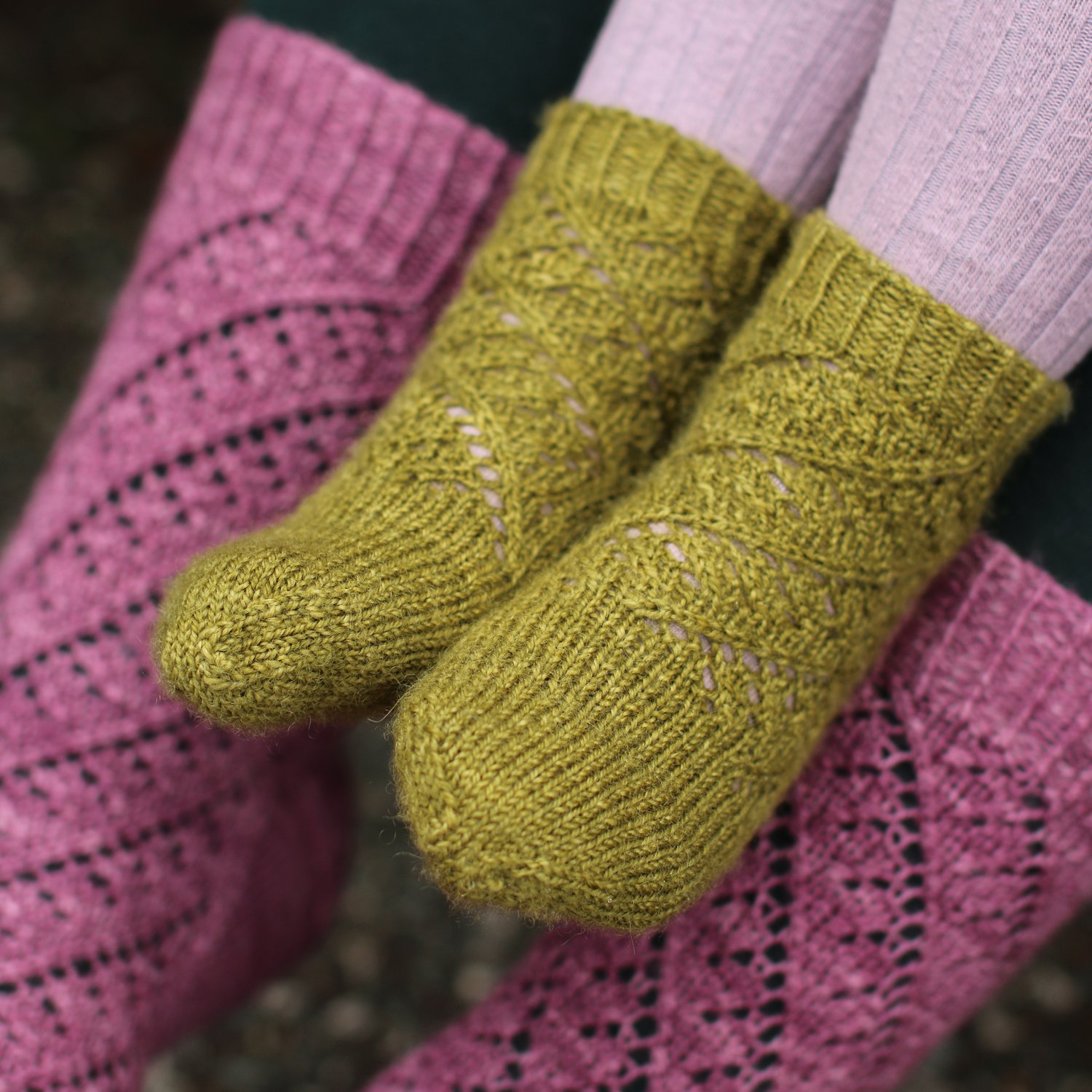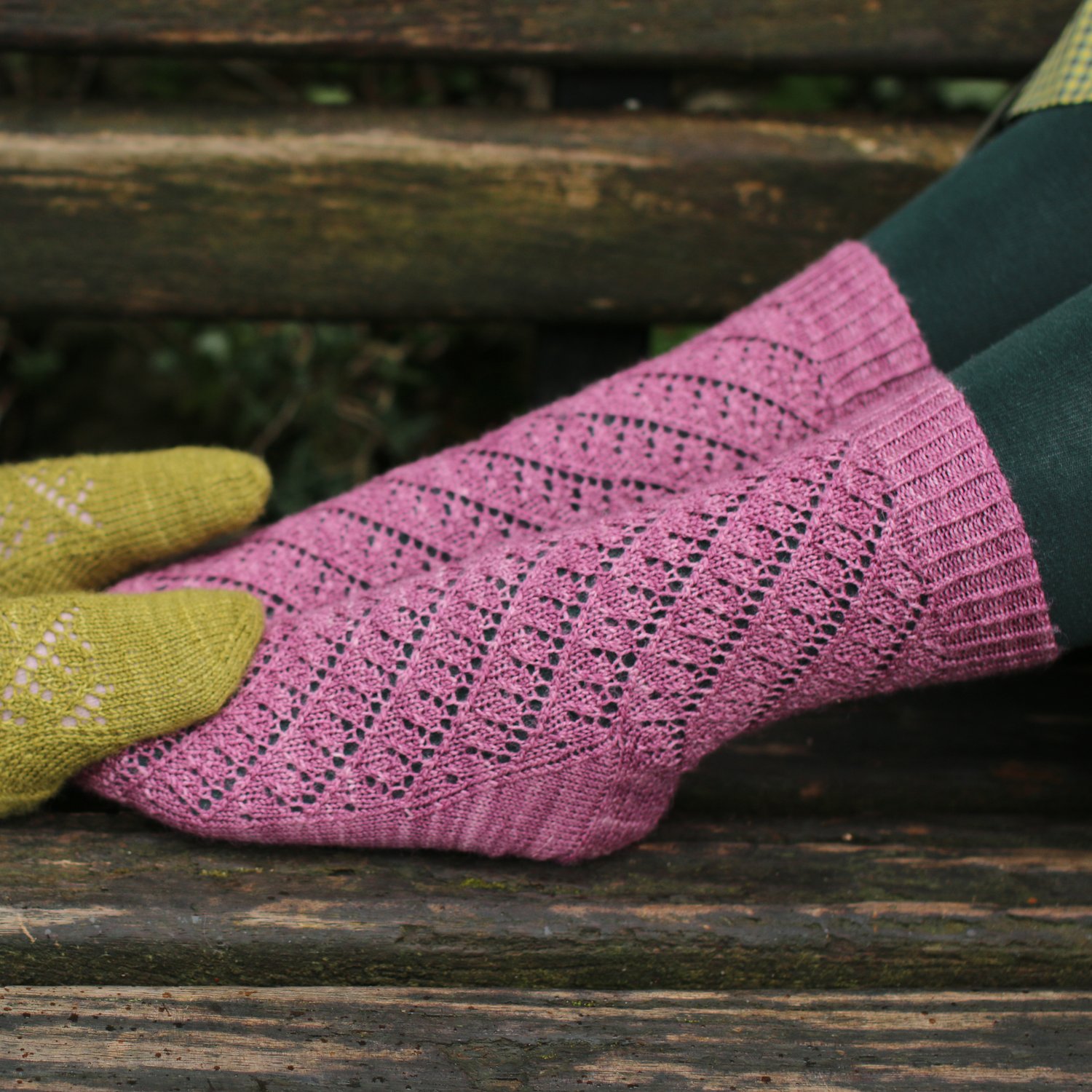 Selion Sock Pattern
On Sale
This pdf sock pattern includes instructions for seven sizes, both written and charted instructions for the lace sections and a clear schematic diagram and sizing chart.
The design inspiration for Selion comes from memories of childhood walks down country lanes in the Nottinghamshire countryside and seeing the evidence of ancient ridge and furrow outlines from Medieval farming practices, in the surrounding fields. Even hundreds of years later the ploughed marks of this system of farming remain, with the ridges or Selions still visible. This is interpreted in the spiralling slip stitch pattern which forms the leg and upper foot of this delicate yet easy-to-wear sock. The sole is knitted in stocking stitch to create a firmer fabric for underfoot.
These mid-calf length socks commence with a twisted rib cuff followed by the delightful lace pattern, which stretches comfortably over the leg and foot. Selion has a traditional slip stitch heel flap which is easily adjustable to achieve a perfect fit. The top of the foot can be knitted in either the lace pattern or in stocking stitch, after which the toe shaping is worked before the toe is grafted together. The Selion pattern includes seven sizes from baby sizes through to adults and includes options to work the patterning on the socks in differing directions to make matching or mirrored socks!
Pattern sizes and yarn required
Design shown knitted in Susan Crawford Bluem Sock (75% Bluefaced Leicester wool, 25% nylon) 395 metres / 432 yards per 100g; and also available in 25g skeins. This blend creates a beautifully soft but strong material when your sock is knitted up.
Working the socks to fit the foot lengths as follows: UK 4 (7.5, 12, 7, 7, 7, 7) / US 4½ (8, 12½, 9½, 9½, 9½, 9½) / EU 20 (25, 30, 40, 40, 40, 40) uses approximately 120 (145, 215, 290, 355, 410, 475) metres / 130 (160, 235, 315, 390, 450, 520) yards of Sock weight yarn. 
Additional yarn will be needed for larger foot lengths, but you can see from the specifications above that 3 pairs of 1st size socks can be knitted from a single 100g skein or a 6th size pair can be knitted with one 100g skein plus an additional 25g skein which can either be in the same shade as the 100g skein or a contrast colour could be used on cuffs, heels, toes or a combination of all three!
Susan is wearing the fifth size socks in the photographs in shade Thistle Head and Willa is wearing the second size sock in shade Moss Covered Wall, both in Susan Crawford Bluem Sock.
As required by UK and EU law, terms and conditions can be found on my website www.literallyyarn.co.uk for you to read and save before purchase.