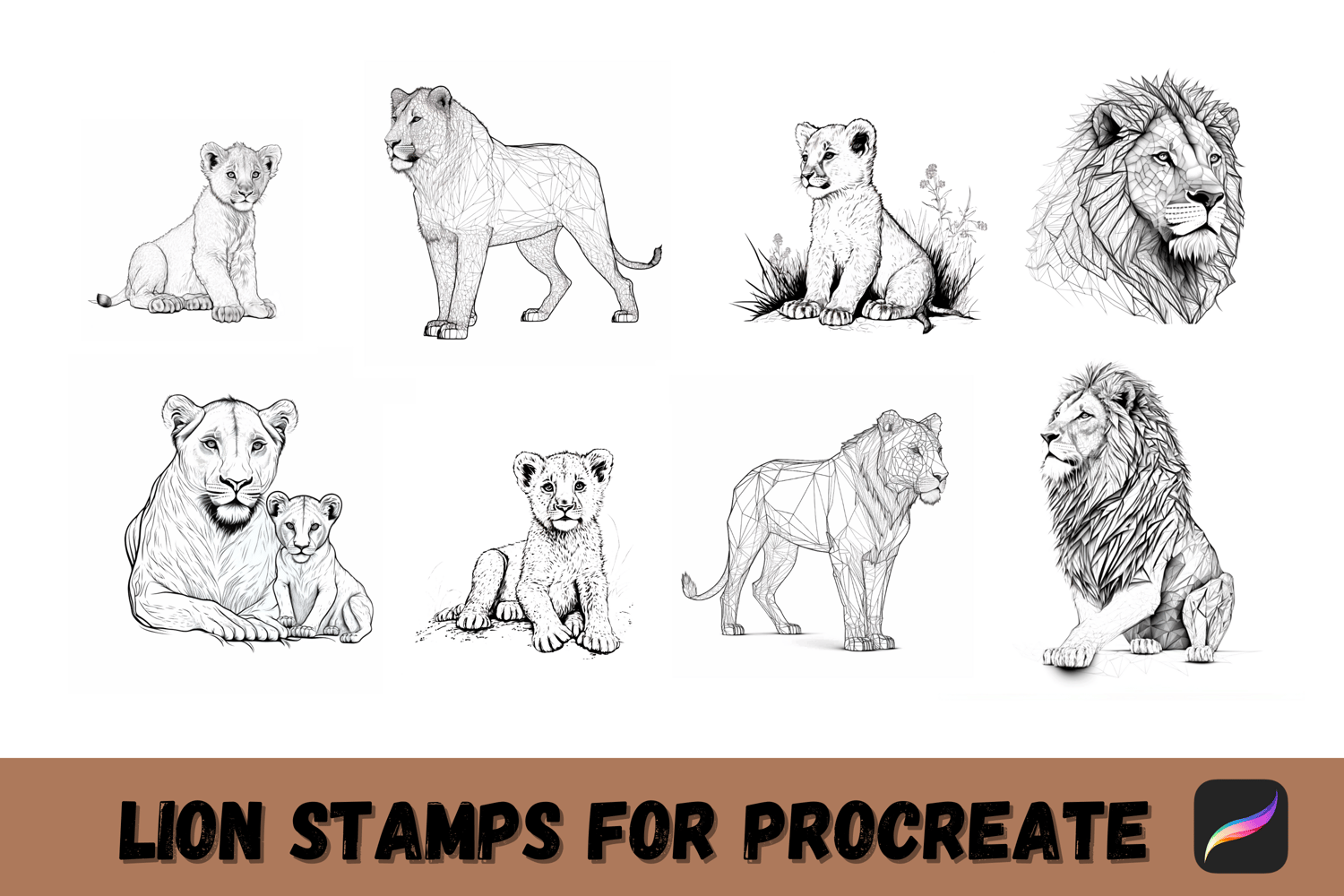 Lion Stamps for Procreate
On Sale
24 Lion Procreate Stamp, Lion Stamps, lion and cubs tattoo procreate, procreate tattoo, procreate stamps, procreate brushes, tattoo stamps
Introducing our Majestic Lion Procreate Stamp Collection, featuring 24 beautifully designed lion stamps to elevate your Procreate art and tattoo designs! This incredible set of lion stamps includes a variety of different lion heads, lion bodies, lionesses, and adorable cubs to help you create truly mesmerizing and bold designs.
These Lion Procreate Stamps are perfect for any lion lover, aspiring tattoo artist, or digital illustrator looking to expand their artistic toolkit. Each stamp is crafted with crisp lines and intricate detail to provide you with the utmost precision and realism in your artwork.
Key Features:
🦁 24 Unique Lion Stamps: Including lion heads, lion bodies, lionesses, and cubs, this collection offers a wide range of designs to suit any creative need.
🎨 Easy-to-Use Procreate Stamps: Simply select your desired stamp, adjust the size and color, and tap on your canvas to create your masterpiece. It's that easy!
💉 Lion and Cubs Tattoo Procreate: Perfect for tattoo artists looking to create realistic and stunning lion-themed tattoos or simply explore new design ideas.
🖌️ Procreate Brushes: Our lion stamps are compatible with Procreate and can be used seamlessly with other brushes to create various textures and effects.
🎁 Instant Digital Download: Upon purchase, you will receive a digital file containing all 24 Lion Procreate Stamps, ready for immediate use in your Procreate app.
This fantastic set of lion stamps is perfect for creating one-of-a-kind designs, whether it's for a lion and cubs tattoo Procreate, digital illustrations, or any other creative project. The possibilities are endless!
Unlock your creative potential with our Majestic Lion Procreate Stamp Collection and bring the king of the jungle to life in your digital art!
What you will receive:
1 x 24 Lion Procreate Stamps
*** This will be available for download as a Procreate Brushes file.