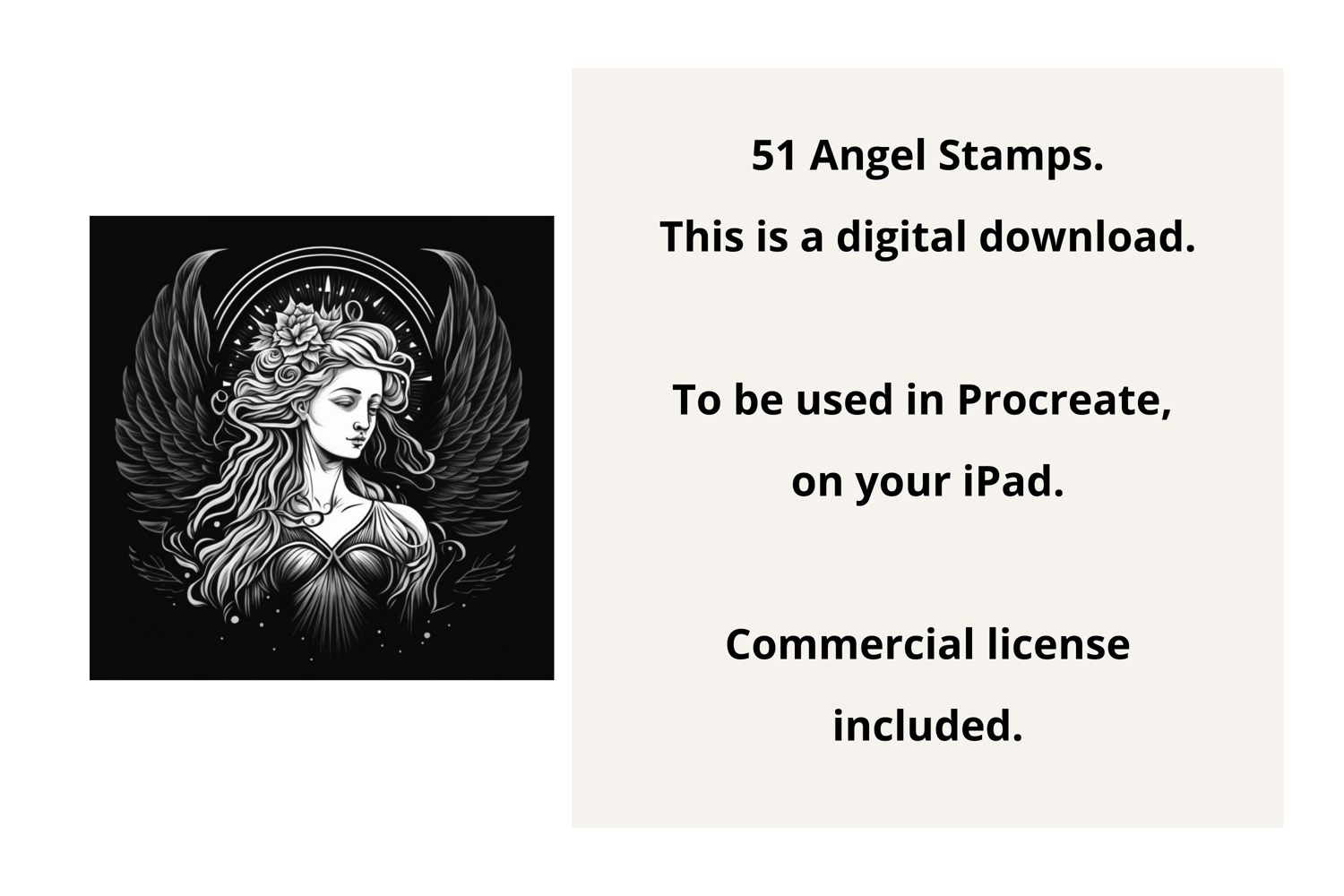 51 Celestial Angel Stamps Procreate
On Sale
51 Angel Stamps Procreate, Angel Wing Stamp Procreate, Procreate Stamps, Procreate Tattoo, Religious Icons, Religious Symbols, Celestial Stamps Procreate.
🌟 Introducing this stunning collection of "51 Celestial Stamps for Procreate," an exquisite set of angel stamps Procreate and celestial elements designed to elevate your digital artwork to heavenly heights. This exclusive set features angel wing stamp Procreate, religious icons, religious symbols, celestial stamps Procreate, and much more – everything you need to create divine masterpieces in your digital projects! Also great as Procreate Tattoo Stamps for custom design.
👼 In this divine collection, you'll find a wide variety of Procreate stamps, including enchanting angels, ethereal stars, and intricate celestial patterns. Each meticulously designed stamp will add a touch of heavenly charm to your creations, making them perfect for any project.
🌠 Key Features:
• 51 high-quality Procreate stamps including...
• Angel stamps Procreate & angel wing stamp Procreate
• Religious icons and symbols
• Celestial stamps Procreate: Procreate stars, Procreate compass, and Procreate sun stamps
• Easy to use and customizable
💫 Our celestial stamps for Procreate are perfect for designing invitations, greeting cards, wall art, social media graphics, and more. Whether you're working on personal projects or creating designs for clients, these procreate angels, and celestial stamps will provide you with endless inspiration.
📐 Each stamp has been designed with precision, ensuring crisp, clean lines for a professional look. You can easily adjust the size, color, and opacity to suit your creative needs.
✨ Add a touch of celestial magic to your Procreate projects with our "51 Celestial Stamps for Procreate." With such a diverse range of angel stamps Procreate, religious icons, and celestial elements, you'll be able to create truly divine art that captures the imagination.
💖 Purchase this heavenly set today and let your creativity soar with the angels!
What you will receive:
1 x 51 Angel Procreate Stamps
*** This will be available for download as a Procreate Brushes file.