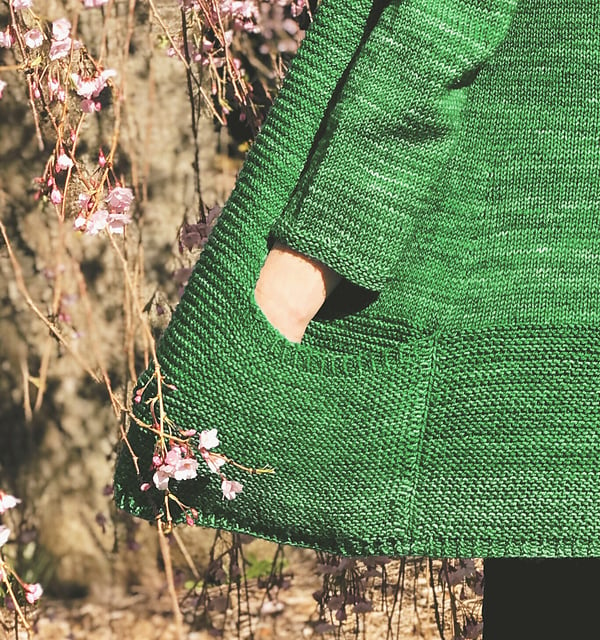 Swift River Cardigan (pattern)
On Sale
This listing is for th enitting pattern (instructions) only.

Worked from the shoulders-down, the set-in sleeves of the cardigan are created simultaneously with the upper bodice in a technique originally described by Barbara Walker. Make it in a light sportweight yarn for a light, drapey cardi, or in a true dk weight for a more substantial, cozy jacket.

The Garter Stitch collar and edging are worked along with the bodice, as are the pockets. One seam is necessary to close the side of the pocket, but the garment is otherwise seamless. The cardigan has gentle A-Line shaping with no waist shaping for a loose, easy fit. Wear it open, or close it with the addition of a button and crocheted-loop closure.

Because the Swift River Cardigan is not meant to close fully over the bust, the sizing is based on twice the back-measurement. In other words, the size recommended for a 29" bust is based on 2 x the 14.7" back measurement (2 x 14.7= 29.4"). If you would like a bit more coverage on the front, you might consider making the next size up.

Yarn requirements for sizes 29(32, 35, 38, 41, 44, 47, 50)" are:
4(4, 4, 5, 5, 5, 5, 6) skeins The Verdant Gryphon 'Bugga!', (4.3 oz/412 yds, 70% superwash merino, 20% cashmere, 10% nylon), shown in 'Ruby Tailed Wasp' or approximately
1300(1425, 1550, 1675, 1750, 1875, 2000, 2145) yards of sportweight/light DK weight yarn.