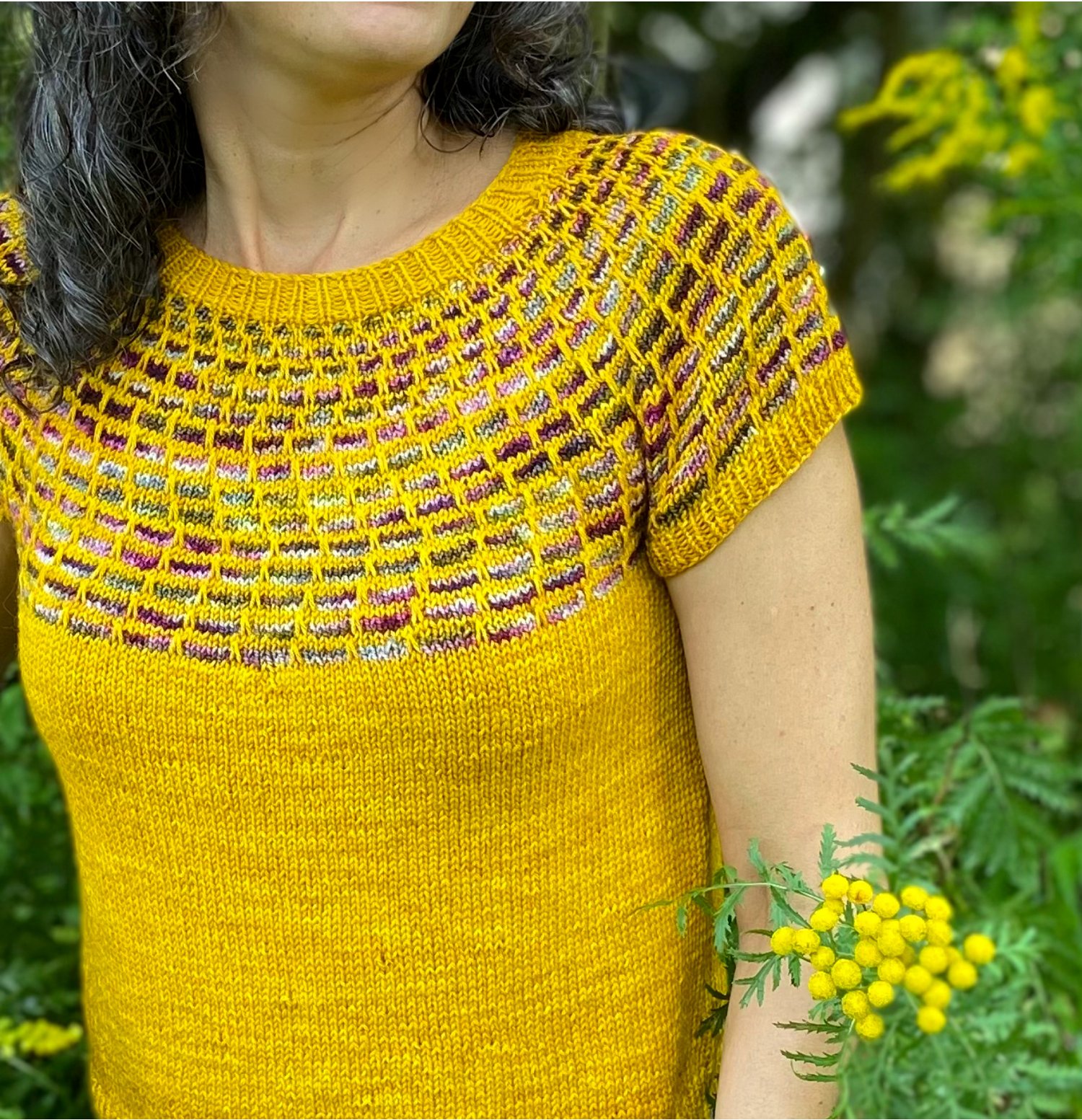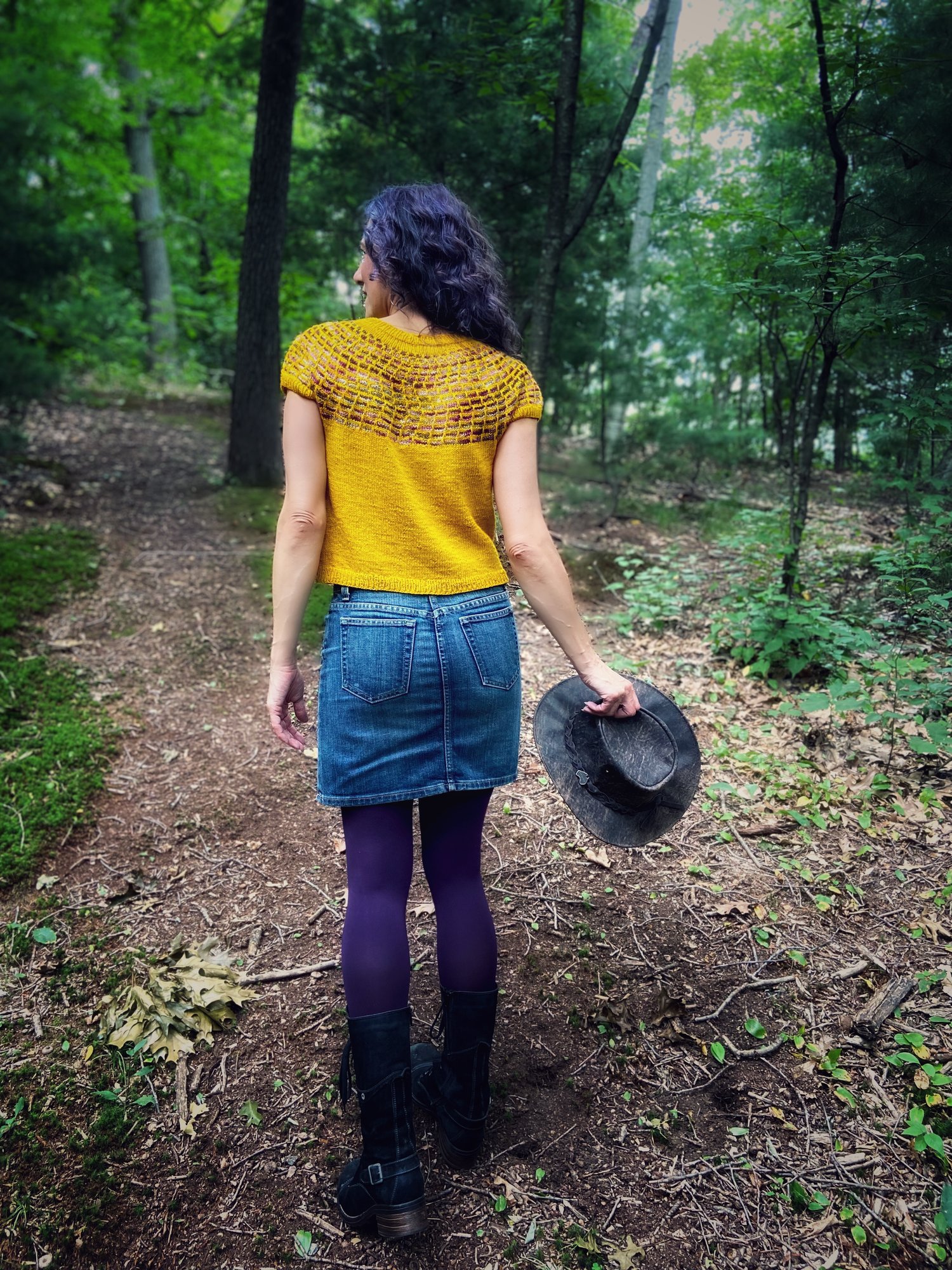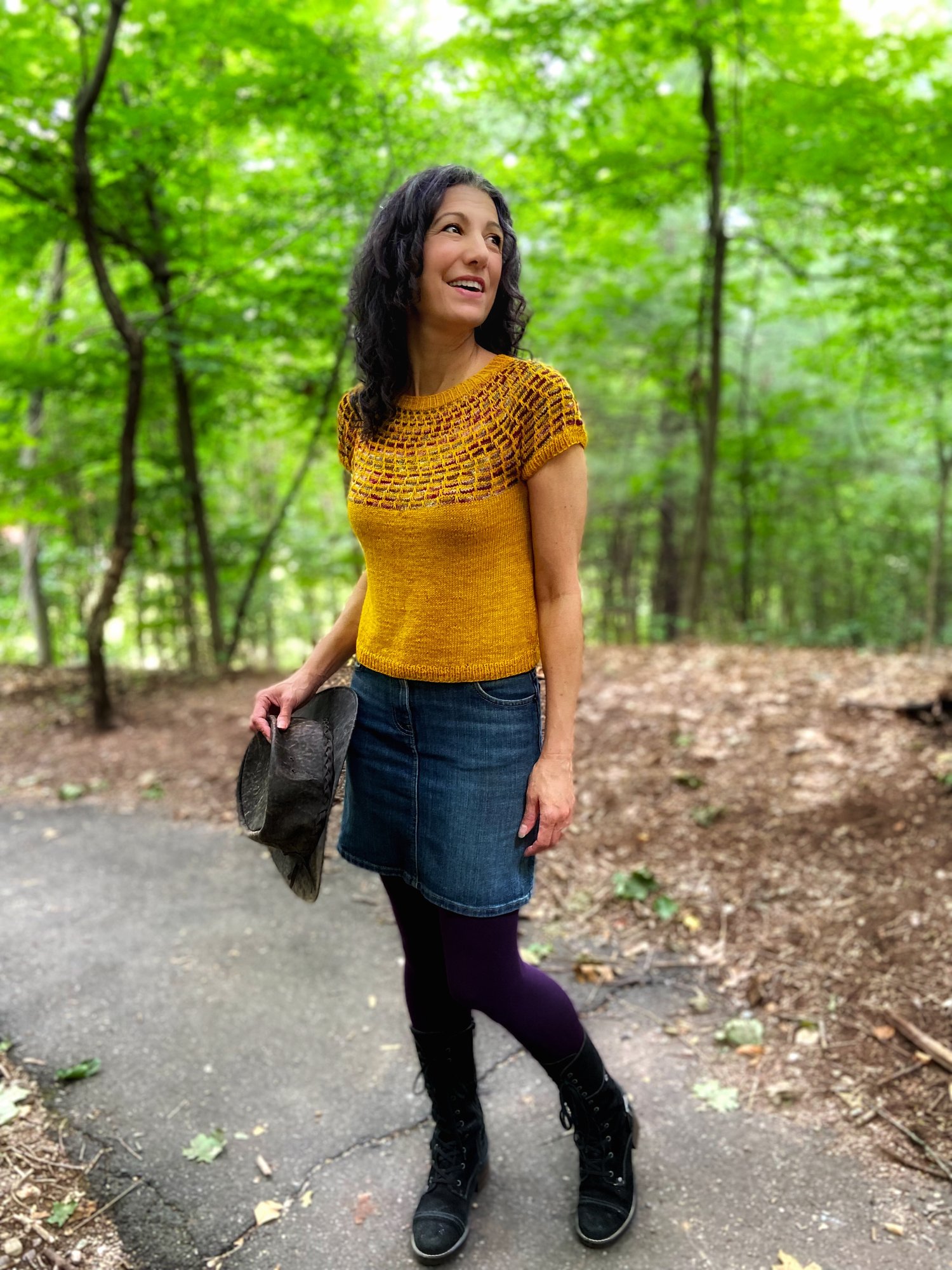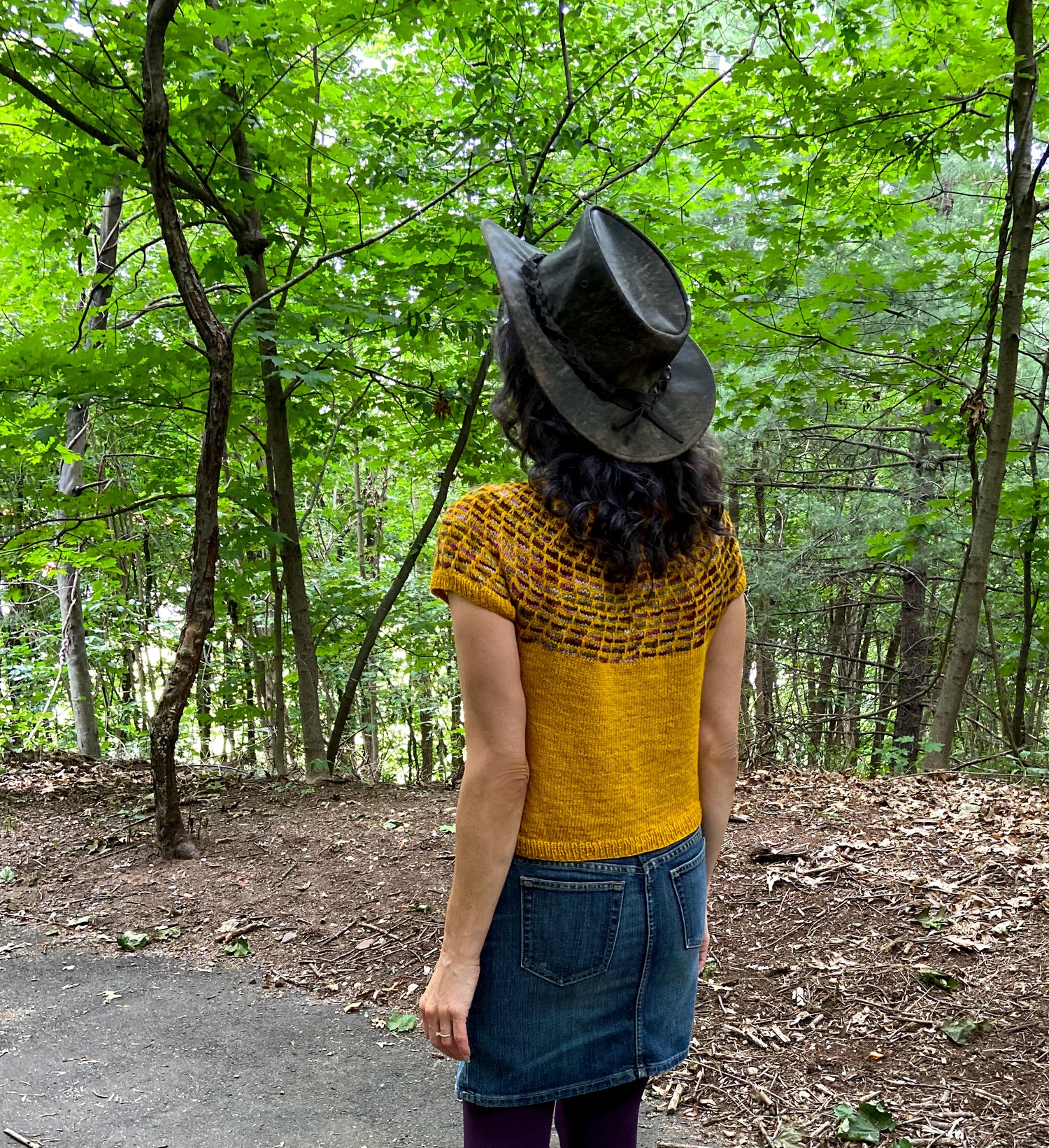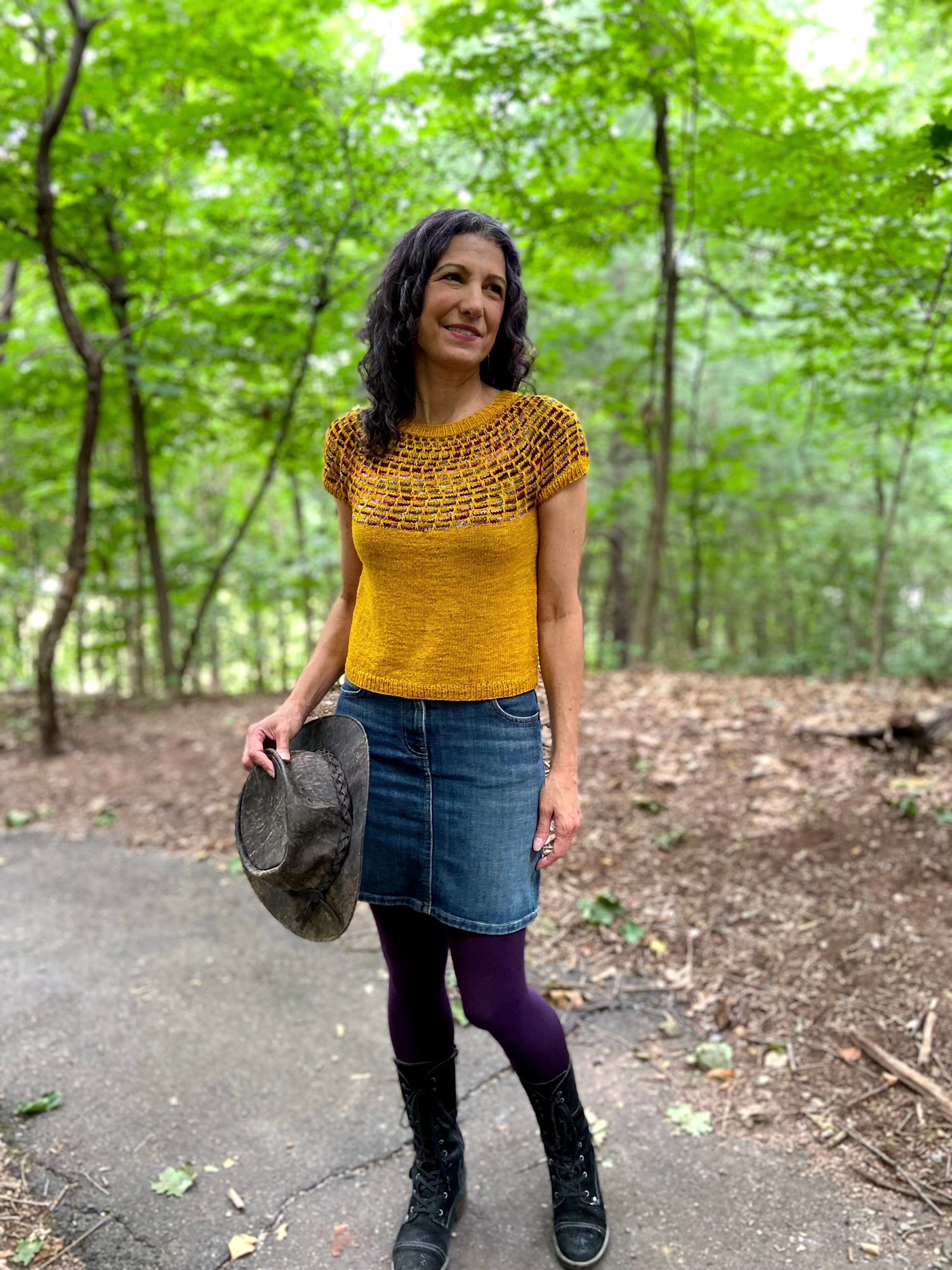 Yellow Brick Rodeo
On Sale
Whether it's your first rodeo (for a top-down yoked sweater) or not, this quick knit is an amazing way to let a variegated colorway shine! The spiraling zigzag pattern uses only one strand of yarn on any given round—no stranding—and is worked by simply slipping a stitch here and there.

The not-too-cropped bodice is in relaxing stockinette stitch (no purling!) and is easily lengthened if you prefer. This one knits up fast. Plus, the yoke pattern is both charted and written out line by line, so you've got this!

Gauge:
24 sts & 36 rows/4" (post-blocking) in slip stitch pattern and 24 sts & 32 rows/4" in stockinette stitch (post-blocking).
My pre-blocking gauges were the same as post-blocking, but yours may vary. Please note that I needed a size 5 needle for the slip stitch yoke but went down to a size 4 needle for the stockinette in order to maintain gauge--you may or may not need to do this depending on how you knit.

Materials:
2(2, 2, 2, 2, 3, 3, 3, 3, 3, 4, 4) skeins of the Main Color (MC) in Hedgehog Sock (437yds/100 g, shown in Pollen)
AND
1(1, 1, 1, 1, 1, 1, 1, 1, 1, 2, 2) skeins of the Contrasting Color (CC) in Miss Babs Yummy 2-Ply (400yds/110 g, shown
in Zombie Honeymoon), or
approximately:
590(620, 640, 670, 765, 875, 935, 1000, 1100, 1225, 1315, 1380) yds of the MC, and
145(150, 160, 165, 170, 180, 260, 275, 300, 385, 410, 425) yds of the CC.


Choosing a Size: The pullover is designed to be worn with 1-3" of positive ease at the bust (meaning, the sweater should be 1-3" bigger than your actual bust measurement). Note that the model in the photo measures to a 34" bust and is wearing size 35". Be aware that if you wish to lengthen the bodice or sleeves, you will need more yarn than is listed in the materials.