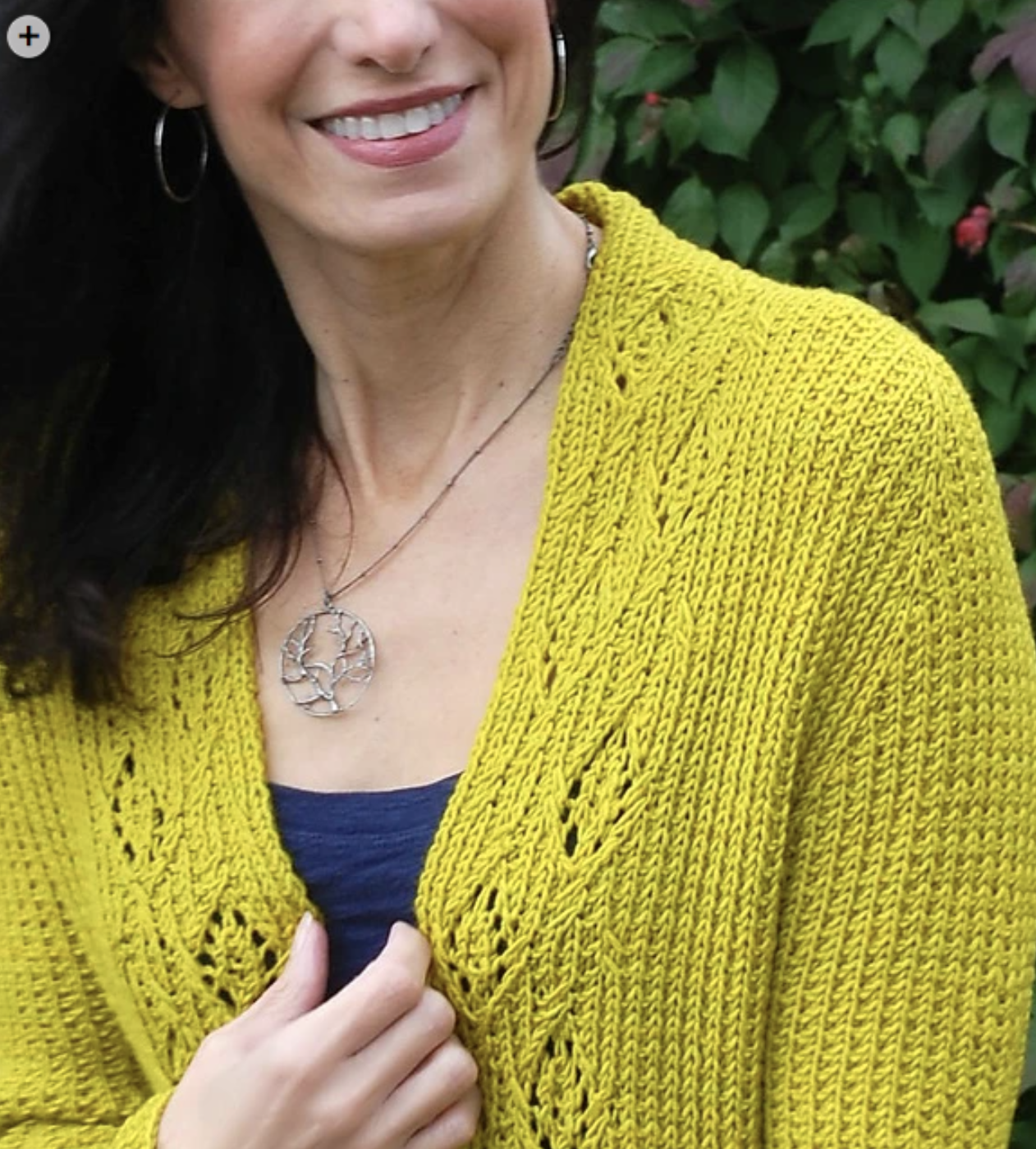 Rocket's Cardigan of the Galaxy
On Sale
This listing is for the knitting pattern (instrcutions) only.

The second installment in the Cardigans of the Galaxy series, this comfortable, open front cardi is inspired by the character of Rocket in the Guardians of the Galaxy movie series.

A genetically modified raccoon makes an unlikely superhero, and Rocket's irritated that he doesn't fit in anywhere. But there's no confusion over his feelings for money (spoiler: he loves it). Rocket's cardigan is a nod to both: He gets a top-down cardi that's the color of money (golden green!) with a diamond lace-and-cable motif that weaves in and out of a broken rib pattern. And hey, who isn't a little broken?

What? You were expecting a sweater that looks like a genetically engineered raccoon? "You just want to suck the joy out of everything…" :P

Construction is top-down from the neck band (photo tutorial included!) to hem seamlessly (except for one small seam at the back fo the neck). Raglan increases add stitches to the sleeves and bodice at different rates to give you modified raglan shaping that keeps the sweater more secure on your shoulders.

Sizing for the cardigan is based on twice the back measurement (since the fronts aren't meant to close fully…they come very close but won't overlap), and it's intended to be worn with a bit of positive ease (Size 35" is shown on the model with a 33" bust).

The lace-and-cable pattern is both charted and written out, so you can use whichever type of directions you like best.

Materials:
Sizes 32(35, 38, 41, 44, 47, 50, 53)" bust require
3(3, 3, 4, 4, 4, 4, 5) skeins Wollmeise Merino DK (468 yds/200 g. Shown in Zarte Knospe) or approximately
1100(1200, 1320, 1450, 1575, 1770, 1850, 2000) yards of DK yarn.