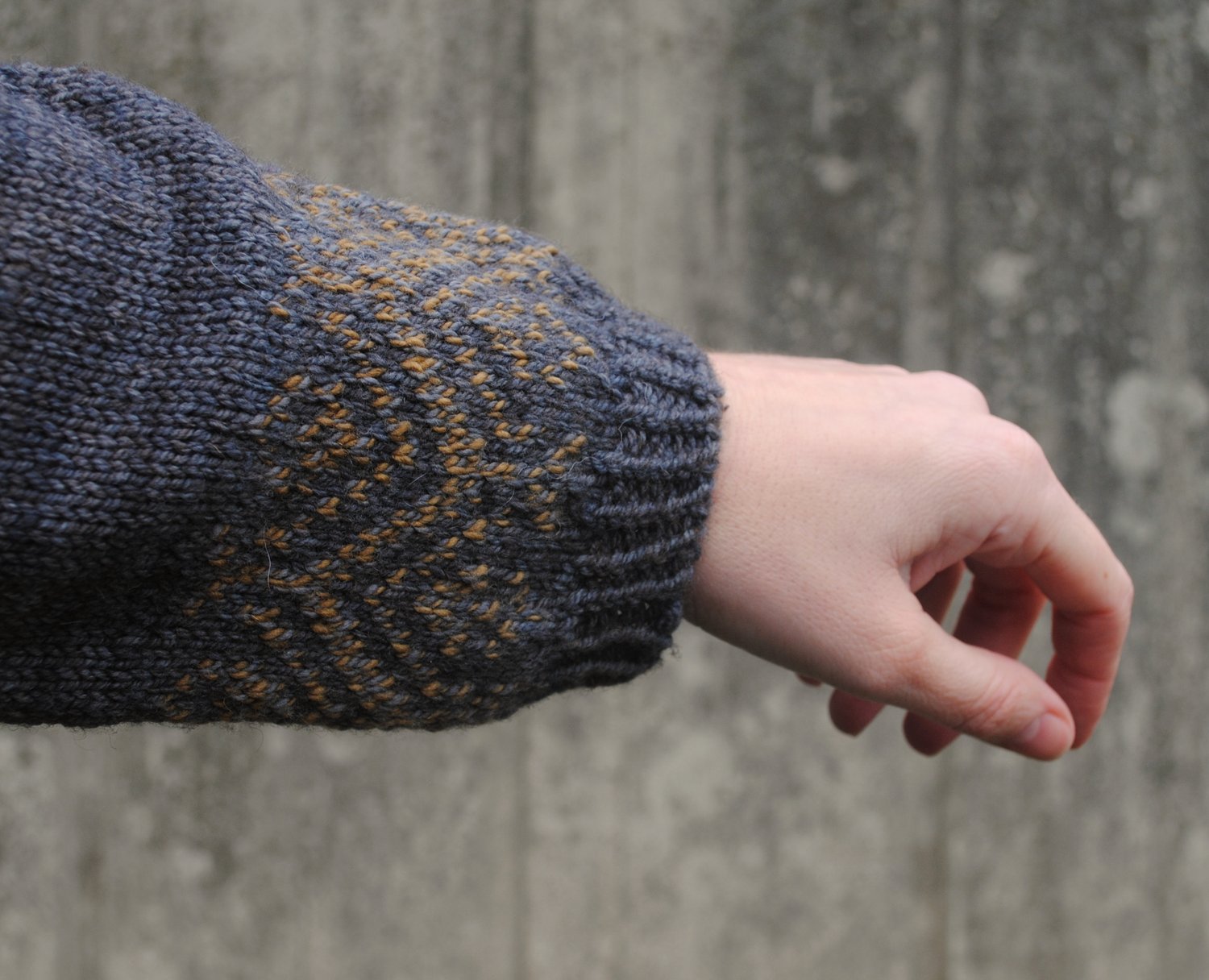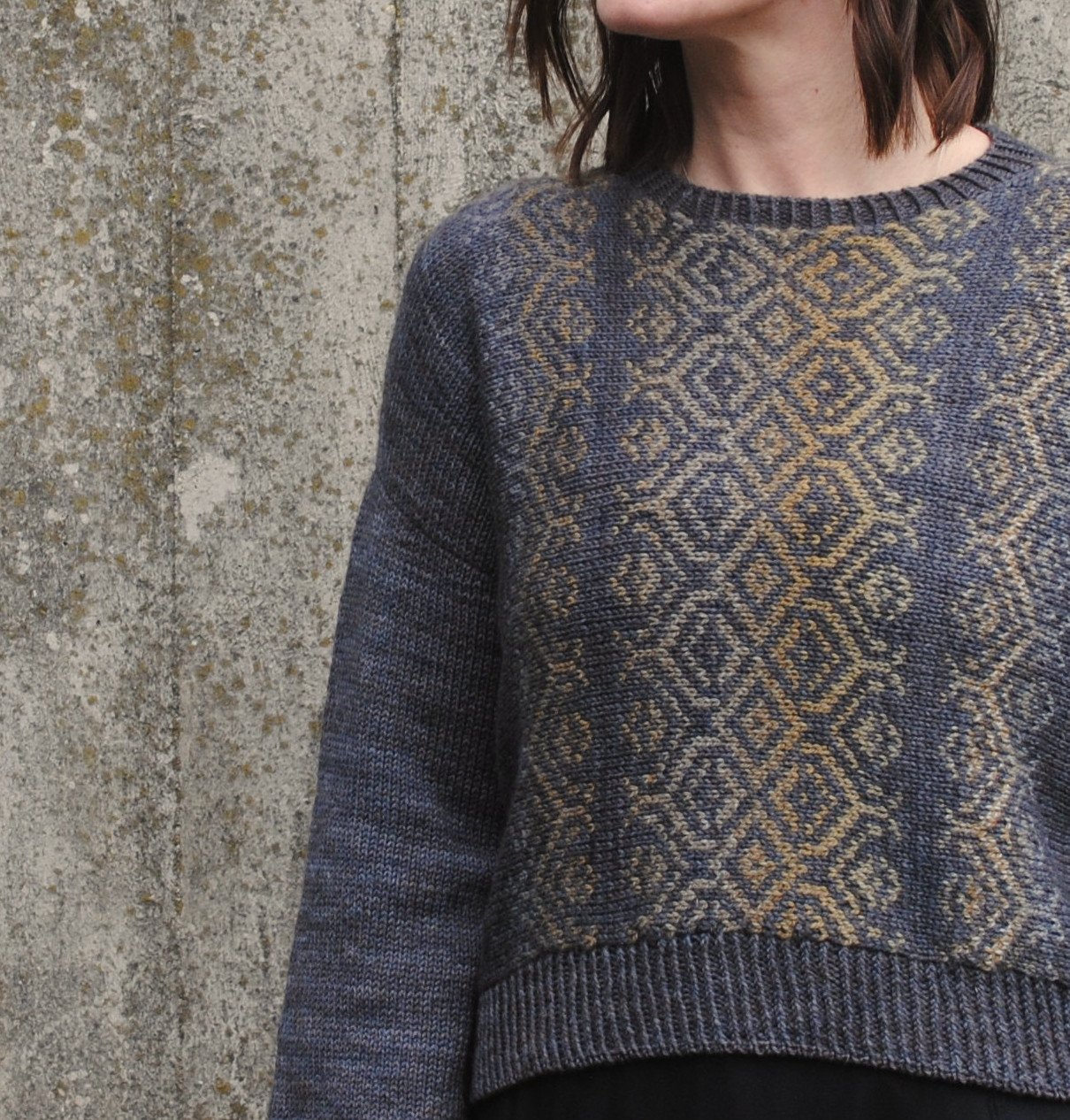 Earth Prelude
On Sale
Earth Prelude is the seventh design of my Einaudi Collection, a series of designs inspired by the musical works of composer Ludovico Einaudi. Earth Prelude is inspired by a piece of music of the same name, which combines long, slow chords accompanied by simple, undulating melodies that gradually develop in complexity and intensity towards the middle of the composition.
CONSTRUCTION
This garment is worked sideways to create a drop-shoulder sweater. Construction begins with the cast on of the left-hand armhole and left-hand side of body stitches; at this point you can choose body length. The body is then worked flat, from left-hand side to right-hand side. Increases are worked in the first half to shape the shoulders and mirrored decreases are worked in the second half. In the centre of the body, front and back are worked separately to create the neckhole. Stitches are picked up around the neck and waist to work the neckband and waistband. Stitches are also picked up to work the sleeves in the round, from armhole to cuff. Additional colourwork is worked into the lower sleeve before the cuff.
SAMPLE
The wearer is 5'10" / 178 cm with a 37" / 92.5 cm chest circumference. The sample has been worked in size L, giving the wearer 8.5" / 21.5 cm of positive ease at the chest. Length 2 has been worked with an extra 1" / 2.5 cm added to the waistband. Sleeves have also been lengthened by 1" / 2.5 cm.
SIZING GUIDE
This garment is graded into sizes XS (S, M, L, XL) (2XL, 3XL, 4XL, 5XL). Recommended positive ease is 5-10" / 12.5-25 cm at the chest circumference.
Finished Garment Chest Circumference:
35.25 (38.5, 43.25, 45.5, 50) (53.5, 58, 61.5, 66.25)" /
88 (96.5, 108, 113.5, 125) (133.5, 145, 154, 165.5) cm.
GAUGE
Using 4 mm / US size 6 needles, or needle size required to meet gauge, 22 stitches over 28 rounds in both stockinette stitch and colourwork, blocked, creates a 4x4" / 10x10 cm square.
Neckband, waistband and cuff circumferences assume you are working 5.75 stitches per 1" / 2.5 cm.
YARN
The sample has been worked using two bases from Primrose Yarn Co:
The Main Colour is the Roan Sport base (3-ply; 60% American Superwash Merino / 40% Domestic Non-Superwash Merino; 298m / 325 yds per 100 g) in colourway Ash.
The Contrast Colour is the Homestead Sport base (2-ply; 100% American Superwash Merino; 228 m / 250 yds per ~75 g) in colourway Ghost Town.
YARDAGE (includes ~10% excess)
Yardage varies by body length:
Body Length 1
MC:
960 (976, 1068, 1121, 1180) (1267, 1343, 1360, 1415) metres
1050 (1068, 1168, 1226, 1291) (1386, 1469, 1488, 1548) yards
322 (328, 358, 376, 396) (425, 451, 456, 475) grams
CC:
251 (251, 251, 259, 259) (267, 267, 267, 267) metres
275 (275, 275, 283, 283) (292, 292, 292, 292) yards
83 (83, 83, 85, 85) (88, 88, 88, 88) grams
Body Length 2
MC:
1043 (1059, 1160, 1211, 1273) (1360, 1442, 1456, 1516) metres
1141 (1159, 1269, 1325, 1393) (1488, 1577, 1592, 1659) yards
350 (355, 389, 406, 427) (456, 484, 488, 509) grams
CC:
284 (284, 284, 291, 291) (299, 299, 299, 299) metres
310 (310, 310, 318, 318) (328, 328, 328, 328) yards
93 (93, 93, 95, 95) (98, 98, 98, 98) grams
Body Length 3
MC:
1126 (1142, 1251, 1301, 1366) (1453, 1540, 1551, 1618) metres
1232 (1250, 1369, 1423, 1494) (1590, 1685, 1697, 1770) yards
378 (383, 420, 437, 458) (488, 517, 521, 543) grams
CC:
316 (316, 316, 323, 323) (332, 332, 332, 332) metres
346 (346, 346, 354, 354) (363, 363, 363, 363) yards
104 (104, 104, 106, 106) (109, 109, 109, 109) grams
TOOLS & NOTIONS
3.5 mm / US size 4 circular needles (to work neckband, cuffs and waistband; varying cable lengths would be helpful)
4 mm / US size 6 circular needles (to work body and sleeves; varying cable lengths would be helpful)
3 markers
scrap yarn
tapestry needle
SKILLS REQUIRED
-Long tail cast on
-Judy's Magic cast on
-Working stockinette flat
-German short row shaping
-Left and right lifted increases
-Reading stranded colourwork charts
-Working two colour stranded colourwork flat
-K2tog and SSK decreases
-Kitchener stitch
-Picking up and knitting stitches
-Working a regular pattern of decreases
-Half-twisted ribbing