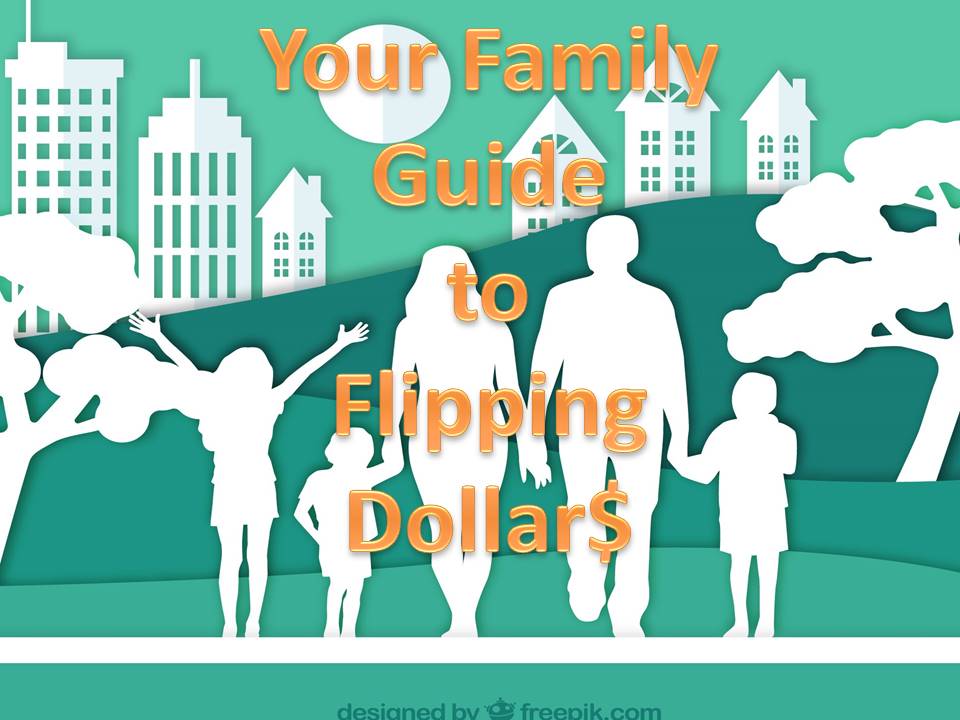 Your Family Guide to Flipping Dollar$
On Sale
$15.00
You may have discovered us online through a Your Family Guide to Flipping Dollar$ Press Release. You may have even been referred to us by a good and caring friend. Whatever the situation,
WELCOME!


This guide is for individuals, couples, and families who need more money now. That's it. It's just that plain and simple.
If there's one thing we've learned over the years, God always sends the solution before the problem. Our job is simply to ask for the solution. There is hope for you.
Our favorite prayer that works every time and for anything is: "LORD, help me." It's so simple; a child can use it. And they do. We taught it to our children and they use it.
That is the only guarantee we know that works 100% of the time. Feel free to use it along with this guide and with any other endeavor you are working on in your life.
You probably already heard about the debt breaking wealth secret used by
John D. Rockefeller
and other millionaires and billionaires we mentioned in our Press Release. Right?
Rockefeller tithed ten percent from every dollar he made and gave it to charity. That's worth remembering. He started when he had barely nothing and eventually became the wealthiest American of his day.
Most people who are struggling think it's counter intuitive to give money to charity when they need money for themselves. We didn't set up the system.
God did.
And it really works.
If you have no money or very little to start, you are not alone. You can make
free clicks to charities online
daily until you do. Then come back and purchase
Your Family Guide to Flipping Dollar$.
There are even more secrets inside
Your Family Guide to Flipping Dollar$. 
Once you apply the secrets we share, you can continue to apply them to other investments as your personal and family wealth grows.
Rest assure. These concepts have been used by the ultra-rich for years to create wealth. Be consistent and persistent until they work for you too. They will!
Just don't give up. You are about to break the cycle of poverty from your own life and the generations after you.
This guide will show you how people worldwide double their money almost every month working part time and while having fun too! Best of all it's legal and the entire family can participate. 
While most of the examples are in the USA, you can do this anywhere in the world. You can also apply what you learn in this guide to make investments later like stocks, index funds, real estate and more!
Within a few months you will know whether or not this income can replace your day job. You decide.
ANYONE
can do this. Most people just don't know it's available. And it's
SO affordable
to get started.
Your odds of success here are waaaay better than winning the lottery. Good luck with that.
By the way, this business industry is set to exceed 3 trillion dollars/euros/ pounds per year by 2025. You have the opportunity to get a piece of that
AMAZING
pie starting right now.
It's easy.
ADD
this product
to
your
CART
now and receive additional
DISCOUNTS
immediately!
We
highly recommend
our other book
The Answer Key to Avoid Debt Build Credit & Retire Rich
.
You'll get it with a
special discount
after you
ADD
Your Family Guide to Flipping Dollar$
to your cart
!
It goes perfectly with this guide.
Teens love it too!
- OR -  
Just click the
BUY NOW
button.
Download the ebook.
That's it.
Remember to be happy. Enjoy your family time and have fun! Go ahead. Get started NOW
!
 😀
"For I know the plans I have for you," declares the Lord, "plans to prosper you and not to harm you, plans to give you hope and a future". Jeremiah 29:11