How to Create Monthly Recurring Income through Micro Membership Subscription
On Sale
SGD10.00
Discover How you can Create Monthly Recurring Income through a Micro-Membership Subscription...Even if you have no Products
WHAT'S YOUR CUSTOMER LIFETIME VALUE?
You spend so much  money and time to get new customers. Once they bought your stuff, they are gone. Then you have to go and look for more customers.
It's hard to sustain one customer = one-time sale, isn't it?  What if you could get paid on a recurring basis from the same customers rather than on a one-time sale?
Well, I've got good news for you… It can be done through a membership program.
THE OLD METHOD DON'T WORK…
You might be thinking…"But Creating a Membership Site is Too Hard!"
"It is costly"
Yes, it can be if you are using old traditional ways.
One of the reasons why most online marketers fail to create membership sites is because the old and traditional methods are way too technical. It almost seems impossible unless you have some sort of computer degree or you are a technical geek.
There is a better way...
One way is to offer a micro-membership subscription model. There are small, low-cost, low-effort but high-value recurring subscriptions. These are $10 a month  or a low-price subscriptions.
Here is a twist. This method is unlike most other membership models that you are familiar with. It isn't about selling.   It is about inviting people to participate in something they already want to do but they are too busy to do it themselves.  All you do is share your journey with other people who are on your same level.
It is fun that people pay you to pursue whatever you want to learn or do.  You can get paid to learn new things.
If you are too busy to maintain your own subscription program, you can choose to promote other people's membership programs. In this way, you don't have to create the content and take care of the maintenance. These are just two of the many ways, which I am about to show you.
YOU DON'T NEED ALL THESE…
You don't need a website.
You don't need a list.
No need to be an expert. Great for beginners.
No cost to setup .
No technical skill required.
No need to pre-load your content to your autoresponder.
No need to "dripfeed".
No need to prepare content in advance.
People will pay you to share your research and results and tricks and even your failures. And you can start IMMEDIATELY.
If you sell a product onc to the same customer, your monthly income remain the same. But when you sell a membership subscription program, the same customer pays every month.  So you income increases every month as you get new customers. These numbers are based on a $10 per month membership site. If you can consistently get about 3 to 4 subscribers a day, you will have about 100 subscribers a month. On the first month, you will earn $1K,  $2K on the 2nd month, $3K on the 3rd month and so on.
You can potentially earn $500 to $1,000 or more a month with just one micro-membership site, depending on how hard-working you are. Nothing stops you from creating more of such money-generating sites.
Imagine getting paid over and over again from members? How much more secure and relieved would you feel knowing that each month you're going to earn yourself a healthy income?
I had two micro-membership sites that earn me a 4-figure every month.  It took me just a few minutes to write and publish one post a day on each site. Below is the snapshot of my earnings from my membership sites. I was getting paid almost every day like clockwork.
You will be amazed at the simplicity of the ideas and that people are willing to pay for it.
What You'll Discover:
* What is Micro membership and how it works
* Why it is the easiest form of membership
* 30 Micro-membership ideas for you to pick and implement immediately
* 9 Types of membership models
* Where to Find Content
* How to Build a Membership site
* A profitable and easy-to-sell membership program that you can promote immediately
I have researched and learn about membership since 2006.  I have applied this method with success. It is my favourite and most profitable revenue generator.
What the Participants said about the program 
When I present this info to my participants in the live workshop, here's what they said: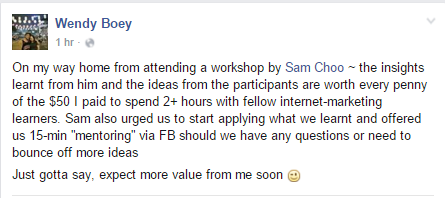 A Micro-membership site is probably the easiest and fastest way to get paid
Get paid every day to do fun stuff you want to do, and share it with cool people who really like your kind of stuff.
The micro-membership business model is a new twist that most people do not know.  Be the first few to hear about it and seize the opportunity before the copycats come aboard.