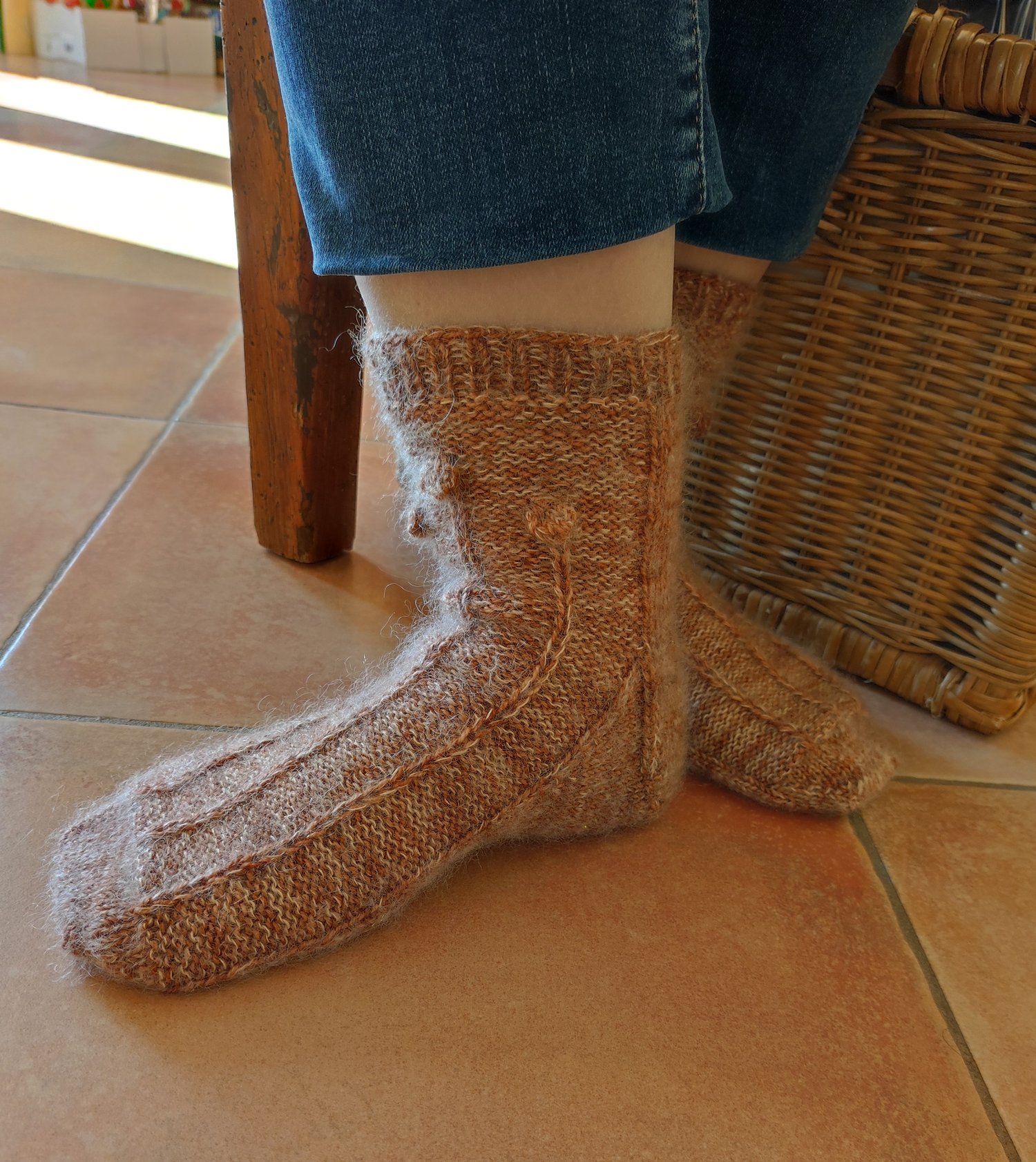 Les pieds sur terre
On Sale
€4.00
Les pieds sur terre are socks designed to make you feel good: they are soft, warm and comfortable. And to make it better, they are quick and easy to knit.
Take your favourite sock yarn and double it with a mohair and silk yarn and you'll have your new favourite socks, the ones you'll put on as soon as you get home and never want to leave!
And because you like them so much, you'll want to knit them for everyone around you. They are available in 5 foot widths: S/M (L/XL/2XL), depending on foot width, that is 20/22 (24/26/28) cm / 8/8½ (9½/10¼/11) inches of circumference.
And 11 shoe sizes: (FR) 35, 36, 37, 38, 39, 40, 41, 42, 43, 44, 45 / (US) 4, 5, 6, 6.5, 7, 7.5, 8, 8.5, 9.5, 10, 11.
You will need 175/200 (225/250/300) meters / 200/220 (250/275/330) yards of fingering sock yarn and the same meterage of mohair & silk lace yarn.
And circular needles 3 mm / US# 2 ½.
Maybe you have noticed that these socks use the same motif pattern as the mitts Le coeur sur la main, the headband Tête en l'air and the cowl Muscade.
You can thus make nice outfits…
<<<<<<<<<<<<<<<<<<<<<<<<<<<<<<<<
Les pieds sur terre sont des chaussettes conçues pour se faire du bien: elles sont douces, chaudes et confortables. Et pour ne rien gâcher, elles se tricotent rapidement et facilement.
Prenez votre fil chaussette préféré et doublez-le avec un fil mohair et soie et vous obtiendrez vos nouvelles chaussettes préférées, celles que vous enfilerez dès votre arrivée à la maison et que vous ne voudrez plus quitter !
Et comme elles vont beaucoup vous plaire, vous allez vouloir en tricoter pour tout votre entourage. Cela tombe bien, elles sont disponibles en 5 largeurs de pieds : S/M (L/XL/2XL), en fonction de la largeur du pied, soit 20/22 (24/26/28) cm de circonférence.
Et 11 pointures : 35, 36, 37, 38, 39, 40, 41, 42, 43, 44, 45.
Pour les tricoter, il vous faudra 175/200 (225/250/300) mètres de laine à chaussettes fingering et autant de fil lace mohair & soie.
Ainsi que des aiguilles circulaires de 3 mm.
Comme vous l'aurez peut-être remarqué, ces chaussettes reprennent le motif des mitaines Le coeur sur la main, du bandeau Tête en l'air et du col Muscade. De quoi faire de jolis ensembles…