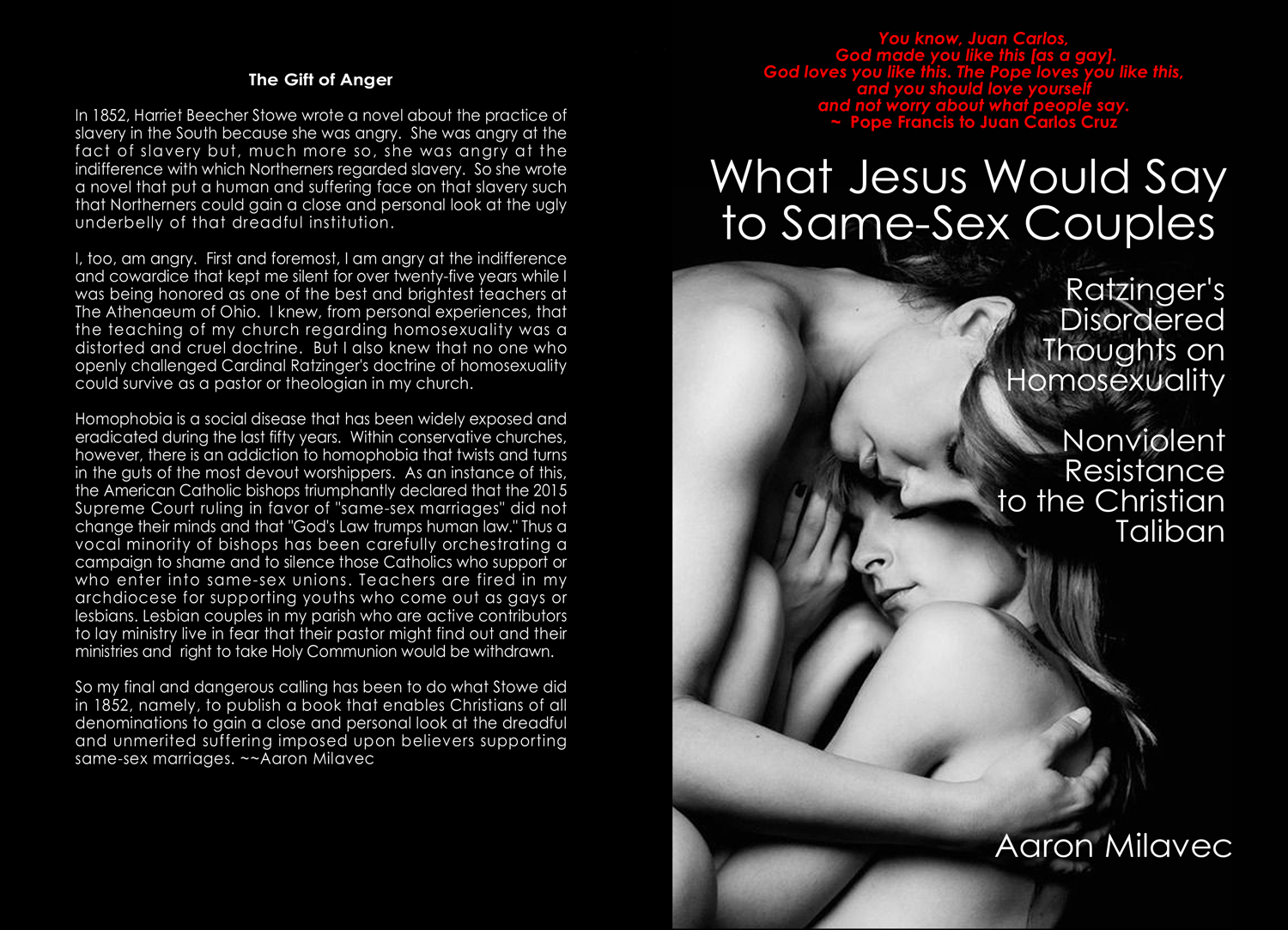 WHAT JESUS WOULD SAY TO SAME-SEX COUPLES (2019 revision): Nonviolent Resistance to the Christian Taliban
On Sale
Preview

The Gift of Anger
In 1852, Harriet Beecher Stowe wrote a novel about the practice of slavery in the South because she was angry.  She was angry at the fact of slavery but, much more so, she was angry at the indifference with which Northerners regarded slavery.  So she wrote a novel that put a human and suffering face on that slavery such that, Northerners, who generally had no personal exposure with slavery, could gain for themselves a close and personal look at the ugly underbelly of that dreadful institution. Her book sold 300,000 copies during the first year.
I, too, am angry.  First and foremost, I am angry at the indifference and cowardice that kept me silent for over twenty-five years while I was being honored as one of the best and brightest teachers at The Athenaeum of Ohio.  I knew, from personal experiences, that the teaching of my church regarding homosexuality was a distorted and cruel doctrine.  But I also knew that no one who openly challenged this teaching could survive in the climate of fear and conformity within my seminary.
Homophobia is a social disease that has been widely exposed and eradicated during the last fifty years.  Within conservative churches, however, there is an addiction to homophobia that twists and turns in the guts of the most devout worshippers.  As an instance of this, the American Catholic bishops triumphantly declared that the U.S. Supreme Court ruling in favor of "same-sex marriages" did not change their minds and that "God's law trumps human law." Thus a vocal minority of bishops is carefully orchestrating a campaign to shame and to silence those Catholics who support or who enter into same-sex unions. Teachers are fired in my archdiocese for supporting youths who come out as gays or lesbians. Lesbian couples in my parish who are active contributors to lay ministry live in fear that their pastor will find out and their ministries and/or their right to take communion would be withdrawn. A gay Catholic suffering a heart attack at a local hospital was denied the last rites by a self-righteous hospital chaplain because he "refused to repent of his lifelong homosexuality."
So my job has been to write the book that would make it impossible for this pious hypocrisy to continue to exist within Christian churches.  Our job together is to make it possible for 999 copies of this book to be distributed free, to be discussed, to be debated, and, in many quarters, to be roundly condemned. 
Better yet, find yourself a reading partner.  Decide to read a chapter a week and to spend an hour sharing discoveries, sharing lives, and sharing the plight of LGBTQ young people.  Such exchanges are REVOLUTIONARY and prepare for a whole new multi-colored world that is being born among us.  Get into the action by clicking here.

Peace, Justice, and Joy,
Dr. Aaron Milavec
Milavec@Jesus4Lesbians.com
~~~~~~~~~~~~~~~~~~~~~~~~~~~~~~~~
If you know anyone who would appreciate a book like this, please consider forwarding them a link to this page=https://payhip.com/b/QM9P, or better yet, forwarding to them a copy of your review as well. 
Peace and joy in learning and in living the good life,
Aaron Milavec, BS physics, STB, ThD, theologian, poet, advocate, public speaker, interpretative dancer
my blog = https://aaronmilavec.wordpress.com/2018/01/29/last-kiss/
my SuperBlog = http://www.Jesus4Lesbians.com
~~~~~~~~~~~~~~~~~~~~~~~~~~~~~~~~~~~~~~~~~~~~~ 
REVIEW by Rev. Richard Rohr, O.F.M.
Director, Center for Action and Contemplation
I'm not a moral theologian, but that does not prevent me from admiring the easy-to-read stories and analysis in Milavec's book.  I come away inspired.  Milavec demonstrates step-by-step how he learned to welcome same-sex couples into his parish family following in the footsteps of Jesus.  I recommend this path to everyone. 
REVIEW by Dr. Joseph J. Martos
Milavec combines personal experience with academic scholarship to present a convincing case that same-sex relationships can be healthy and wholesome for individuals, their families and society. . . .  Especially revealing are the parallels he draws between Christian dogmatists, Muslim fundamentalists such as the Taliban, and the Pharisees described in the gospels. 
REVIEW by Daniel C. Maquire, S.T.D.
Prof. of Moral Theology, Marquette University (Milwaukee)
This book is an honest, THOROUGHLY CATHOLIC look at the beauty and legitimacy of same-sex love and marriage. 
REVIEW by Barbara J. Aguilar, L.P.N.
Nurse, mother of two missionaries, guardian of abused dogs
I already knew my feelings on the LGBT issue, but after reading Dr. Milavec's book, my eyes and heart were opened even wider. . . . Great job, Aaron, God bless you and thank you for standing up for what you know is right.
REVIEW by Mary E. Hunt, Ph.D.
Women's Alliance for Theology, Ethics and Ritual (WATER)
The world needs all the queer-positive information it can get. This volume by a Catholic theologian adds personal stories, cases of unjust treatment, insights into sexual behavior, all of which are lacking in church teachings on LGBTIQIA lives.   Read it for insight and inspiration.
REVIEW by Rev. Tony Flannery, C.S.S.R.
Co-founder of the [Irish] Association of Catholic Priests (ACP)
This book is very timely.  While the hierarchy uses words like "welcome" and "accompaniment" in relation to LGBT people, our bishops still do incalculable harm by failing to openly challenge the offensive language and the imposition of celibacy that comes with Cardinal Ratzinger's doctrine of homosexuality.  Until the hierarchy sets their own house in order, their official teaching will inevitably be received as meaningless and empty.  Milavec expertly shows pastors and parents what needs to be done in these areas.
~~~~~~~~~~~~~~~~~~~~~~~~~~~~~~~~~~~~~~~~~~~~~~~~
When you download my book, you will receive the 6 MB PDF version. 
Click here if you need to download
a free version of Nitroreader which will allow you to have an enjoyable reader for my book.