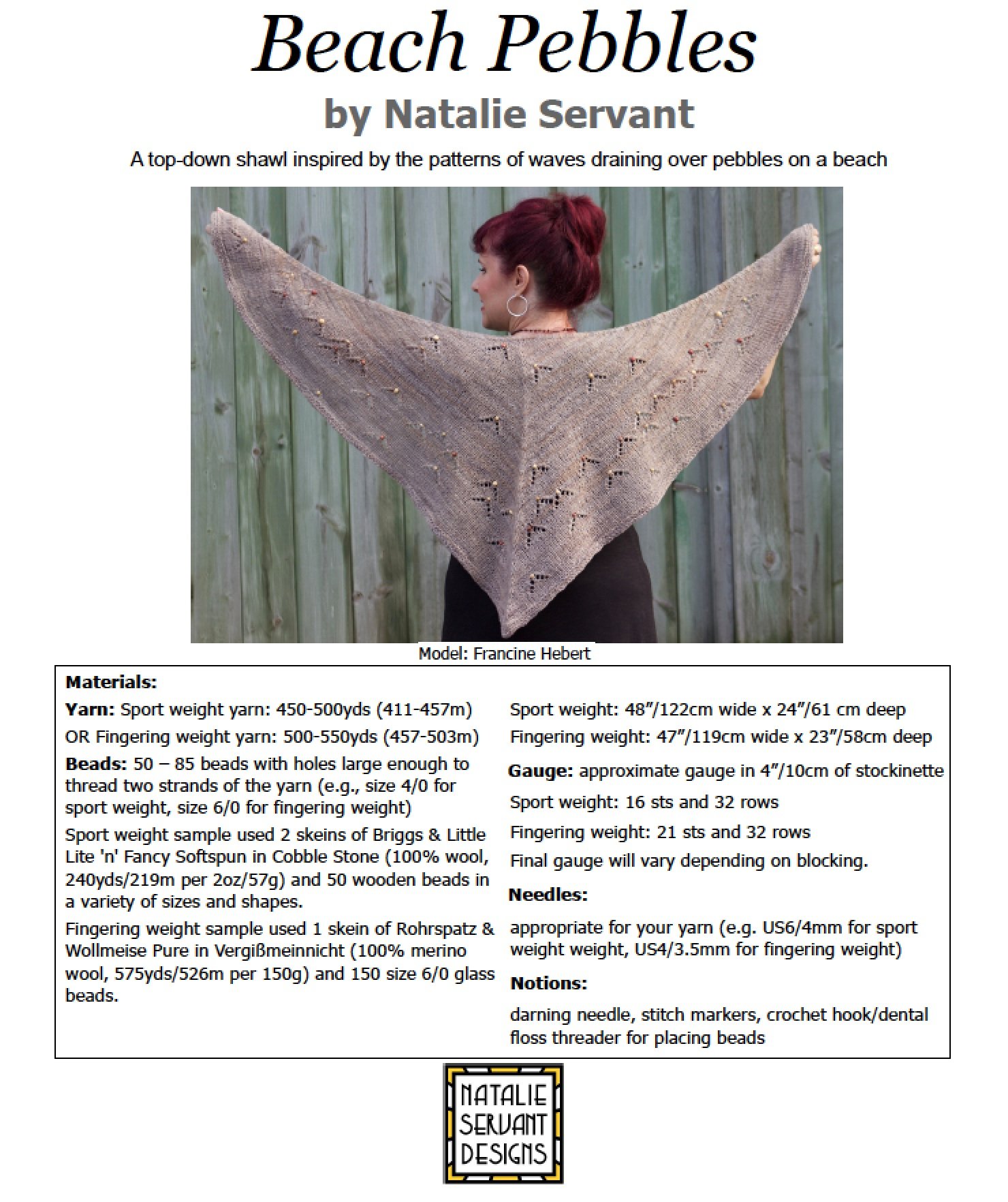 Beach Pebbles Shawl Pattern
On Sale
This top-down triangular shawl was inspired by a trip to Prince Edward Island. I loved watching the ripples that water makes when a wave goes up a beach, then trickles back down over pebbles and shells.
The pattern over each pebble is the same, but the distribution of the pebbles is somewhat random. Sometimes there are only a few pebbles in an area, sometimes there is a line of accumulated objects. I tried to emulate this somewhat random distribution in the shawl.
The sport weight version used large wooden beads in different shapes and colors. For those who prefer a less random approach, I did a more evenly distributed version in fingering weight yarn with size 6/0 beads.
This shawl is knit from the top down, starting with a few stitches and increasing. The number of stitches is increased at the edges on each row and at the center on every second row. The shawl can easily be made smaller or larger than the samples by working fewer or more rows.
The small lace pattern is both charted and written.
The pattern includes instructions for the random-looking bead placement as well as the regular one, or you can make up your own.
Samples:
Sport weight: 48"/122cm wide x 24"/61 cm deep
Materials:
2 skeins of Briggs & Little Lite 'n' Fancy Softspun in Cobble Stone (100% wool, 240yds/219m per 2oz/57g)
50 wooden beads in a variety of sizes and shapes.
Fingering weight: 47"/119cm wide x 23"/58cm deep
Materials:
1 skein of Rohrspatz & Wollmeise Pure in Vergißmeinnicht (100% merino wool, 575yds/526m per 150g)
150 size 6/0 glass beads.