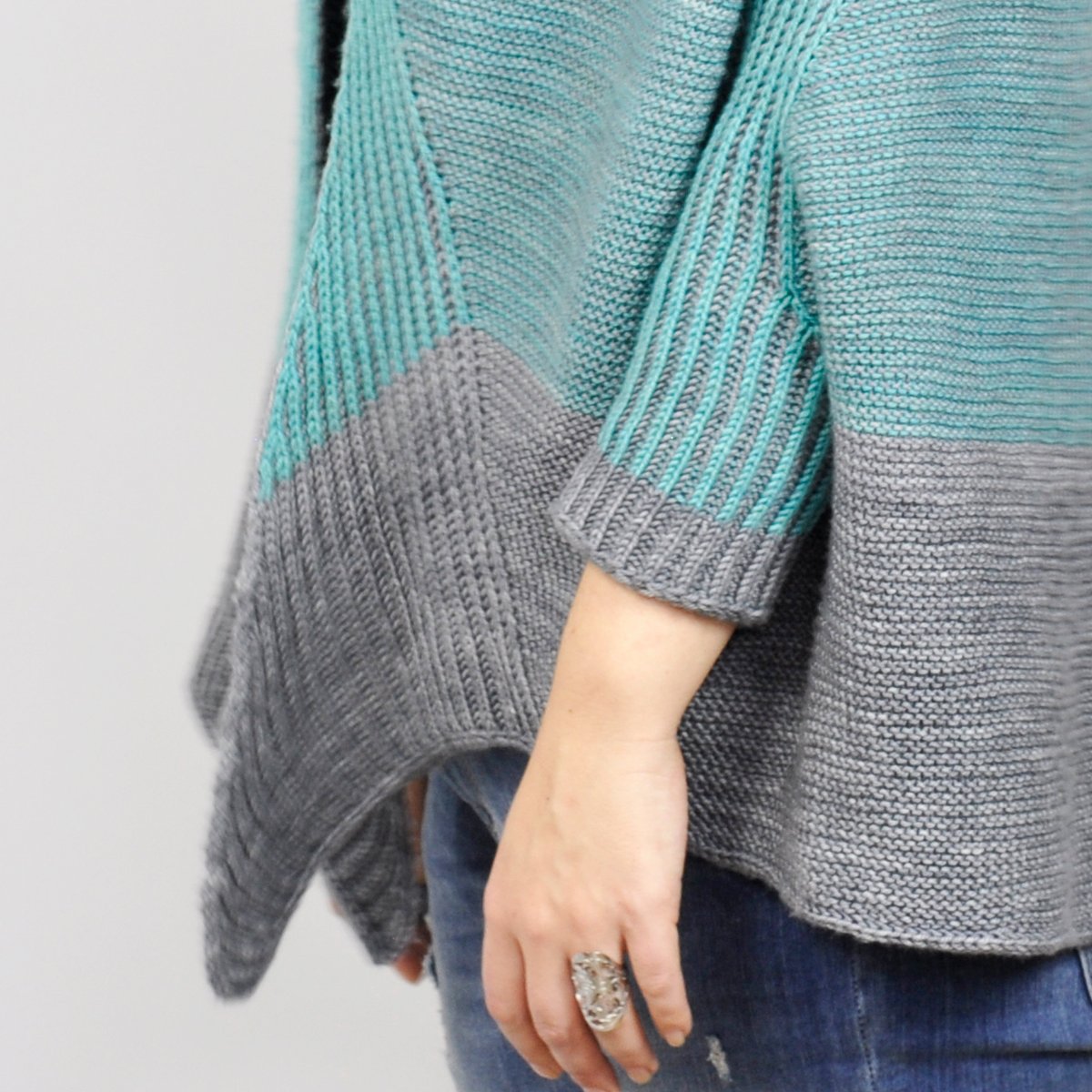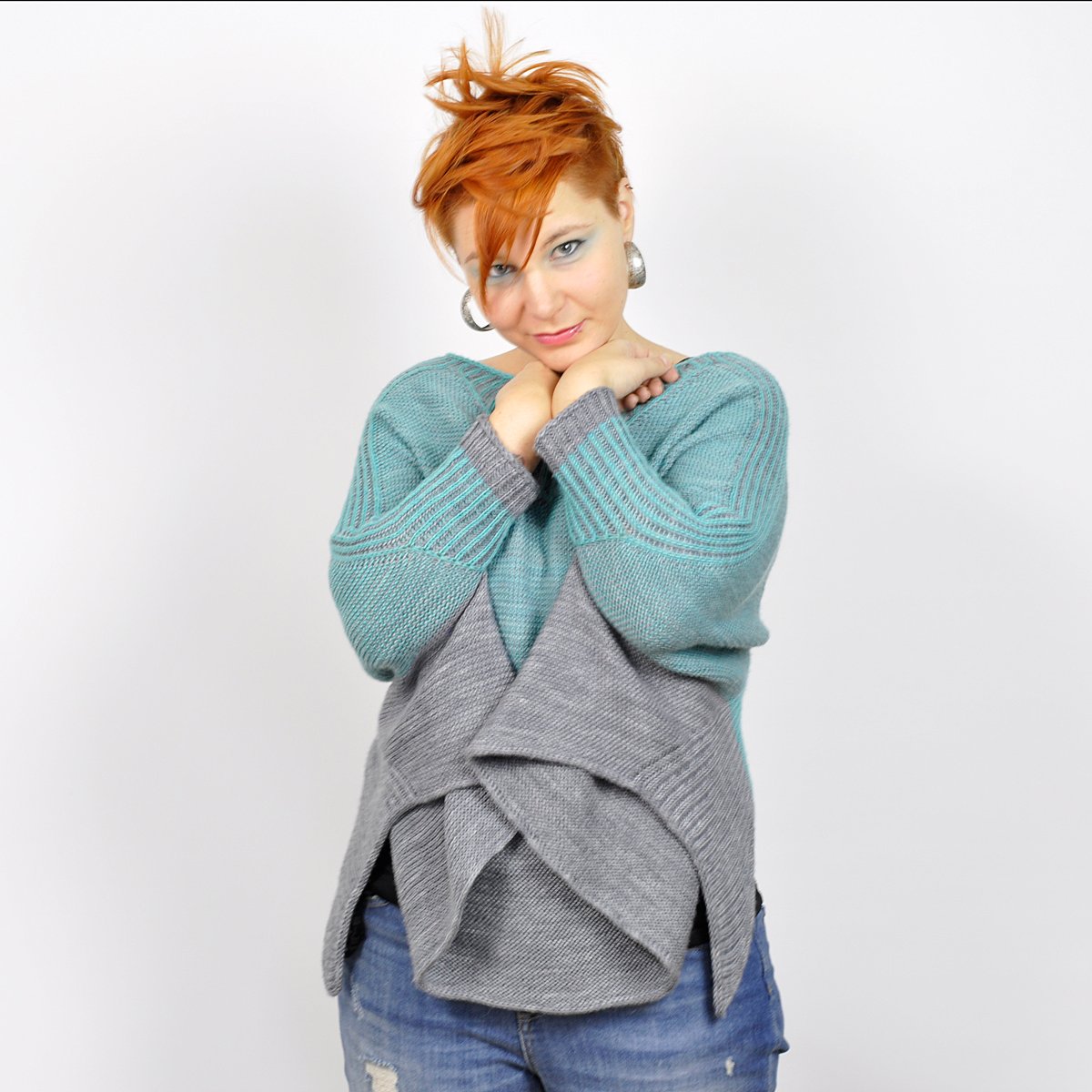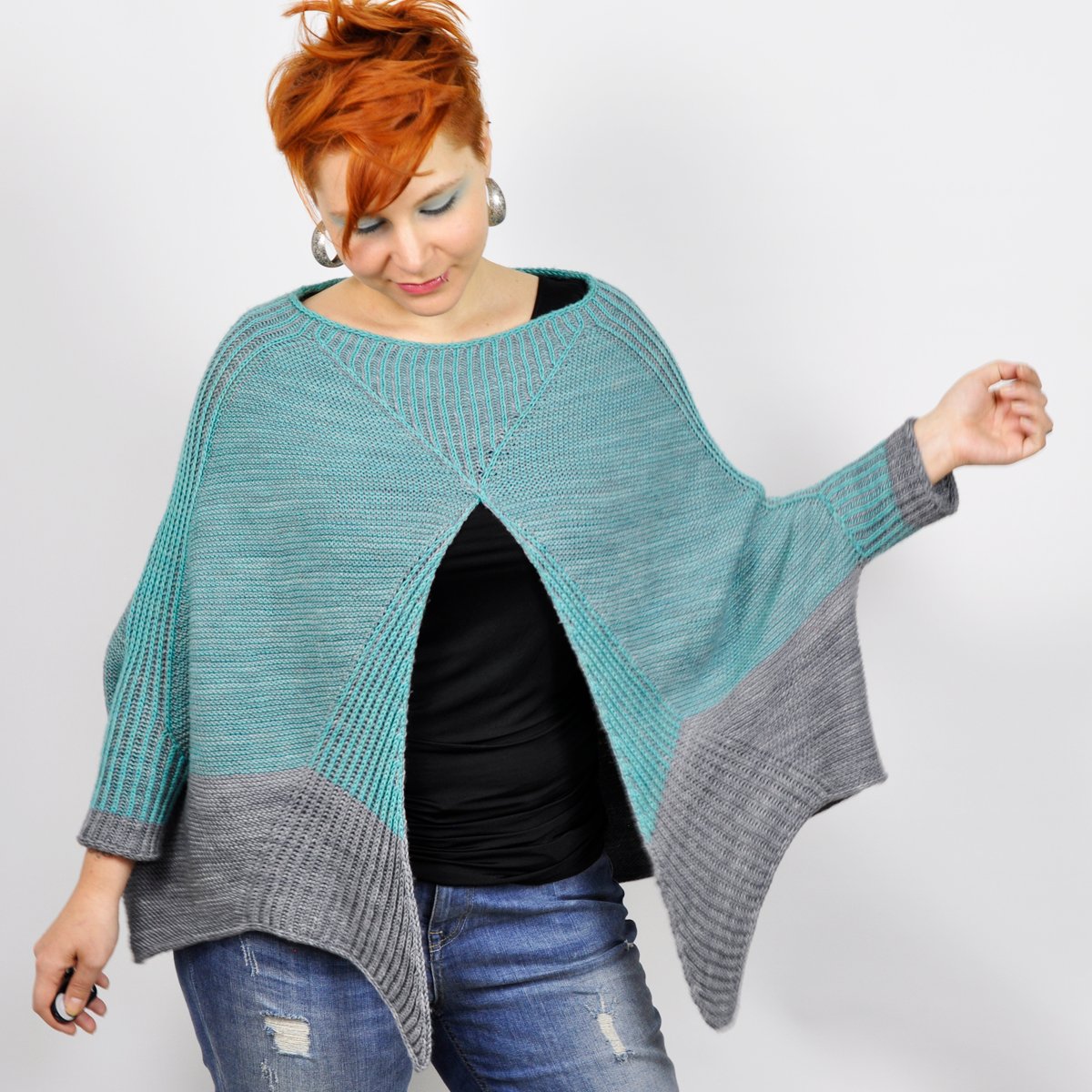 P-Rex
On Sale
DIGITAL KNITTING PATTERN available in English and German
Is it a Poncho with T-Rex sleeves? Or a cape? Or a weirdly shaped cardigan?
In any case, this oversized garment is super comfortable, fun and versatile. Wear it with the opening in front as a stylish cape/cardigan, or turn P-Rex into a boxy sweater with an open back.
The unique combination of two-color brioche and garter stitch adds another texture and color dimension to the pattern. Use complementary colors that blend together or high contrasting colors that make the brioche pop.
P-Rex is knit seamlessly top-down with saddle shoulders in brioche stitch.
Sizes:
XS (S, M, L, XL)
to fit chest circumference 81-86 (91-96, 101-106, 111-116, 121-127) cm / 32-34 (36-38, 40-42, 44-46, 48-50)"
Yarn:
2 colors of light sport or heavy fingering weight yarn (of about 330m per 100g)
Yardage:
Color A: 355 (440, 530, 645, 770) m / 390 (480, 580, 705, 840) yards
Color B: 775 (915, 1065, 1235, 1415) m / 850 (1000, 1165, 1350, 1540) yards
Total: 1130 (1355, 1595, 1880, 2185) m / 1240 (1480, 1745, 2055, 2390) yards
Shown in:
Wollmeise Blend in minty-blue (A) and gray (B) – in Size M
Suggestions for Yarn Substitutes: The Plucky Knitter Primo Fingering, The Sanguine Gryphon Bugga!, madelinetosh 80/10/10 Sport, madelinetosh Pashmina, Rosy Green Wool Cheeky Merino Joy
Gauge:
22 sts/24 rows=10cm/4" in brioche stitch (relaxed after blocking)
22 sts/48 rows=10cm/4" in garter stitch (relaxed after blocking)
(2 rows in garter stitch = 1 row in brioche stitch)
Needles:
US 2½ / 3 mm circular needle (or size needed to obtain gauge), US 6/4 mm DPNs (for CO & BO)
Notions:
tapestry needle, 8 stitch markers, stitch holder/waste yarn, safety pin/cable needle/open stitch marker (for 1 stitch only)
DIGITALES STRICKMUSTER erhältlich in Deutsch und Englisch
Ist es ein Poncho mit klitzekleinen T-Rex-Ärmeln? Oder ein Cape? Oder eine Weste mit ungewöhnlicher Form?
In jedem Fall ist dieses extra-weite Kleidungsstück super bequem und bringt garantiert Abwechslung in die Garderobe! Man kann P-Rex als stylisches Cape oder Weste mit der Öffnung nach vorne tragen, oder man dreht ihn um und macht daraus einen Oversize-Sweater mit offenem Rücken.
Die einzigartige Kombination von ein- und zweifärbigem Patent und Kraus-Rechts-Muster sorgt für eine extra Dimension an Farbe und Textur. Entscheide dich zwischen Farben mit weniger Kontrast, die miteinander verblenden, und Farben mit viel Kontrast, die das Patent richtig strahlen lassen.
Ich empfehle, die hellere Farbe als Vordergrundfarbe (A) und die dunklere als Hintergrundfarbe (B) zu verwenden.
P-Rex wird nahtlos von oben nach unten mit Sattelschultern gearbeitet.
Größen:
XS (S, M, L, XL)
passen für Brustumfang von 81-86 (91-96, 101-106, 111-116, 121-127) cm / 32-34 (36-38, 40-42, 44-46, 48-50)"
Garn:
2 Farben in leichtem Sport- oder schwerem Fingering-Garn (mit ca. 330 m pro 100g)

Verbrauch:
Farbe A: 355 (440, 530, 645, 770) m / 390 (480, 580, 705, 840) yards
Farbe B: 775 (915, 1065, 1235, 1415) m / 850 (1000, 1165, 1350, 1540) yards
Gesamt: 1130 (1355, 1595, 1880, 2185) m / 1240 (1480, 1745, 2055, 2390) yards

Abgebildet in:
Wollmeise Blend in mint-blau (A) und hellgrau (B) – in Größe M
Mögliche Alternativgarne: The Plucky Knitter Primo Fingering, The Sanguine Gryphon Bugga!, madelinetosh 80/10/10 Sport, madelinetosh Pashmina, Rosy Green Wool Cheeky Merino Joy
Maschenprobe:
22 Maschen/24 Reihen=10cm/4" in echtem Patent
22 Maschen/48 Reihen=10cm/4" in kraus rechts
nach dem Spannen (2 Reihen in kraus re = 1 Reihe in Patent)
Nadelstärke:
US 2½ / 3 mm Rundstricknadel, US 6/4 mm Nadelspiel
Sonstiges:
Stopfnadel, 8 Maschenmarkierer, Maschenhalter/Wollrest, Sicherheitsnadel/Zopfnadel/offener Maschenmarkierer (für 1 Masche)