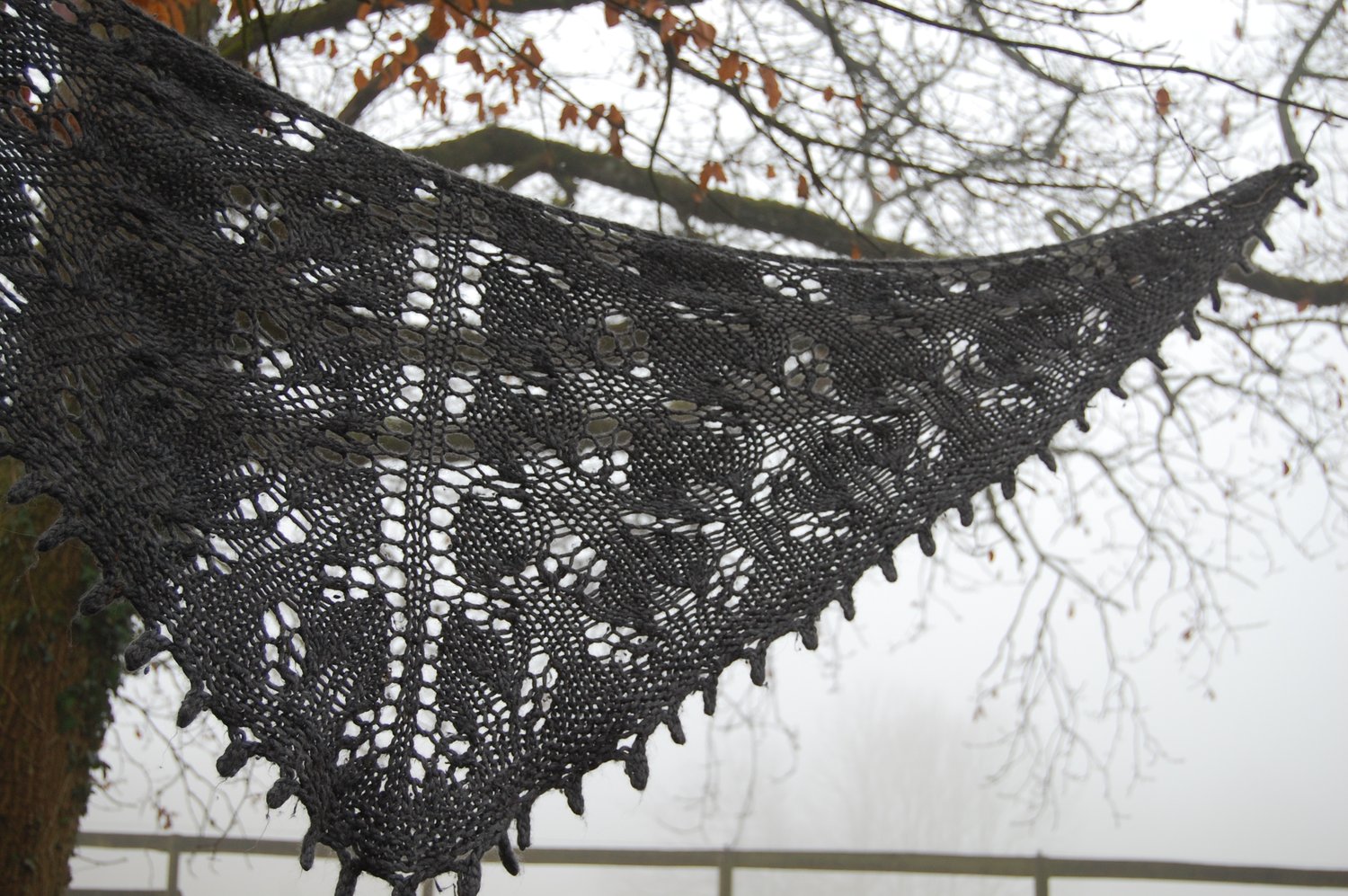 Intriguing shawl
On Sale
Pique interest, and arouse curiosity in Intriguing. International women of mystery might well throw this around them as they weave their webs of intrigue and steal into the night for secret assignations. The lace pattern swirls and eddies like flames or water (or the schemes of a clever woman) in ways fascinating and difficult to define. And there is definite drama in the serrated edging.

Knit in chunky wool it is warm enough to keep you elegant and unruffled even in the coldest of plots. Yet hidden underneath it all there is a secret heart…..

The lace pattern for Intriguing was designed specifically for this shawl and was named "gaslight lace" by sleepydaisy following a competition in my group, capturing both the fire and mystery of the design. It also features a custom-designed variation on a traditional picot bind off to complement the lace. It is constructed top-down with a traditional triangle shape.

Designed as a winter shawl this is a very fast knit in heavier weights of yarn. My storm-cloud grey sample was knit using 6 skeins of Peru Alpaca Bulky - just 390 yards (360 m),

Testers used a variety of yarn weights and you can see a collection of their project pages here for reference.

The zesty Intrigue in orange by Bowmanville was knit in super-chunky for a super fast knit, using less than 300 yards of yarn. Whilst the passionate purple version by Brncow used 4 strands of lace knit together. The acid yellow Intrigue by knittingbadger is a fingering weight version (and, she claims, a secret weapon for burning out the retinas of enemies). Nicor44 plays the lady in black in her version using Cascade Ecological chunky wool yarn (NB if using this yarn allow some extra yarn to achieve the same size as my sample as it doesn't stretch as much as the Alpaca yarn I used).

The pattern is written for chunky weight yarn and produces a medium to large shawl - but is easy to resize and can be knit in a variety of weights. The pattern contains a rough guide for yardages and pattern repeats required for other weights of yarn and a shawlette version. Please note this is a guide only and will vary based on your knitting and the exact yarn you use (a copy of this table is among the photos on this page). This lace looks and drapes best knit at pretty loose gauge even for lace, so if in doubt go up a needle size.

Pattern contains charts and full written instructions. Large versions of the charts with column numbers are also available to download (these should be read in conjunction with the full pattern).