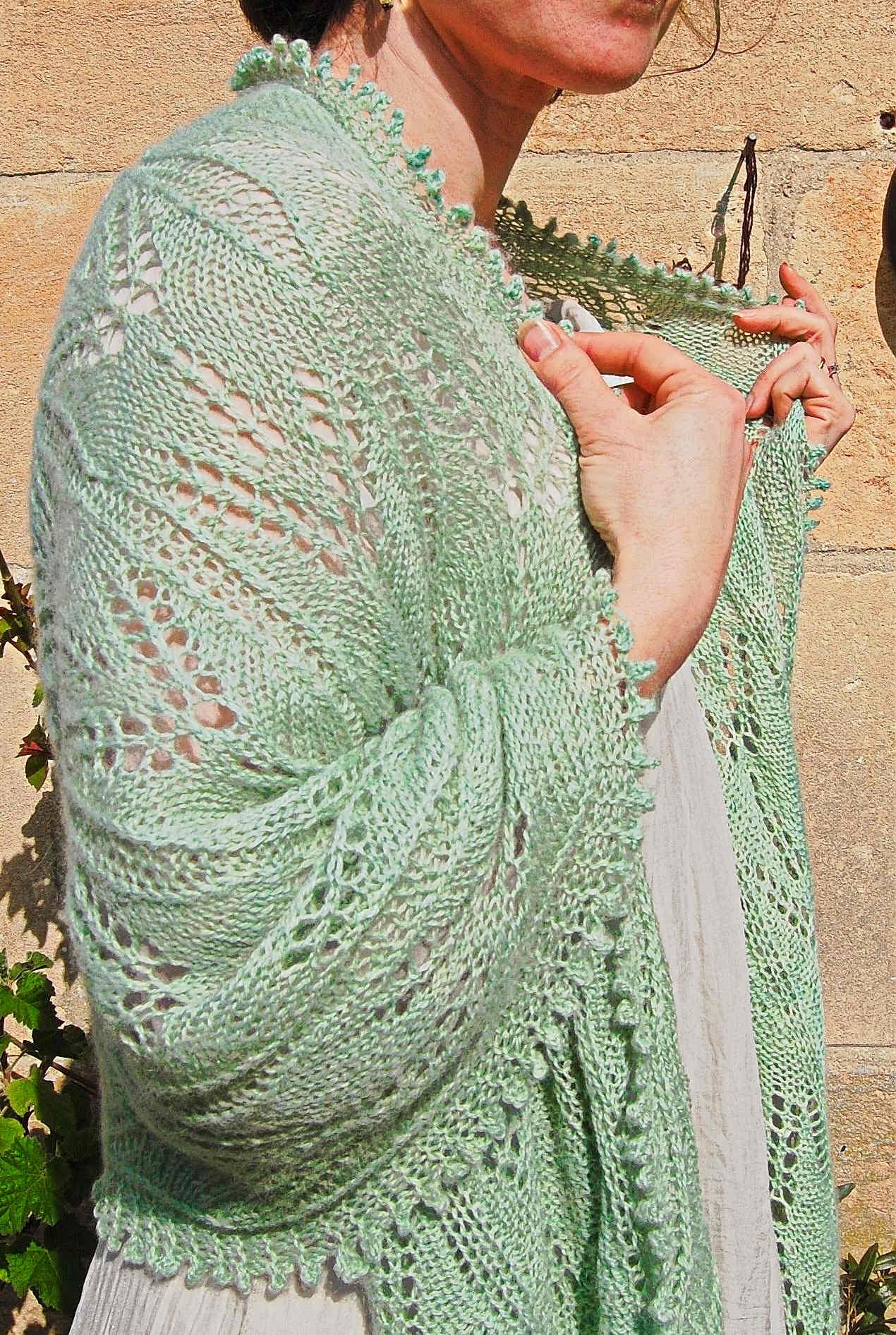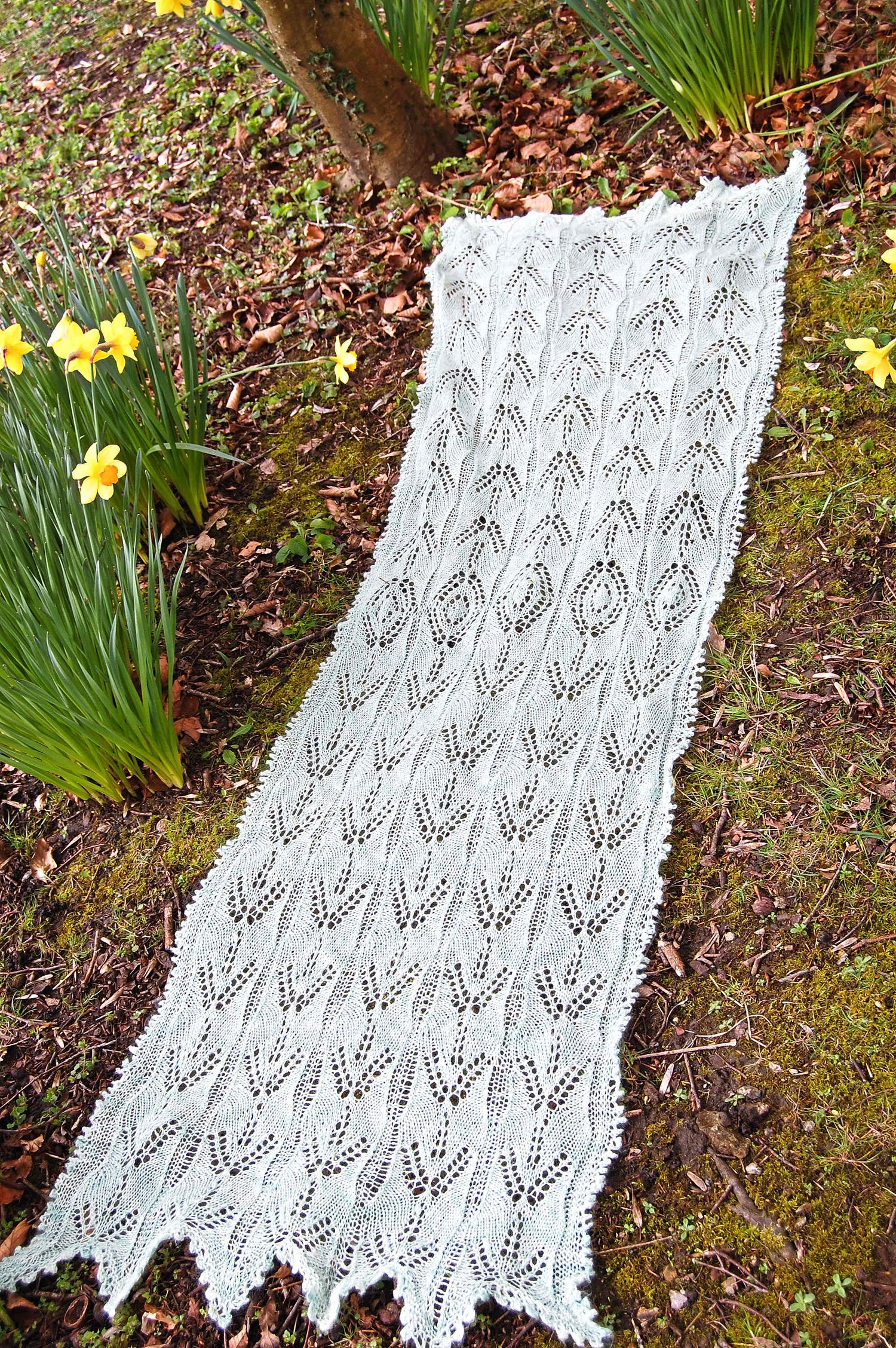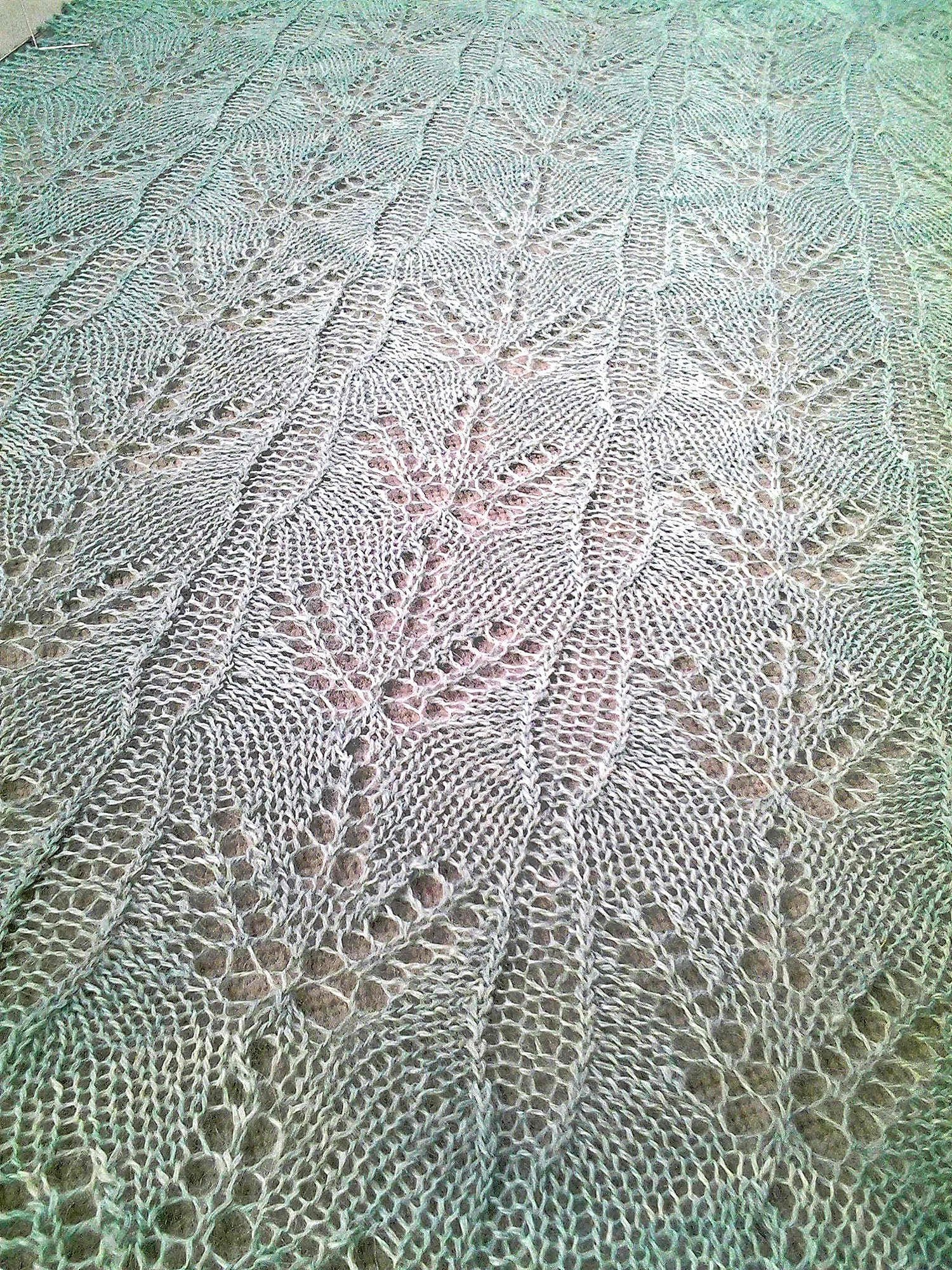 Lavender Green: a Victorian lace shawl
On Sale
£4.00
There is something precious about the moment just before the buds of the summer flowers burst forth in their glory. Romantic and perhaps yet a little wistful because it is so fleeting. It is this essence of something so full of promise, fresh,delicate and ephemeral, that is captured by the fragile lace of this piece. Make it as a stole for cool evenings before the full heat of summer. Or make a feminine scarf as a talisman by which to remember the warmth of the sun in the middle of a dreary winter or to brighten up a summer outfit..

Based on an original Victorian lace pattern, seldom now seen, and translated into modern instructions from a period sourcebook, this is a heirloom piece indeed. I've placed the original motif within a simple border, but given a nod to the Victorian love of ornamentation with a picot edging that is like freshly emerging leaves. The piece is worked in two halves and then grafted in the middle, where I've custom-designed a complementary centre lace panel. Instructions are written and charted. The lace produces a particularly beautiful scalloped edge to the ends.

My new-leaf-green sample is made using an exquisite Eden Cottage Yarns heavy lace yarn available only from Great British Yarns (this is the drifter lace listed), that captures the delicacy and fragility of spring perfectly and which I can heartily recommend if you want to make a stole for a special occasion . Made of 67% UK alpaca, 23% British BFL, and 10% mulberry silk, wherever I have taken this stole hands have reached out, irresistibly, to touch it. The slight, soft, halo is like the hairs on a new leaf, or the lighter-than-air seeds of a dandelion , whilst there is just a hint of sheen from the silk. This yarn is not in the Ravlery database, but I have given a few other suitable suggestions.

The crisp dark green sample by debsf shows the effect in a smooth 4ply yarn and a 4 rather than a 5 width repeat.

Not feeling like green? Then how about the sophisticated, airy blue version by CateBrassington in a silk and merino yarn? 

Personally I think the pattern looks like the waving stalks of unripe lavender flowers, hence the name. But you could easily interpret them as ears of corn in an orange or golden late summer or autumnal version, or make a stole of white lavender which will complement any outfit. This design will of course work in any colourway and any weight of yarn. Simply adjust the number of repeats width and lengthways to get the size required. Cast on numbers are provided for 3 & 4 repeats as well as the 5 illustrated in my sample, and a simple formula is provided for custom sizing.

Pattern is fully charted and has full line by line instructions

The pattern also contains:

Detailed notes on reading your knitting to assist you with aligning your rows of lace correctly.
Instructions for blocking the finished piece for a professional finish.
Links to tutorials for less familiar stitches and techniques.
This pattern is rated as intermediate. The lace has some wrong side patterning .