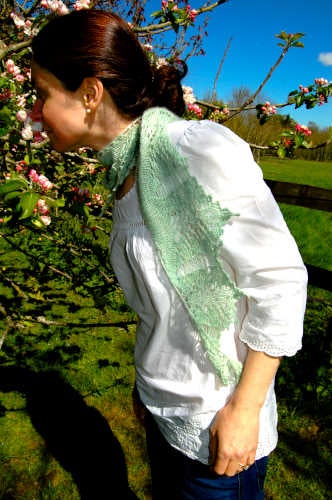 Adele Varens
On Sale
£4.00
Charming, theatrical little Adele, the orphan that Jane Eyre takes to her heart. This teeny tiny little shawl is just what that stylish little Parisien might have been glad to receive from the clever hands of the ever-knitting Mrs Fairfax as a gift to accompany her favourite party dress. She did love to accessorise. This is the 4th of my series of shawls based on Charlotte Bronte characters and can be bought separately or as part of the ebook.

This shawl can be made with very small leftover amounts from larger projects - and is an ideal quick gift knit. I used just 190yds/174m.

As written it produces a small shawlette or scarf, but it can be easily resized into a bigger shawl and full instructions are provided for this. The stitch pattern is translated from an orginal Victorian source book of 1849.

Yarn choices
This design is written with heavy lace in mind (look for lace yarns with about 600m to 100g), but will also produce a similar sized shawlette in 3ply yarns such as some lightweight sock yarns. Any natural fibre that blocks well is fine here - like all top down crescents this one needs a really good block to get the best shape. My yarn has a very delicate halo from the alpaca content, but this is not essential and smooth yarns will be fine (you'll just get a slightly crisper finish).

This pattern will stand up to some gentle variegation and is ideal for for tonal yarns (as well as solids, of course) and the bias effect caused by the lace makes a very interesting effect if you have scraps of complimentary colours to use up for body and lace sections (see the coffee and cream example by Sanita60 which has been worked with additional repeats of the body and lace charts to give a bigger shawl)

It is of course fine to use a heavier or finer yarn. With a 4-ply yarn you'll get a bit bigger shawlette ; with a fine lace allow some extra yardage to do a few more rows of stockinette and another repeat or two of the lace.

My sample is in the Drifter Lace from Great British Yarns in a colourway dyed for them by Eden Cottage yarns.

Pattern contains
full charted and written instructions with links to tutorials for less familiar techniques.

Skills required
The lace has a fairly wide repeat, but use stitch markers and it is simple and intuitive with only few rows to work and basic lace stitches. It does have some decreasing on the wrong side. Some lace experience will help you here, but it could be attempted by an adventurous beginner lace knitter with confident knitting skills.