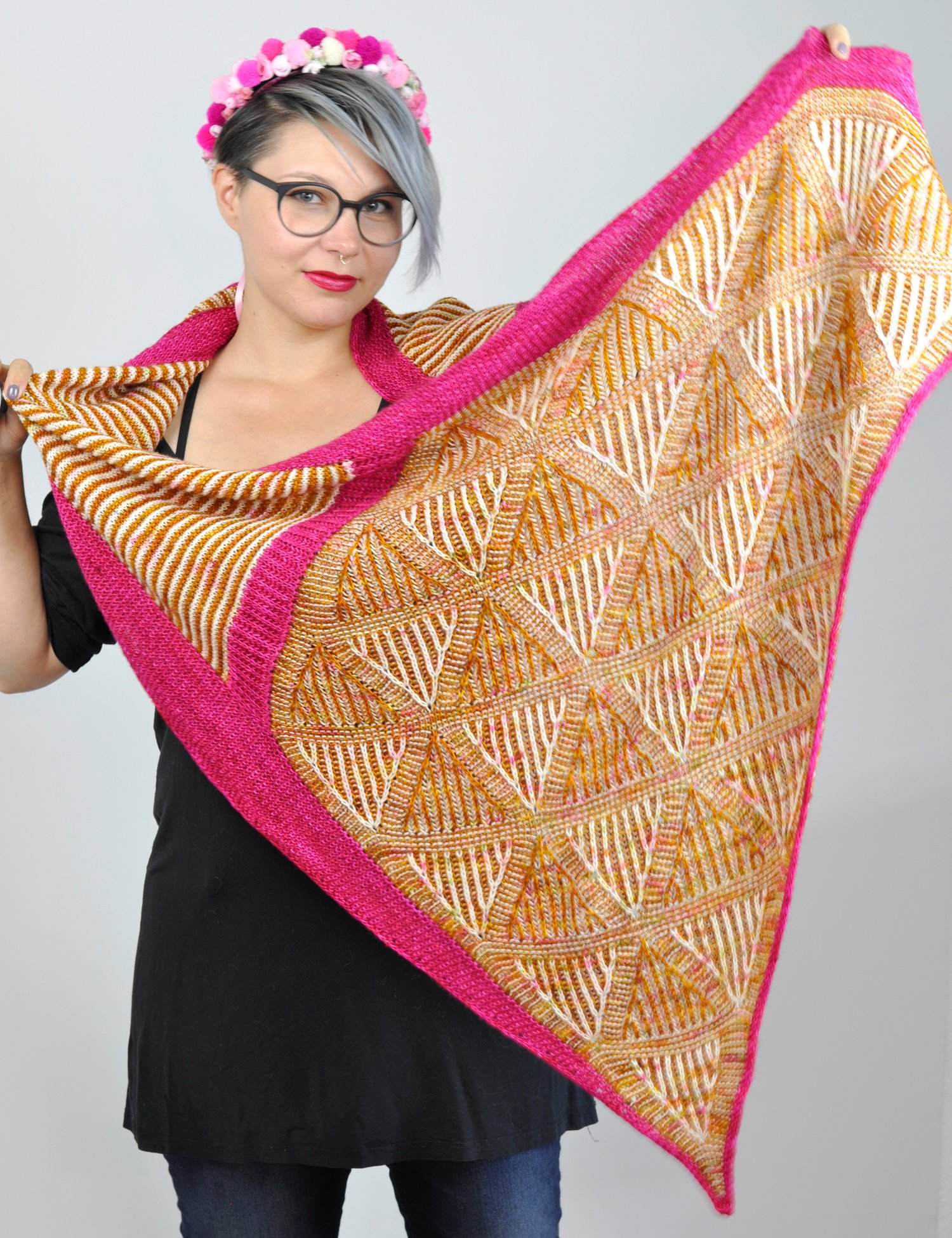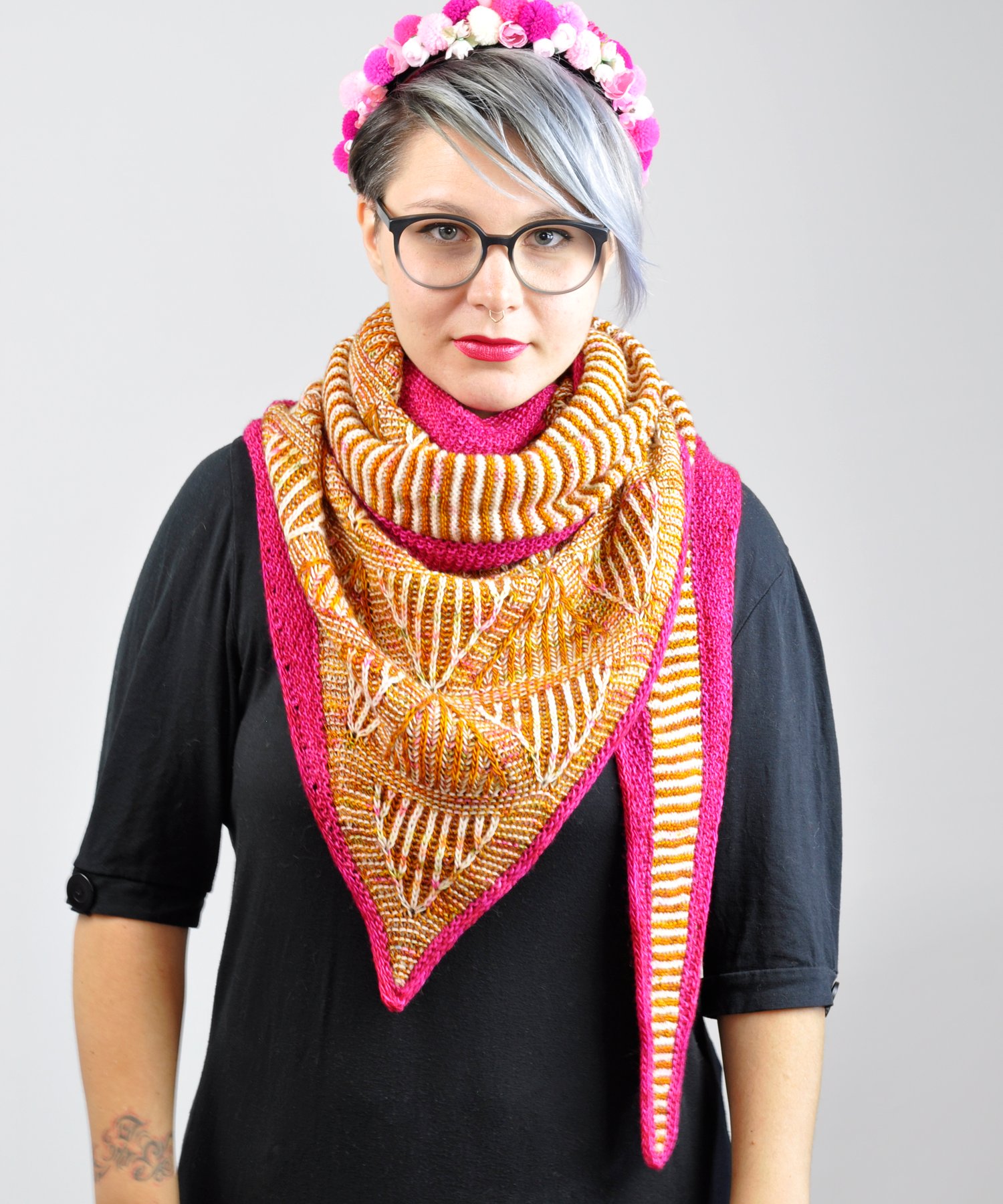 Mysteries, She Wrote Shawl
On Sale
€6.00
DIGITAL KNITTING PATTERN available in English and German
The "Mysteries, She Wrote" shawl was originally published as the sosu mystery KAL 2017. The pattern name is, of course, a reference to my all time favorite mystery writer.
This graphic pattern features syncopated brioche triangles, garter stitch stripes and a contrasting short-row border in seed stitch. The result is an asymmetrical shawl that is truly one-of-a-kind.
Use colors with high contrast for a super graphic result, or less contrast to achieve a more subtle effect. Color A and B are the main colors of the shawl, Color A is the contrast color used for the border.
How colors interact in the different textures is mysterious and wondrous and it almost feels like painting with yarn.
You can see lots of shawls on Instagram under the hashtag #sosuMKAL2017.
The pattern is suitable for adventurous beginners and experienced knitters alike.
All special techniques in the pattern (two-color brioche, short-rows) are explained in detail, including with a video tutorial.
You can download the full pattern version, or each of the four clues of the MKAL as separate files.
Yarn:
3 colors of fingering weight yarn
Shown in:
La Bien Aimée Merino Singles (100% Merino, single ply, 366 m / 400 yards per 100 g), in the colorways Paisley Nouveau (A), Rust (B) and Aimèe's Lipstick (C).
The La Bien Aimée Yarn Kits that were put together for the MKAL will give you some ideas on which colors to combine for the pattern.
Yardage:
1098 m / 1200 yards in total
Color A: 366 m / 400 yards
Color B: 366 m / 400 yards
Color C: 366 m / 400 yards
You will need almost the full skein of each color!
Gauge:
20 sts / 38 rows = 10 cm / 4" in garter stitch (relaxed after blocking)
Gauge is not critical but it will influence the size of your finished shawl and your yardage! A tighter gauge will result in a smaller shawl using less yardage, a looser gauge will result in a larger shawl using more yardage and you will run the risk of running out of yarn.
Needles:
US 6/4.0 mm circular needles (or size needed to obtain gauge or optimal drape)
Optional: Second set of circular needles or spare cable for interchangeables, DPNs
Notions:
tapestry needle, 16 stitch markers, 1 removable stitch marker, waste yarn (optional)
DIGITALES STRICKMUSTER erhältlich in Deutsch und Englisch
Das Strickmuster ist ursprünglich als sosu mystery KAL 2017erschienen. Der Name ist eine Anspielung auf und Verneigung vor meiner Lieblingskrimiautorin Jessica Fletcher.
Dieses grafische Strickmuster besticht durch Patent-Dreiecke in gegengleichen Farben, Kraus-Rechts-Streifen und einem Perlmusterrand in verkürzten Reihen. Das Ergebnis ist ein außergewöhnliches asymmetrisches Tuch.
Durch den Einsatz verschiedener Farben mit mehr oder weniger Kontrast wird daraus dein persönliches Einzelstück. Die Farben A & B sind die Hauptfarben, Farbe C ist die Kontrastfarbe für den Rand.
Unter dem Hashtag #sosuMKAL2017 findest du auf Instagram viele Projekte und noch mehr Inspiration!
Das Strickmuster ist für abenteuerlustige Anfänger und Strickprofis gleichermaßen geeignet.
Spezielle Techniken (zweifarbiges Patent, verkürzte Reihen) werden genau erklärt – auch mittels Video-Tutorial!
Du kannst dir das vollständige Strickmuster oder die vier Clues des MKAL in separaten Dateien herunterladen.
Garn:
3 Farben in Wollstärke "Fingering"
Empfohlen:
La Bien Aimée Merino Singles, 100% Merino, einfädig, 366 m / 400 yd pro 100 g
Abgebildet in colors Paisley Nouveau (A), Rust (B) und Aimèe's Lipstick (C).
Lass dich von den La Bien Aimée Garnpaketen, die speziell für den MKAL zusammengestellt wurden, bei deiner Farbwahl inspirieren.
Verbrauch:
1098 m / 1200 yards gesamt
Farbe A: 366 m / 400 yards
Farbe B: 366 m / 400 yards
Farbe C: 366 m / 400 yards
Es wird beinahe die volle Lauflänge aller drei Farben verstrickt.
Maschenprobe:
20 Maschen / 38 Reihen = 10 cm / 4" in kraus rechts (entspannt nach dem Spannen)
Nadelstärke:
US 6/4.0 mm Rundstricknadel (oder Stärke für Maschenprobe)
Optional: zweite Rundstricknadel (in gleicher Stärke) oder zusätzliches Nadelseil, Nadelspiel (2 Nadeln)
Sonstiges:
Stopfnadel, 16 Maschenmarkierer, 1 offener Maschenmarkierer oder Sicherheitsnadel, Wollrest (optional)