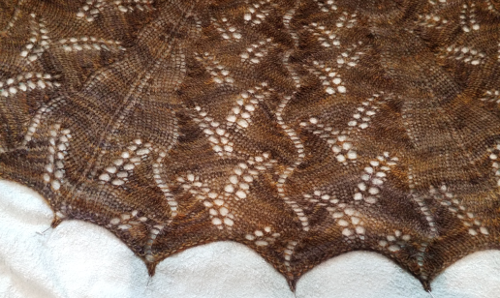 The Wind That Shakes the Barley
On Sale
£6.25
Craft:                    Knitting
Category:             Shawl/Wrap
Suggested yarn:  Malabrigo Yarn Rastita (sadly discontinued), Hawkshaw Sheep Clotted Cream DK
Yarn weight:        DK / 8 ply (11 wpi)
Gauge:                16 stitches and 20 rows = 10 cm over barley pattern, after vigorous blocking
Needle size:        5 mm / US 8
Yardage:             570 - 1140 m (623 - 1247 yards), 2 - 3 x 100 g skeins
Sizes available:   Semicircular in short or long, approx. 60 cm (23 ½") deep x 130 cm (51") along top edge (short shawl), 85 cm (33 ½") deep x 170 cm (67") along top edge (long shawl).
Inspired by the Irish folk song of the same title, this semicircular shawl features a deeply curving picot edge and a lacy pattern of barley ears blown hither and thither by the wind. It is knit in DK weight yarn from the bottom edge up, and there are two lengths giving either a shoulder covering or a deeper shawl.
Lacy shawls are not normally knitted in variegated yarn as the frequent colour changes tend to distract from the lace pattern. Here, however, the pattern is one of movement and the variegation is used to add to the sense of wind shaking the barley. The shawl is also shown worked in a solid colour which also enhances the fluid movement of the pattern.
The pattern features two charts, one being an extension to add length to the shawl. The edging is moss/seed stitch. The edging is grafted at the centre back of the neck to form an invisible seam.
For my two Malabrigo samples, I chose a rich peaty brown with glimmers of gold - Glitter - for the short version to suggest the ripened barley; for the longer shawl, I used Arco Iris to suggest the growing barley, still green. The peach-coloured version is a gorgeous DK yarn from Hawkshaw Sheep, colourway Coral.
Despite the bottom-up construction and slightly complicated cast on, this is a relatively quick knit, and the resulting shawl is both cosy and elegant. Knit the shorter shawl for a warm covering for the shoulders and upper arms; knit the longer for an interesting evening wrap.
This pattern uses charts with text instructions for the charts supplied in a separate file. Pattern support is available; please email me if you have any questions or problems. This pattern appeared in the March 2020 issue of Knit Now Magazine.
This pattern can be knit in any DK/Sport weight yarn, as long as it gives good stitch definition.  As always, when substituting yarn, be sure to knit a swatch to check that you are able to get the right gauge for the pattern. Suggested yarn substitutes can be found at
https://yarnsub.com/