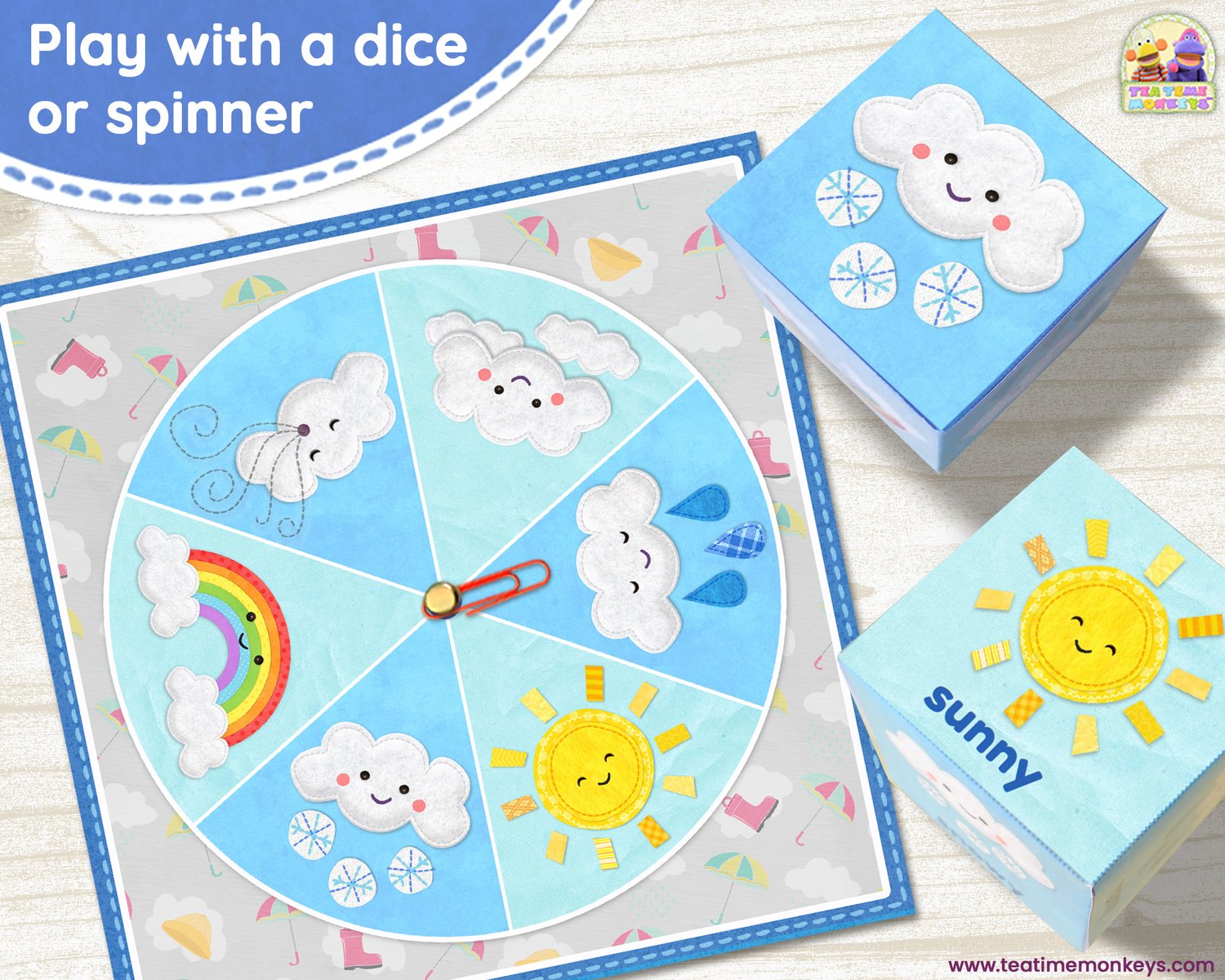 WEATHER BINGO - An EDITABLE Dice/Spinner Game with Craftivity!
On Sale
Get little ones talking about the weather with this simple, fun bingo game and craftivity! Suitable for 3 - 7 year olds. 
HOW TO PLAY:
Kids spin the spinner or roll the dice and cross off the weather icons on their bingo card using play dough or a dry-erase marker. But there's a fun twist: if a player spins or rolls the rainbow, they get to choose which weather icon to cross off their card! First one to complete a line shouts "Bingo!"
After playing, you can do a fun craftivity - kids can make their very own spinners and dice with the printable templates provided. You could even use the spinners to make weather clocks! The craftivity templates make a great extension activity and include many options, so you can adapt it perfectly to the level of your kids. 
THIS GAME INCLUDES:
BINGO CARDS in colour, with five different kinds of weather: cloudy, rainy, snowy, sunny, and windy.
WEATHER DICE in colour - versions with & without words.
WEATHER SPINNER: large spinner in colour you can make using a split-pin and paper clip, a fidget spinner, or a pencil and paper clip.
KIDS DIY CRAFTIVITY TEMPLATES: dice, spinners and bingo cards in black line for kids to colour, make, and play their very own game. 
EDITABLE POWERPOINT FILE: if you want to edit the text on the game pieces. Compatible with older versions of Powerpoint. 
FULL INSTRUCTIONS on how to assemble and play
Choose from
PRINT & GO
files or an
EDITABLE
powerpoint file - so you can change the text, the font, or even the language of the game if you wish! 
EDUCATIONAL BENEFITS:
Develops language and vocabulary for identifying and talking about the weather
Develops fine motor skills
Encourages turn-taking
TO MAKE AND PLAY WEATHER BINGO! YOU WILL NEED:
Microsoft Powerpoint, if you want to edit the text.
Play dough or dry erase markers to mark the Bingo Cards.
Split pins and paper clips (or a fidget spinner) to make the spinner.
Glue or double-sided sticky tape to make the dice.
A way to laminate game pieces (not essential but highly recommended).
Songs, videos, crafts & other free resources on our website!
Original illustrations by Tea Time Monkeys! © 2019 Biggabug
Please read the printing instructions included in the PDF to get the most from your printable game.