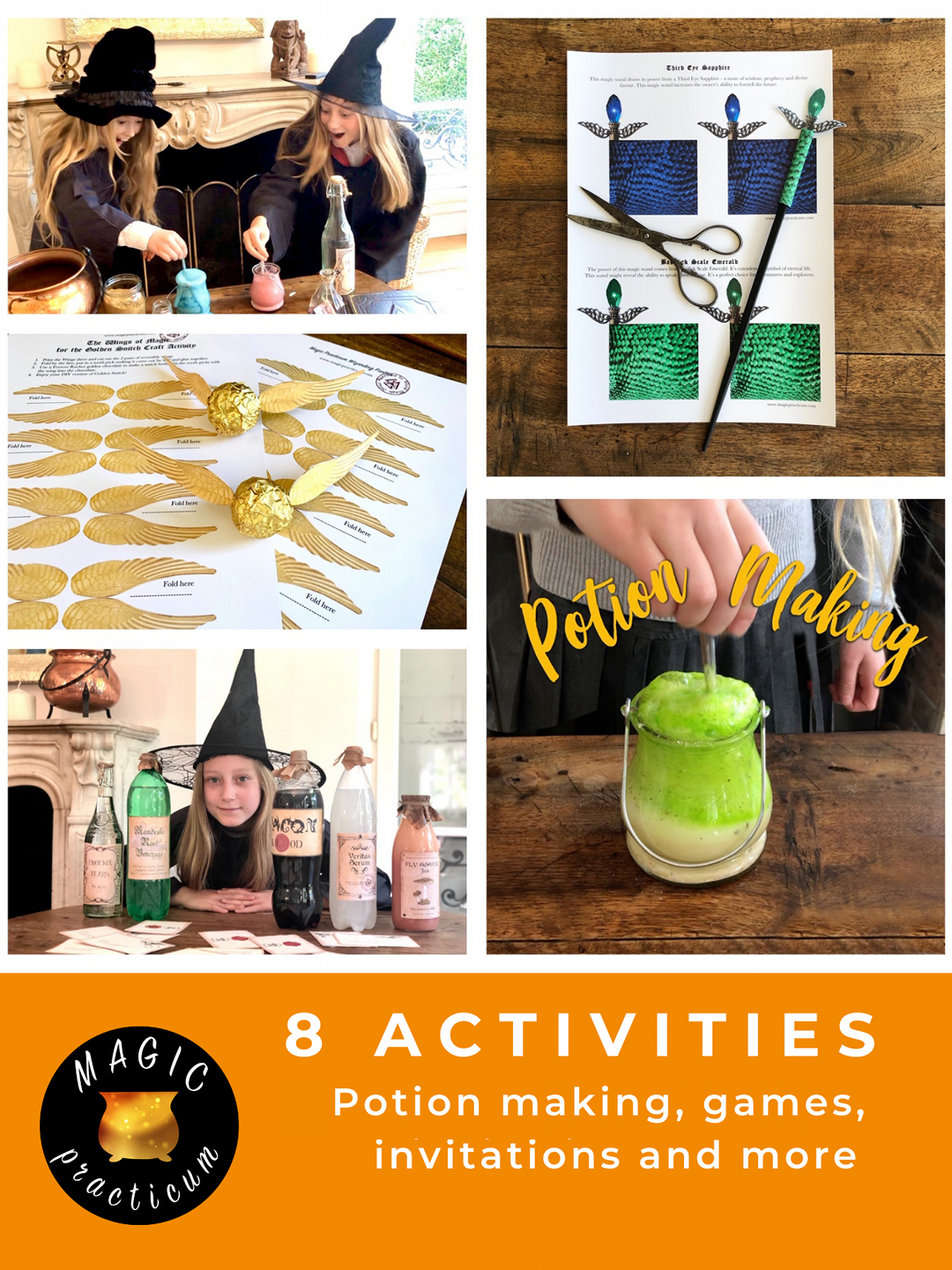 Party Kit - Essential activities for a Wizarding party
On Sale
€12.99
The "Essential" party set for a HP party offers you more fun options to entertain the children at your party. It includes POTION making, which is one of the favorite activities for the children! This kit also includes INVITATIONS.
ESSENTIAL - PARTY SCENARIO
---
★ Send INVITATIONS. Digital and printable versions are included.
★ Start your party with the History of Magic QUIZ - it will set a magical atmosphere.
★ MAGIC WAND making activity - the children will make their magic wands using printable designs and chopsticks.
★ POTION MAKING - it's time to discover if the children have REAL Magic powers!!!
See how the potion making process goes!
https://youtu.be/DUUnordlKS0
★ Now the children know they have Magic powers, it's time to cast their first spell!!!
Let the children cast a "Shrinking charm" 
★ Snack time! Print BOTTLE LABELS and transform your children's favorite drinks into Wizarding beverages.
★ Catch the Snitch - Play the GAME!  It's a HIT! 
★ SNITCH MAKING - the children will make snitches using printable Golden wings and Ferrero Rocher chocolates.
ARE YOU LOOKING FOR MORE?
---
Check out my biggest party set
"EXPERT" (12 products) 
WHAT YOU WILL GET in the "ESSENTIAL" party set
---
This is a DIGITAL DOWNLOAD party set. You will have to print the activity sheets and instructions.
★ INVITATIONS
- Editable PDF file with 1 invitation on it - you can edit and send it by email or via WhatsApp.
- Editable PDF file with 2 invitations on each page - you can edit and print it at home. The size of a printed invitation is 10,2 x 14,5 cm (4" x 5,7").
- NON-editable PDF file - you can print it and then add your text by hand
★ POTION RECIPE and LABELS
- Potion Recipe - non-editable PDF file, to print one sheet per 2-3 children.
- Potion labels - non-editable PDF file to print. You will glue these labels on jars and bottles.
- PDF Instructions on how to fill jars and bottles. You will find most of the ingredients in your kitchen cupboard.
★ MAGIC WAND MAKING
- PDF file with designs of Magic wand handles - to transform chopsticks into magic wands. Comes with instructions and a video tutorial.
★ GOLDEN WINGS for SNITCH MAKING
- PDF file with instructions and 2 sheets of Golden wings to print for the craft activity
★ BEVERAGES LABELS
- PDF file with 5 different labels on it. The labels fit "party size" bottles (0,75 L up to 2 L bottles).
The sizes of labels vary from 9 x 12cm to 9 x 18,5cm (from 3,5" x 4,7" to 3,5" x 7,2").
★ HISTORY OF MAGIC QUIZ
- PDF file with 33 Harry Potter and other magic-related questions. "Teacher" and "student" copies are included.
★ SHRINKING CHARM
- PDF instructions on how to run the experience. You will use a magic formula to make it work. Success guaranteed.
★ CATCH THE SNITCH
- PDF file with the game description.
GET FREE PRINTABLES!
---
>>> Subscribe to the blog to access the
free printable
!
PURCHASING INFORMATION
---
Add all the items you want to your cart and check out.
Once purchasing is complete, the files will be automatically sent to your download page where you can instantly download the files you've purchased.
You will also get an email receipt, which includes the link to your download page. You can use that link to download in the future if you still haven't downloaded your purchase.
PERMITTED USE
---
This Magic Practicum concept and printables by Anna Yaga are for personal use only. You can use them at your child party, print them for yourself or as a gift but they cannot be printed for multiples events or used for any business-related purpose. Copyright belongs to Magic Practicum.
COLORS
---
Please note that colors may vary due to different monitors' and printers' settings.
Printable files are in high-quality resolution. For the best results, set your printer on "Best quality". For exceptionally high quality images, use photo paper and "Photo paper quality" printer setting.
FREQUENTLY ASKED QUESTIONS
---
• Do you take custom requests?
Yes! Just message me to discuss your custom order.
• How to edit the invitations?
Open the editable PDF file in the Adobe Reader DC (download a FREE version of Adobe Reader DC https://get.adobe.com/reader/otherversions/
Edit the text, and that's it! Your invitations are ready to be printed or sent by email!