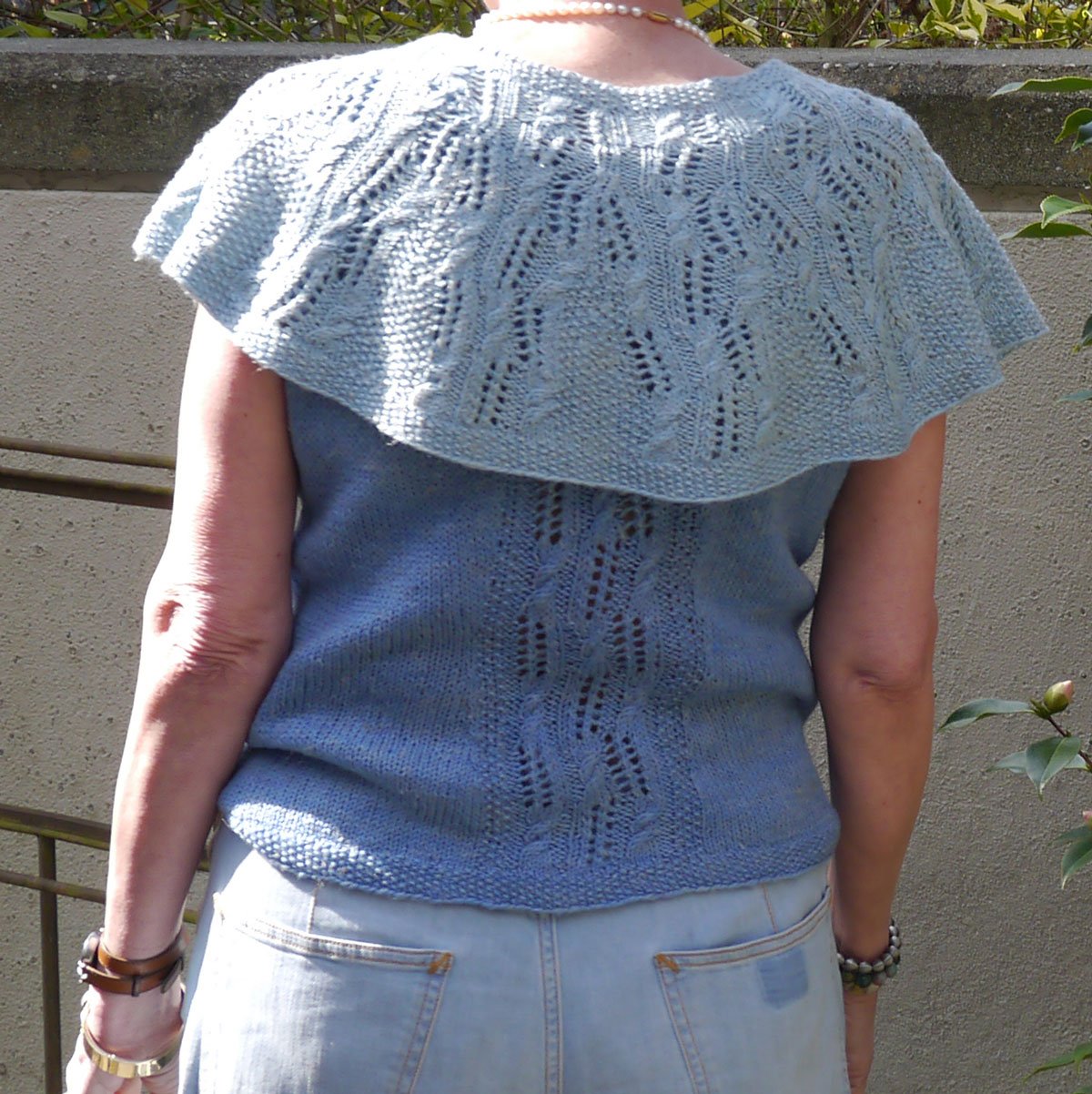 French Quarter Tank
On Sale
This pattern comes in 7 sizes
:
Bust 33" / 83.8 cm, 36" / 91.4 cm, 40" / 101.6 cm, 45" / 114.3 cm, 50" / 127 cm, 55" / 139.7 cm, 60" / 152.4 cm
Can you say je nais se quoi?  A little flirty but still a little covered-up.  This tank top is worked in the round to the underarms, and is just interesting enough to keep you going until suddenly, you are done!  The size M sample used 647 yards of yarn.  Perfect for when you need something seasonal, but French Quarter truly can be multi-seasonal when paired with Ninth Ward Cosy or a jacket. Experiencing hot flashes or live in a humid climate?  A perfect fit.  I've put in help for if you need to change the shaping in the body, and I have done the trim so it is completely done on the needles.  Working in your ends is the actual last step before blocking.  You will want to block to get the most out of the yarn and the Tilting Ladder panels.*
Finished lengths 18.5" / 47 cm, 19.5" / 49.6 cm, 20.5" / 52 cm, 21.5" / 54.6 cm, 22.5" / 57.2 cm, 24" / 61 cm, 25.5" / 64.8 cm
Ninth Ward Cosy shown in some photos will release 4/9/2021.
SHAPING NOTES
You can adjust the number of stitches increased and the number of rounds over which the increases are worked for the Hip to Waist and for the Waist to Bust. You will need to determine if those adjustments will require adjusting knit-to lengths.
Use the Hip to Waist Shaping Calculator and the Bust Shaping Calculator to see what your options are.
The Hip to Waist and Waist to Bust Shaping Calculators only requires your putting in a few key numbers and it will calculate everything for you! I have put notes into the calculators so you can make adjustments as needed.
Cool Things: Armhole trim knitted on, 3-needle bind off at shoulders, knitted in one piece to underarm divide, shaped front and back necks. Shaping charts, written instructions, Action charts, techniques described (including cabling with and without a needle), schematic and road map.
Blocked Gauge:
Stockinette US size 22.75mm 5.25 8 21 32
Tilting Ladder US size 53.75mm 6 7.75 24 31
Yarn: Coastal from Elemental Affects Yarn, 3-ply, worsted-spun, 50% Shaniko, 25% Belgian Flax, 25% Mulberry Silk, 2 oz /57g, approximately 205 yds (187 m). WPI 19.
3 (3) (3) (4) (4) (5) (6) skeins
Model shown: Model Size is M in Bonnie Blue, and used approximately 177g/ 647 yds (617m).

For more information about French Quarter Tank here on JillWolcottKnits.com.

And find more Jill Wolcott Knits® patterns here on PayHip.