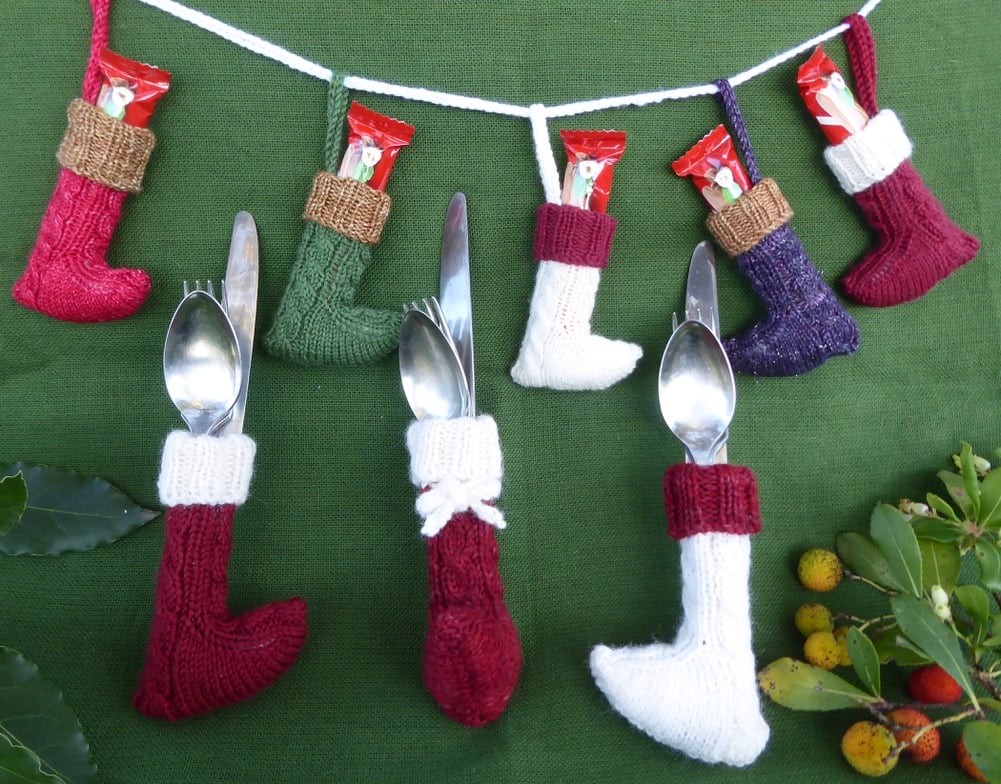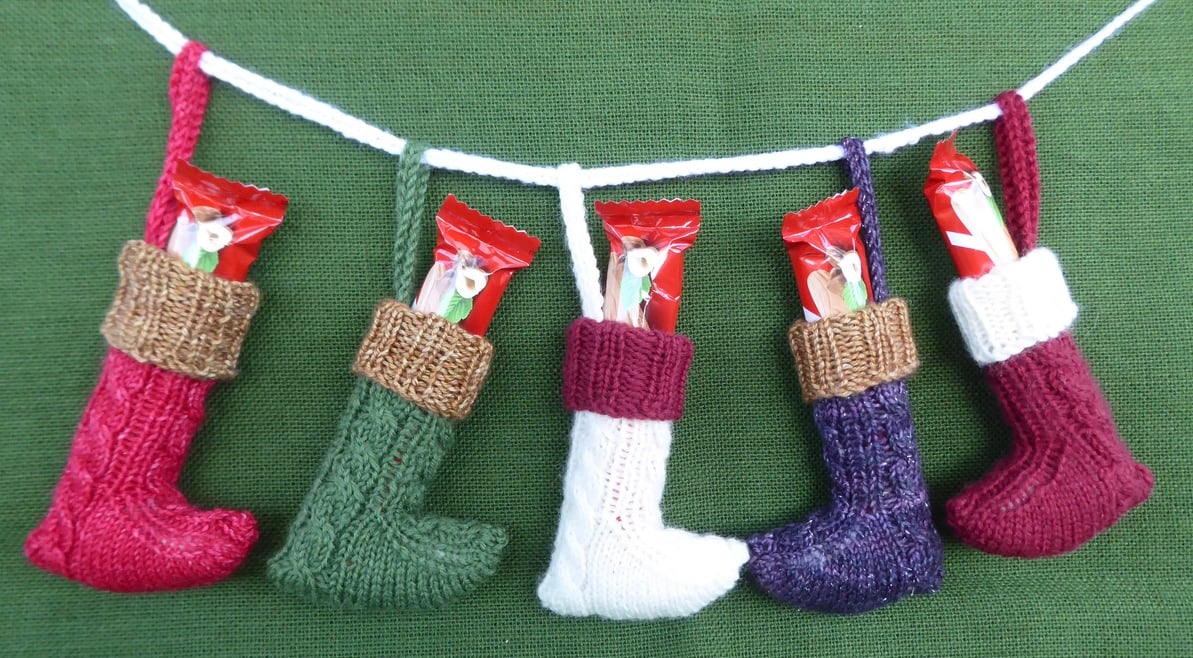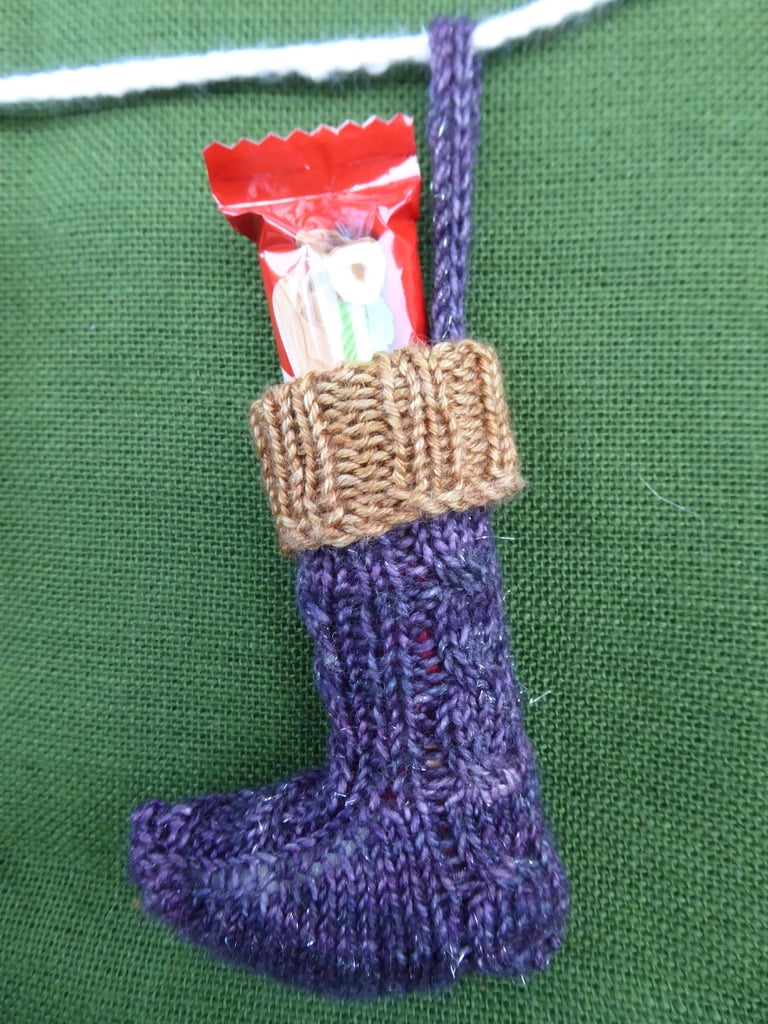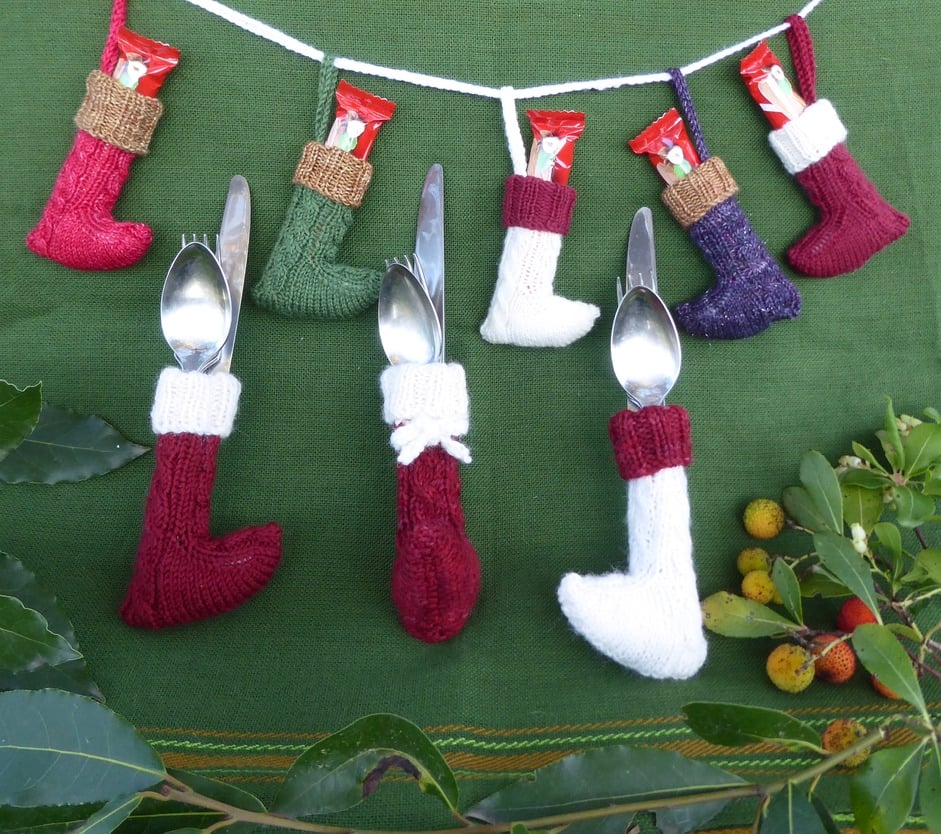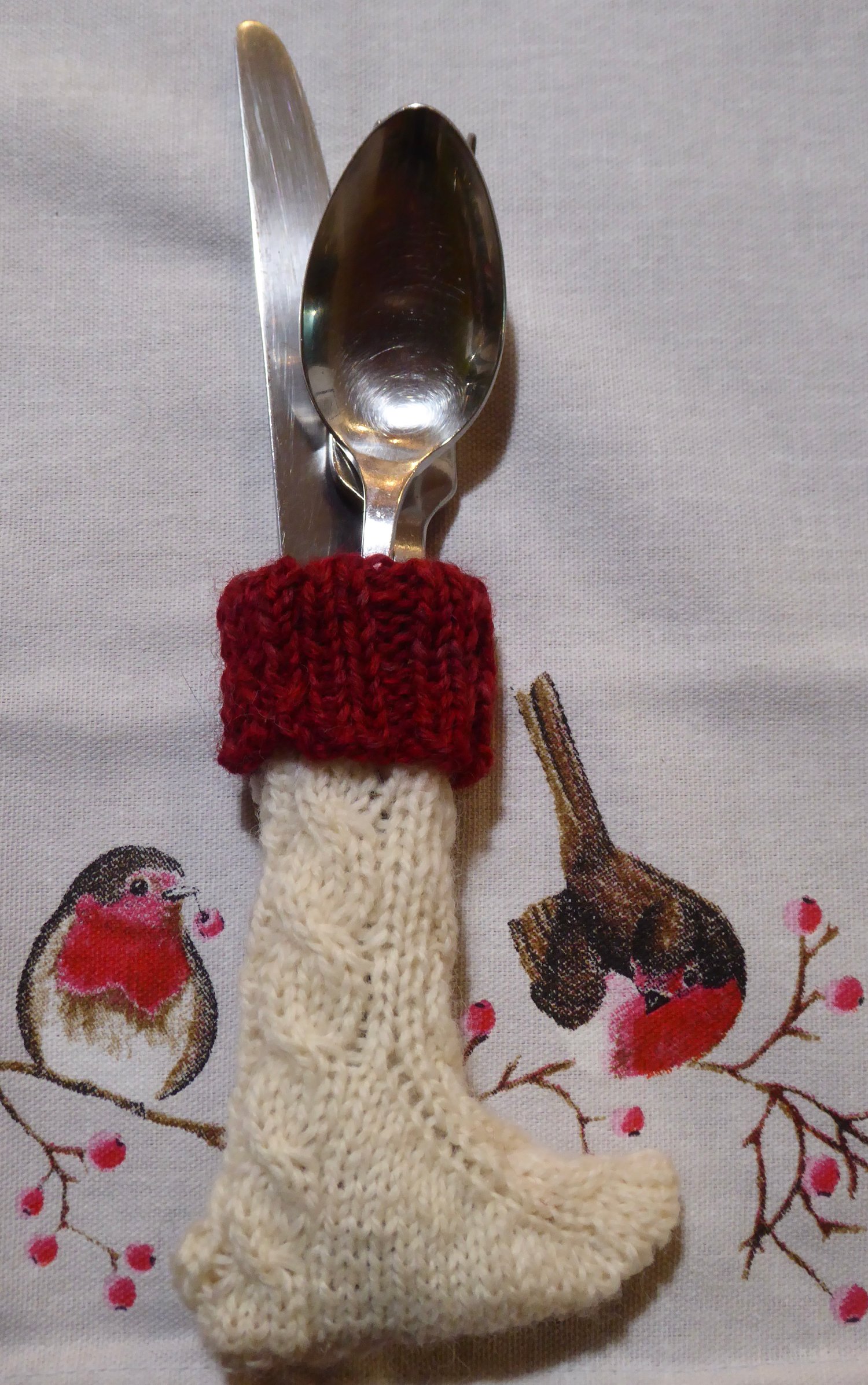 Elf Christmas Stocking Advent Garland and Cutlery Holders
On Sale
Overview
I don't actually know any real life Elves but in my imagination they have pointy toes and a penchant for cabled long socks, which makes these stockings just perfect. I hope they're perfect for you too!
This pattern contains instructions to knit these Elf stockings either flat or in the round depending on preference.
The double knit version is perfect as a cutlery holder, the 4 ply fingering size is great for tree decorations or Advent garlands and fit mini chocolate bars such as 'Celebrations' or 'Heroes' up to a finger of fudge or a Tronky, while the aran version make great gift 'bags'.
The stockings are knit from the top down starting with the contrast rib and then moving onto the cabled leg and increasing for the gusset and foot.
They can be knit flat and seamed down the centre back and under the foot, or, if knit in the round the sole of the foot can be sewn up or Kitchener stitch grafted closed as preferred. The pattern includes full instructions for Kitchener stitching the foot closed.
Size
Length measured from the folded over cuff to the heel, and foot measured from the heel to the tip of the toe.
Small – worked in 4 ply yarn: Length: 10cm/4 inches, Foot: 7cm /2¾ inches
Medium – worked in DK yarn: Length: 13cm/5¼ inches, Foot: 8½ cm/3¼ inches
Large – worked in Aran yarn: Length: 16½ cm/4 6½ inches, Foot: 12cm /4 ¾ inches
Yarn


These can be worked up in any odds and ends of yarn.
The 4 ply version takes a total of approx 6g of yarn the DK, 10g and the aran version 20g.
Gauge 
measured over 4 x 4 inches (10 x 10cm) of stocking st:
4 ply: 32 sts and 44 rows
DK: 24 sts and 32 rows
Aran: 20 sts and 24 rows
Needles & Notions
The 3 sizes available are based on using different yarn weights and needle sizes as follows:
4 ply/fingering yarn + 2.75mm (US2) needles
Double knitting yarn + 3.25mm (US3) needles
Worsetd/Aran yarm + 3.75mm (US5) needles
A tapestry needle will also be required for finishing and you may want to stuff the toes to show them off to their best. 
Format


The pattern is provided as a 4 page English Language PDF which you can download as many times as you like. The first page has the main picture and the technical information on needles, yarns, gauge etc.  Page 2 has all the instructions to the knit the stocking in the round. Page 3 has all the instructions for knitting the stocking flat. The final page has the instructons for kitchener stitching together the foot should you decide to graft rather than seam.