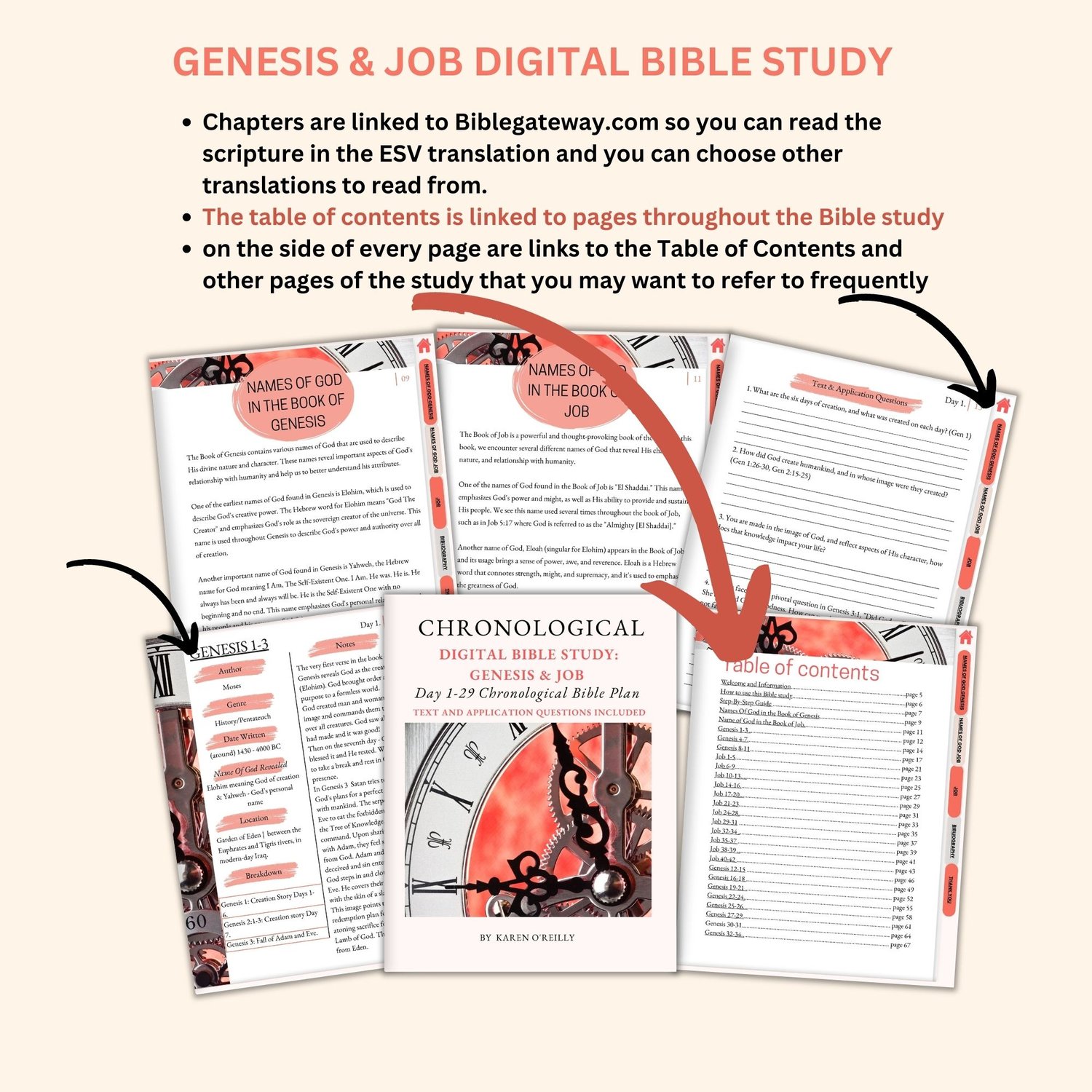 Genesis and Job Printable Bible Study
On Sale
Welcome to the ultimate Bible study guide for the Books of Genesis and Job!
If you're looking to deepen your understanding of these two foundational books of the Bible, then you're in the right place.
💥Please note that this product is included in the discount bundle HERE
✅This printable study guide (and a bonus digital format for Good Notes and other PDF readers) is designed to take you through the books of Genesis and Job in chronological order, while also providing insightful life application questions, chapter summaries, genre and author information, and historical context. It also contains the Hebrew name of God revealed in each chapter.
✅By using this guide, you'll gain a deeper understanding of the themes and messages in these two important books, as well as practical ways to apply these truths to your daily life.
✅Here's what you get:
Chronological Order: This study guide will take you through the Books of Genesis and Job in chronological order, so you can see how the events and stories unfold in the order they occurred.
Text and Life Application Questions: Each chapter of the study guide includes thought-provoking questions that will help you reflect on the text and apply it to your life.
Breakdown Summary of each chapter: The study guide provides a summary of each chapter, so you can quickly and easily review what you've read.
Genre and Author Information: The study guide includes information on the genre and authorship of each book.
Approximate Date Books Were Written: Understanding the historical context and the approximate date of the books of Genesis and Job can give you a greater appreciation for the messages contained within them.
Locations Mentioned in the Chapter: The study guide provides the names of the various locations mentioned in each chapter.
Notes: The notes included are from my own research on each of the chapters. You will find a list of all the resources used in the writing of this Bible study at the back of the book.
✅ Bonus: A file is included with S.O.A.P and Prayer Journal pages.
This Bible study guide is perfect for anyone who wants to gain a deeper understanding of the Books of Genesis and Job. Whether you're a seasoned Bible scholar or a newcomer to the faith, this guide will challenge you to think more deeply about the themes and messages presented in these important books. It is suitable for both personal and group Bible study.
💥Please note: TERMS OF USE-
Allowed: You are allowed to print as many times as you need for your own personal, family, or single-church use (including small groups).
Not Allowed: This digital file cannot be given to anyone else. In order to own a digital file, it must be purchased. This file is never to be emailed to anyone else for the purpose of giving it to them or sharing it with them.
This file must not be altered in any way. If you feel that you have obtained an unauthorized copy of this material, please email Karen@scripturalgrace.com.
You will be automatically added to our weekly newsletter after downloading this eBook and you will be sent the password for our Resource Library to gain access to our vault of free bible plans, eBooks, and more!
REFUNDS are not available for digital products, sales are final but I will do everything possible to make sure you are happy with your order. If you have any problems, please let me know, karen@scripturalgrace.com.