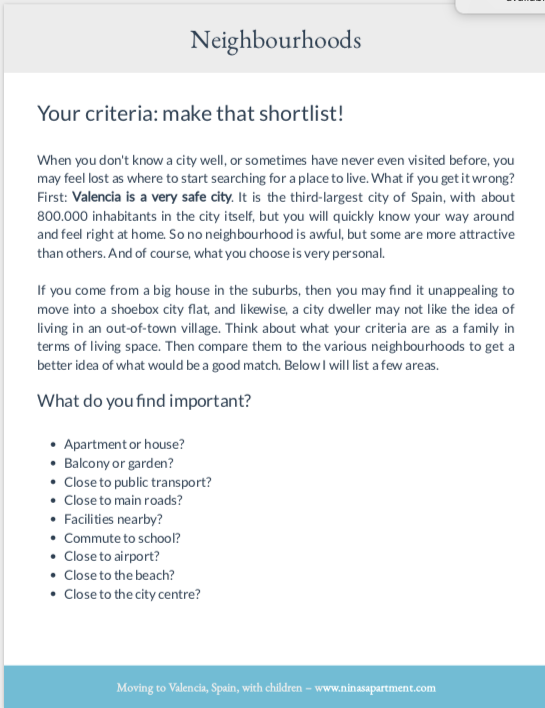 Moving to Valencia, Spain, with children
On Sale
€27.00
You want to move to Valencia, Spain, with your family...but where do you start?
Are you planning to move to Valencia, Spain, but are feeling overwhelmed? Is it taking you a lot of time to do all the research? In my e-book you will find lists of all the good schools, lists of all the great neighbourhoods, personal stories, advice on healthcare and housing and many useful links.

With this e-book, you will feel:
More confident about schools in Valencia
Better informed about safe neighbourhoods for your family
Better prepared for your move
Less worried about what's to come!
Moving to Spain with your children will be an amazing experience and adventure, but you also want what's best for their education and happiness. Schools, a safe and family-friendly place to live, healthcare, etc. There are a lot of things to take into account. 
Whether you are moving to Valencia, Spain, from the USA or the UK or anywhere else, if you are bringing a young family, you will all stumble upon the same questions. This nearly 50-page E-book answers a lot of those questions, makes you feel better prepared and more ready to make your dream reality.
Book review:
"Moving to Valencia with kids? Nina's e-book is a good place to start. It answered quite a few questions I had (mainly about schools) and is full of really great tips to make the transition to another country, easier. Also, it's full of wise advice and Nina is good at managing expectations. Moving to a new country is not easy so I can relate to the gentle warning words of "taking it easy" and being kind to yourself when you first get there. All the main subjects of concern (schools, bank accounts, healthcare etc.) are covered. Nina's book is as reassuring as it is exciting! Can't wait to start our own adventure!
- Cecile M, London
Moving to Valencia, Spain, with children, by Nina Eggens, October 2020
> Just under 50 pages full of first-hand tips about schools, neighbourhoods, healthcare and what to expect, when moving to Valencia with children.

Your must-have guide to safe you a lot of research time!
Because really, it all seems impossible....until it's done 😀