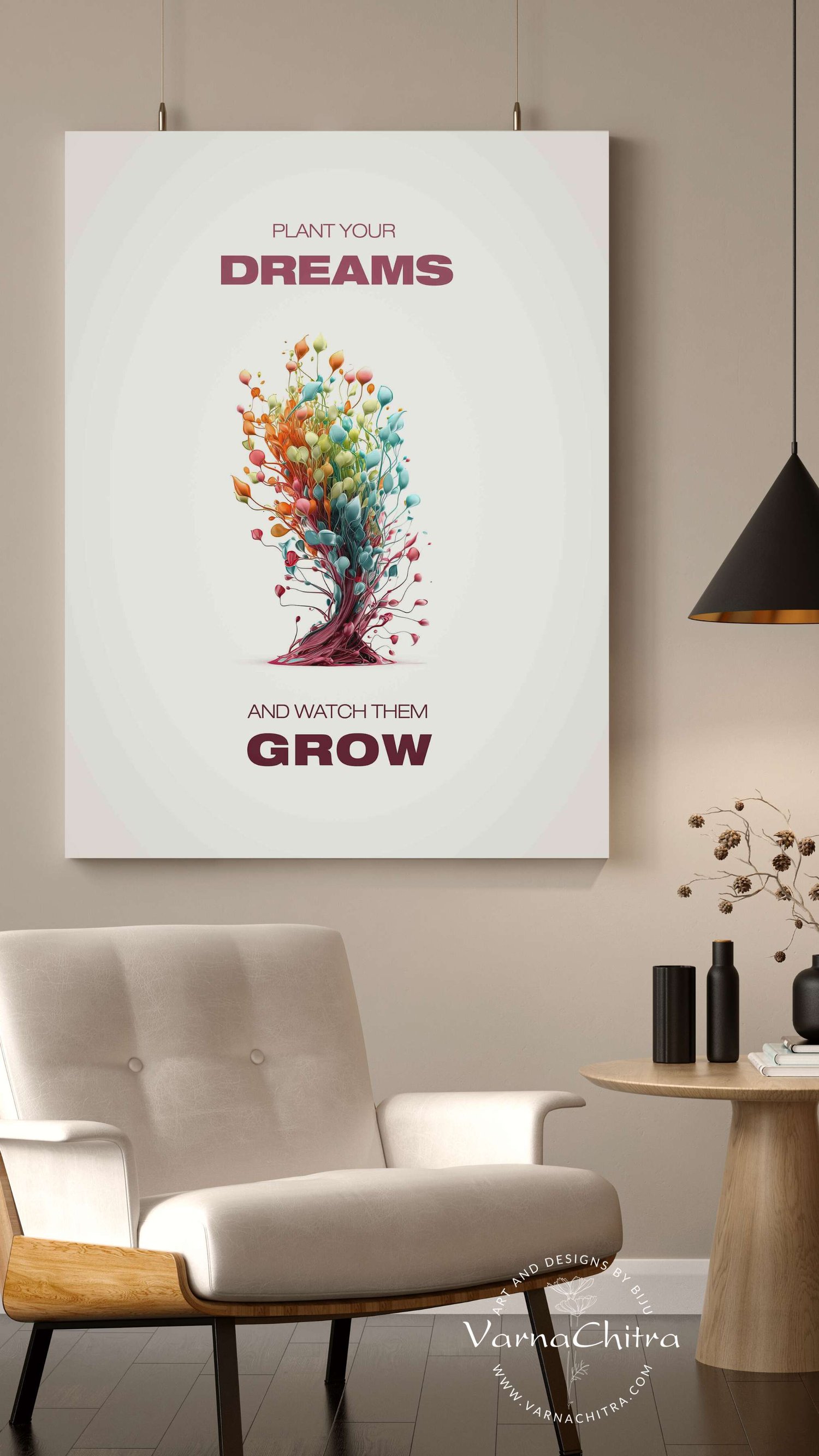 Plant Your Dreams and Watch Them Grow; Motivational Poster Large Size Printable Wall Decor, Inspiring Typography, Postive Quote Download
Plant Your Dreams and Watch Them Grow.
This motivational poster features a graphic illustration of a seed growing up to become a magic tree. The poster motivates viewers to pursue their dreams and aspirations with perseverance and dedication, just as a plant requires care and nurturing to grow strong and healthy. This poster could be particularly fitting for individuals in fields such as entrepreneurship, creative arts, or personal development.
Excellent gift for all occasions. High resolution image 8400x12000 pixels with 300 ppi as instant download.
Upon purchase you will receive 2 JPG files as instant download. One poster having a 3D rendered graphic element and the other having a watercolor graphic element.
Use the downloaded files for customized printing and framing at any of the online printing and framing services like shutterfly, canvaschamp etc. You may also utilize the service of your local printing and framing shops.
THIS ITEM IS A DIGITAL DOWNLOAD ONLY. NO PHYSICAL ITEM WILL BE SHIPPED.
YOU WILL GET 2 JPG FILES OF SIZE 28x40 inches with 300 ppi AS A DIGITAL DOWNLOAD.
The file can be easily resized to
24x36 inches(2:3 aspect ratio) and below
24x24 inches (1:1 aspect ratio) and below
18x24 inches (3:4 aspect ratio) and below
16x20 inches (4:5 aspect ratio) and below
11x14 inches
A3 (ISO) 11.7x16.5 inches
No watermark or signature on the download.
You can contact me for any other size after purchase.
For personal use only. No commercial use permitted.