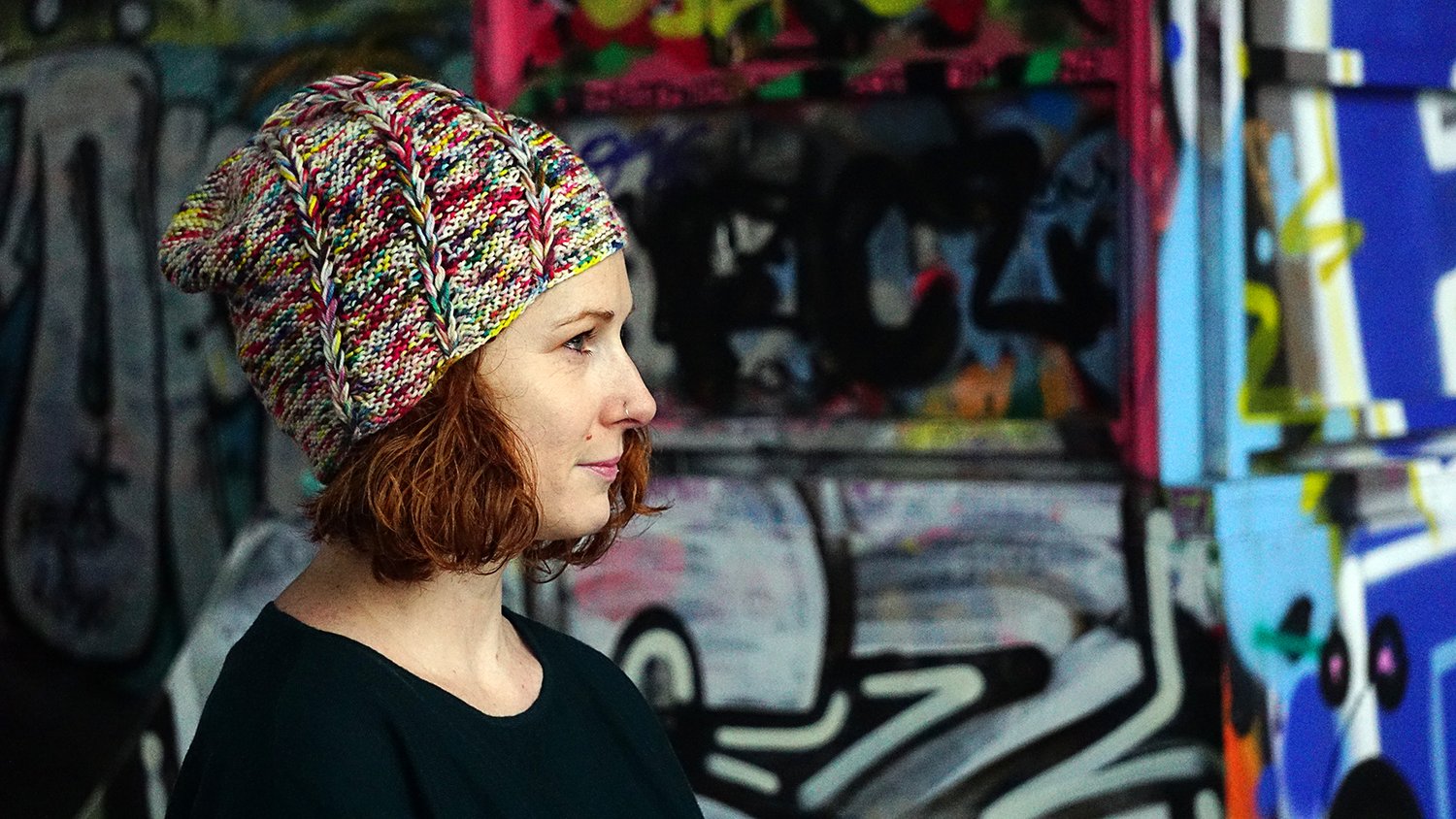 Cape Carnival
On Sale
Pay what you want:
(minimum CHF7.00)
Preview
Cape Carnival, or also called "Tweede Nuwe Jaar" (2nd New Year) is a day that is unique to Cape Town and stems from practices associated with the slavery. In the mid-nineteenth century, the Cape slaves were given a day off from their duties on 2 January every year. During this alternate New Year celebration, the slaves would dress up as minstrels and dance rhythmically to the sounds of banjos, guitars, ghoema drums, whistles, trombones and tubas. Cape Carnival is a celebration of a community's survival. It illustrates the continuity between its past, present and future. It is a day when the local working-class community which survived slavery, segregation and Apartheid celebrates its existence and perseverance.
The braid stitches are a symbol of the minstrels who march to the Greenpoint stadium for the competition.
The hat is worked bottom-up with a stretchy cast-on. It's is worked in garter stitch and in rounds. Shortly before the crown is closed, the braid stitches are worked.
The pattern is made for highly variegated yarn. Since the braid stitch is produced by dropped stitches, I recommend a smooth yarn that does not get caught so easily.
HELPFUL LINKHow to work the German twisted cast-on
https://youtu.be/nyCG0bsLB2o
MATERIALYarn
Cowgirlblues Merino DK (100% Wool superwash; 170 m / 186 yards per 100 g)
For short version:
• 1 (1, 2) skein in Cape Carnival
For slouchy version:
• 1 (1-2, 2) skeins in Cape Carnival
100 g / 170 m / 186 yards used for the sample size M, slouchy
Needles
4.0 mm / US #6 circular needle (80 cm / 32" in length) or DPNs
4.5 mm / US #7 circular needle (80 cm / 32" in length) or DPNs, or size to obtain gauge
Notions
tapestry needle
9 stitch markers
crochet hook size 5.0 mm / US #8
3 pieces of smooth waste yarn (around 30 cm / 12" long)
GAUGE
20 sts x 42 rows = 10 cm / 4" in garter stitch after blocking, with thicker needles
SIZES
head circumference:
S M, L / 51 56, 61 cm / 20 22, 24"
FINISHED MEASUREMENTS
height: 18.5-22.5 (21-25, 23.5-27.5) cm / 7.25-8.75 (8.25-10, 9.25-10.75)" tall from CO to top
circumference: 44 (48, 52) cm / 17.25 (19, 20.5)" unstretched
Shown in size M on a 57 cm / 22.5" circumference head.
SKILLS REQUIRED
knit and purl, increases and decreases, special techniques are explained (by video)
The pattern comes in written instructions.
----------------------------------
Cape Carnival, oder auch "Tweede Nuwe Jaar" (2. Neujahr) genannt, ist ein Tag, der einzigartig in Kapstadt ist und aus Praktiken im Zusammenhang mit der Sklaverei stammt. Mitte des 19. Jahrhunderts erhielten die Kapsklaven am 2. Januar jeden Jahres einen freien Tag von ihren Pflichten. Während dieser alternativen Neujahrsfeier verkleideten sich die Sklaven als Musikanten und tanzten rhythmisch zu den Klängen von Banjos, Gitarren, Trommeln, Pfeifen, Posaunen und Tubas. Der Kap-Karneval ist eine Feier zum Überleben einer Gemeinschaft. Es veranschaulicht die Kontinuität zwischen Vergangenheit, Gegenwart und Zukunft. Es ist ein Tag, an dem die lokale Arbeiterklasse, die Sklaverei, Segregation und Apartheid überlebt hat, ihre Existenz und Ausdauer feiert.
Die Zopfmaschen sind ein Symbol für die Musikanten, die für den Wettbewerb zum Greenpoint-Stadion marschieren.
Die Mütze wird von unten nach oben mit einem elastischen Maschenanschlag gearbeitet. Es wird in Krausrippen und in Runden gearbeitet. Kurz vor dem Schliessen der Krone werden die Zopfmaschen gearbeitet.
Das Muster eignet sich hervorragend für stark wildernde Garne. Da die Zopfmaschen durch heruntergefallene Maschen erzeugt werden, empfehle ich ein glattes Garn, das sich nicht so leicht verzahnt.
HILFREICHER LINKWie du den deutschen, verschränkten Maschenanschlag strickst
https://youtu.be/9OK3lvRuvKk
MATERIALWolle
Cowgirlblues Merino DK (100% Schurwolle, superwash; 170 m pro 100 g)
Für die kurze Version:
• 1 (1, 2) Strang in Cape Carnival
Für die lange Version:
• 1 (1-2, 2) Stränge in Cape Carnival
100 g / 170 m für das Beispiel gebraucht (Grösse M, die Krone nach 20 cm gestartet)
Nadeln
4.0 mm Rundstricknadel (80 cm lang) oder Nadelspiel
4.5 mm Rundstricknadel (80 cm lang) oder Nadelspiel, oder Grösse um die Maschenprobe zu erhalten
Sonstiges
Wollnadel
9 Maschenmarkierer
5.0 mm Häkelnadel
3 Reste eines glatten Garns (à ca. 30 cm)
MASCHENPROBE
20 M x 42 R = 10 cm in Kraus rechts nach dem Waschen, mit dickeren Nadeln
GRÖSSEN
Kopfumfang: S (M, L) / 51 (56, 61) cm
FERTIGE MASSE
Höhe: 18.5-22.5 (21-25, 23.5-27.5) cm, gemessen vom Maschenanschlag bis zur Spitze
Umfang: 44 (48, 52) cm ungedehnt
Gezeigt in Grösse M mit Kopfumfang 57 cm.
ERFORDERLICHE STRICK – FÄHIGKEITEN
rechte und linke Maschen
Zunahmen und Abnahmen
spezielle Techniken werden mittels Video erklärt
Die Anleitung kommt in schriftlicher Form.