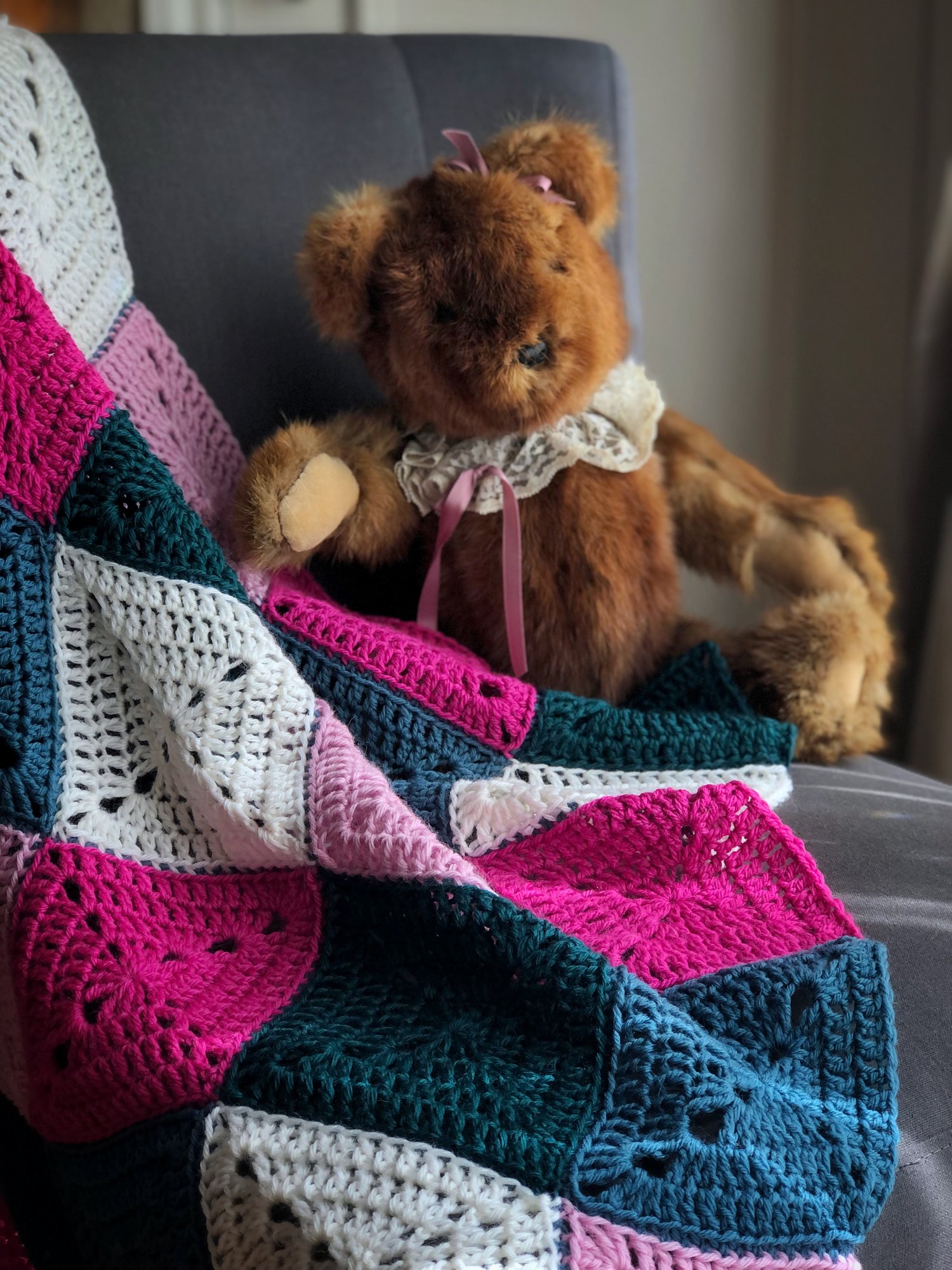 Wonky Blocks Blanket (crochet)
DIGITAL CROCHET PATTERN
Inspired by English paper pieced quilts, this blanket combines squares and diamonds in a playful, off-kilter grid. Knitters will enjoy the meditative garter stitch with simple increases and decreases, constructed in columns using a join-as-you-go technique. Crocheters can whip up stacks and stacks of center-out shapes in basic double and treble crochet to be quickly assembled a few at a time or all at once. Work one up in whatever size you need using any weight of yarn. Make yours a scrappy stash-buster or a precisely planned showpiece!
Looking for the knit version? It's here.
This pattern was designed in conjunction with the 2023 Fiberside Summer Yarn Crawl, a virtual event throughout July and August featuring tours of dozens of yarn shops across North America. Your purchase of a $10 All Access Pass to the crawl includes a code to download both the knit and crochet versions of this pattern for FREE! Visit FibersideChats.com for more details.
YARN
This pattern was designed to look good with any weight of yarn. If you're worried you may not have enough of that weight in your stash, try holding multiple strands of a lighter yarn together to achieve the same weight. For example, by holding two strands of fingering weight yarn together to approximate DK, you can use up some of your sock yarn leftovers and your sweater leftovers at the same time!
For gauge, yarn requirements, and sizing, see photos
COLORS
Whether you choose a small, curated palette or go wild and scrappy, your blanket is sure to dazzle! If you're struggling with choice paralysis, here are few strategies I would recommend:
Focus on one side of the color wheel. Maybe grab all the blues and greens from your stash, or all the pinks and purples. Using a range of hues that have a common primary color can create a cohesive look, even in a scrappy project.
Stock up on neutrals for something a bit more subdued. If you get bored, you can always throw in a pop of neon for funsies!
Take inspiration from your favorite work of art. Give it a good stare, allowing your eyes to blur, and jot down what colors jump out at you first.
Use the diagram at the end of this pattern as a coloring page and have fun!
CONSTRUCTION
This blanket is constructed in individual blocks, alternating solid granny squares with solid granny diamonds. Instructions are provided in both written form and diagrams. I've also created video tutorials to walk you through both shapes:
ASSEMBLY
You are welcome to attach your blocks to one another a few at a time or assemble them all in the end. Either way, I've compiled a video of several different ways to piece them together. This is not an all-inclusive list, of course, but a few of my favorites:
TOOLS
Scissors
Tapestry needle
Stitch marker (optional)