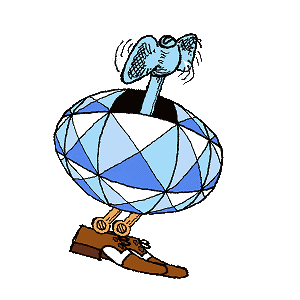 About Ludwig
Ludwig is a mechanical being with a love for the music of Ludwig van Beethoven. One day, magpie brought him in from who knows where. But Ludwig has decided to stay in this neck of the woods and learn from the animal residents. A kind of 'Martian Lander' in reverse. From his cavernous egg-shaped body, he produces everyday objects, mostly discarded, or lost by children. To understand what these objects are and our world, Ludwig presents them to the animals and watches what they will make of them. Things inevitably go wrong, and he must find ways of fixing things up, which is not easy for one who has no concept of 'up'. Eventually, Ludwig takes out a musical instrument, plays Beethoven's beautiful, pastoral music and lets the animals sort things out for themselves.
Peter Lang writes:
"Ludwig, is a cut-out animated series I made with my father, Mirek."
"We left Czechoslovakia, following the Russian invasion in 1968. In Prague, Mirek had been a current affairs programme director/writer/producer. He started making films for the weekly cinema newsreels for Pathe before and during WW2. But after the war, under the communist regime, he had problems because he refused to join the communist party. With 'Prague Spring' in 1968, things briefly eased, and he could work again. But after the August invasion by the Warsaw Pact the bad old days were back. We left everything and drove to a new life in England."
"In London Mirek quickly realized that he couldn't continue in his field and decided to turn to animation. He was interested in the 'Lateral Thinking' books by Edward de Bono and came up with the idea of animated stories, made from abstract, cut-out shapes, an ideal subject for someone who never learned to draw. He was good at making contacts and managed to accumulate a number of influential friends in television."
"Soon the camera, a borrowed, spring driven, 16mm Bolex bolted to a large dexion frame, started rolling, (or to be exact, shuffling forward at a frame at a time), in the box-room of our rented flat in Swiss Cottage."
"He spent a few years contributing the 'Cuckoo Clock' and 'Mr Blue' animations to the BBC's Tony Hart's 'Vision On'. Then, Monica Sims, the then head of BBC Children's, asked Mirek to make an animated series."
"Initially, Ludwig was going to be called 'Kikiriki', cockle-doodle-doo in Czech. Mirek was essentially writing a fictitious documentary, something he did a lot of at newsreel, when there was no news. He was interested in how an alien would interact with a group of resident characters. Now why would he need to know that?"
"At first his stories were considered a touch too surreal for children's TV. Also, Mirek's grasp of the English language left a little to be desired. So, he drafted in Jane Tann, the wife of the producer of Vision On, Patrick Dowling, to help both creatively and linguistically. I became the second writing unit with my friend, Susan Kodicek. Also, having just left art-school, I became the designer, creating the artwork for the series."
"Jon Glover did an excellent job, providing the voice of the narrator, the ever-present bird-watcher."
"Eventually, we began running out of time. It was a big job for just the two of us, the broadcast date was approaching, and we had to get on with the animation. We worked two shifts. I animated the day shift, Mirek the night."
"The sound and the editing were outsourced to a small post-production company, David Yates Ltd, in Chiswick. They found Paul Reade, who skilfully arranged Beethoven's music and recorded it. Alan Rogers, my future partner in The Cut-Out Animation Company designed the end credits."
"Ultimately, we finished the series in time. But not all 25 episodes were ever shown on the BBC. The series was sold by BBC Enterprises who had the initial distribution rights. It was very popular in France and Canada and on Captain Kangaroo in the US. It aired in Israel, Switzerland and countless other countries but it never made its money back due to BBC enterprises' high overheads. Eventually Ludwig was returned to us.
"A few years ago, Ludwig was affectionately lampooned as Orlov on Charlie Brooker's 'How TV Ruined Your Life'. You can see it on YouTube."
"In February 2020, the entire series was shown twice on the big screen at the Barbican in London to mark the 250th anniversary of Ludwig van Beethoven's birth. The programme guide described the event as "The animated icon of 70s kids' TV Ludwig – a surreal, mischievous, Beethoven-playing ovoid – returns for a new generation, with live soundtrack from the Guildhall School's Electronic Music department and live narration from the voice of the original TV series, Jon Glover."
"Mirek died in 2005, aged 87. Going through his things I found the Ludwig negs. We were never happy with the quality of the original broadcast prints. The colours of my artwork were rich and vibrant, but the broadcast prints weren't up to much. Then, I found a company to digitize and restore the shows for a reasonable fee. I felt I owed it to Mirek to halt the ageing-decay of the original hard work and went ahead. Once the material was digitized it wouldn't deteriorate any more. We then tweaked the colours. I have to admit I am very pleased with the restored Ludwig."
"Ludwig is an enigma. Many people remember it with fond befuddlement from their childhood. I get occasional emails asking about its actual existence and the availability of DVDs from fans with children and grandchildren. Unfortunately, DVDs are expensive to produce, and my garage would not be big enough to store the unsold ones, even if I had one."
"I hope you enjoy watching Ludwig with your family and friends but please, do not resell it, redistribute it, or use it for any other commercial purposes, porpoises or even tortoises. Ludwig is now yours to keep forever or at least until the next great technological upheaval renders it unplayable."
Thank you.