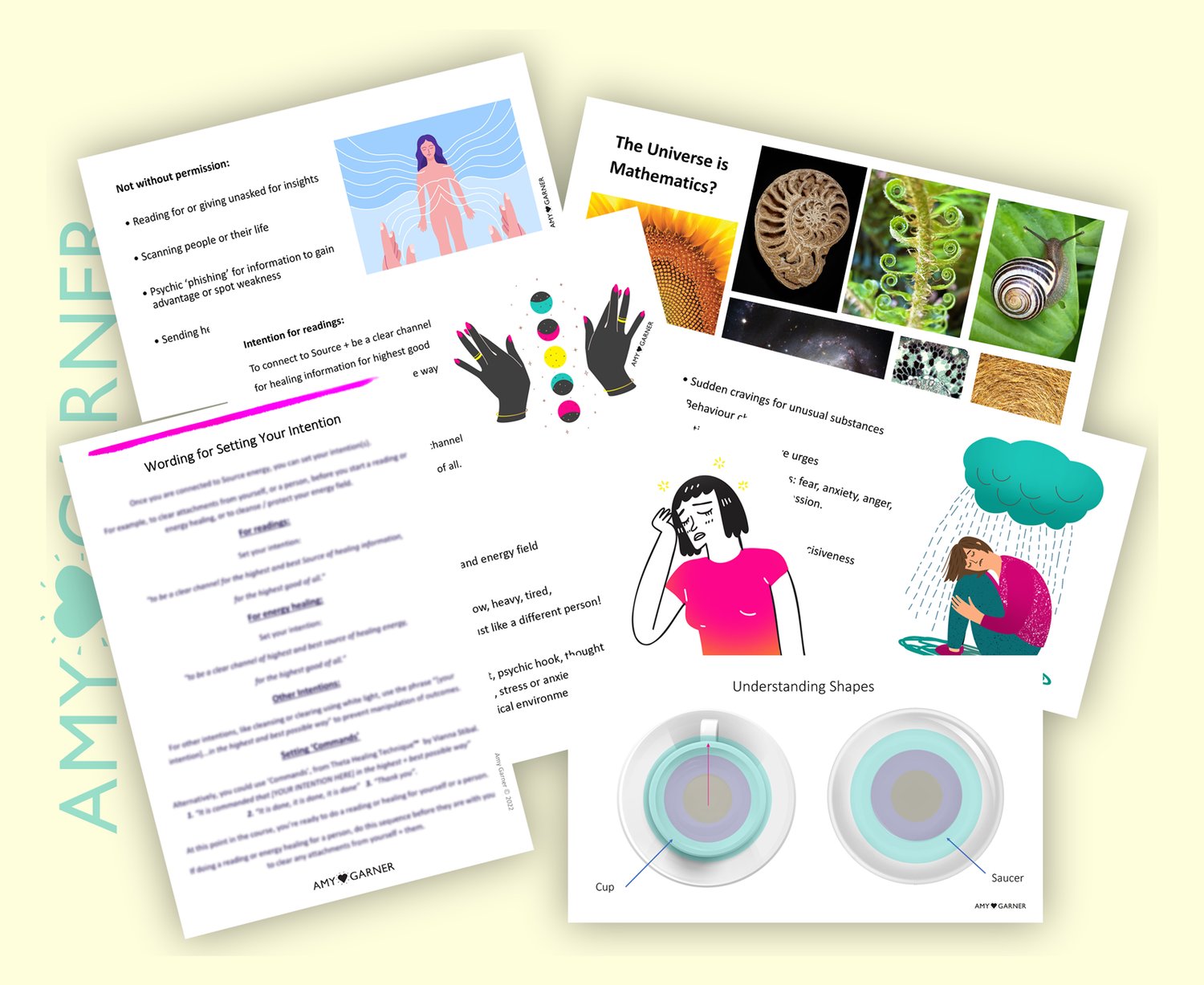 Healing + Intuition – Unlock Your Abilities in 60 Days or Less
Online Course for Highly Sensitive Empaths.


Be Your Own Guru – ​Unlock Your Intuitive Abilities + Healing Gifts in 60 Days or Less!
Lifetime Access to Course + any future live Q&As!

Course Summary
You'll learn everything you need to 
do psychic readings + energy healing at home.
Taught by professional psychic + energy healer with
20+ years experience.
Specifically designed
for highly sensitive empaths.Find your own voice + uncover your unique gifts.

Give the
gift of insight + energy healing
– to yourself, friends + family.
You will build confidence + strong foundations as a reader + energy healer.
Disclaimer: Side effects may be personal + professional transformation.

How The Course Works
After completing the Pre-Course Preparation, the course Modules are:
1.0 Fundamentals of Healing + Intuition
2.0 Know Your Psychic Toolkit
3.0 Energy Healing + The Human Energy Field
4.0 How to Improve Your Skills + Gifts
5.0 Ethics + Good Practice for Intuitive Healing
6.0 Build Your Confidence + Mindset
The course is a combination of
theoretical concepts, step-by-step guides + practical exercises.
Lessons within each Module are delivered in easy-to-digest:
Short videos
PDF Step by Step Guides
Audio exercises
Worksheets + Student Notes
Learning is a combination of
Watching videos
Taking notes
Doing the exercises

Plus:
A daily practice (5 minutes), preferably in the morning
To get results, you will also need to practice giving readings + energy healing to friends + family.
Who is this Course for?
 This course is
for you
if:
You are a highly sensitive empath.
You want to open up + accelerate spiritually, intuitively + energetically.
You have a sincere wish to help yourself – and maybe others.
You want a safe, grounded + stable learning path + teacher.
You want to create firm ethical foundations for future intuitive exploration.
You are familiar with me + my work (optional).
Who is this Course not for?
This course is
not for you
if:
You are a skeptic or spiritually closed.
You expect a secret sauce hack to instantly enable intergalactic spiritual powers.
You're in crisis, instability or recent trauma.
My current therapy clients cannot be live students.
This course does not certify you to work professionally with the public but can enhance existing qualifications.

* Contact me for certification options: info @ helloamygarner. com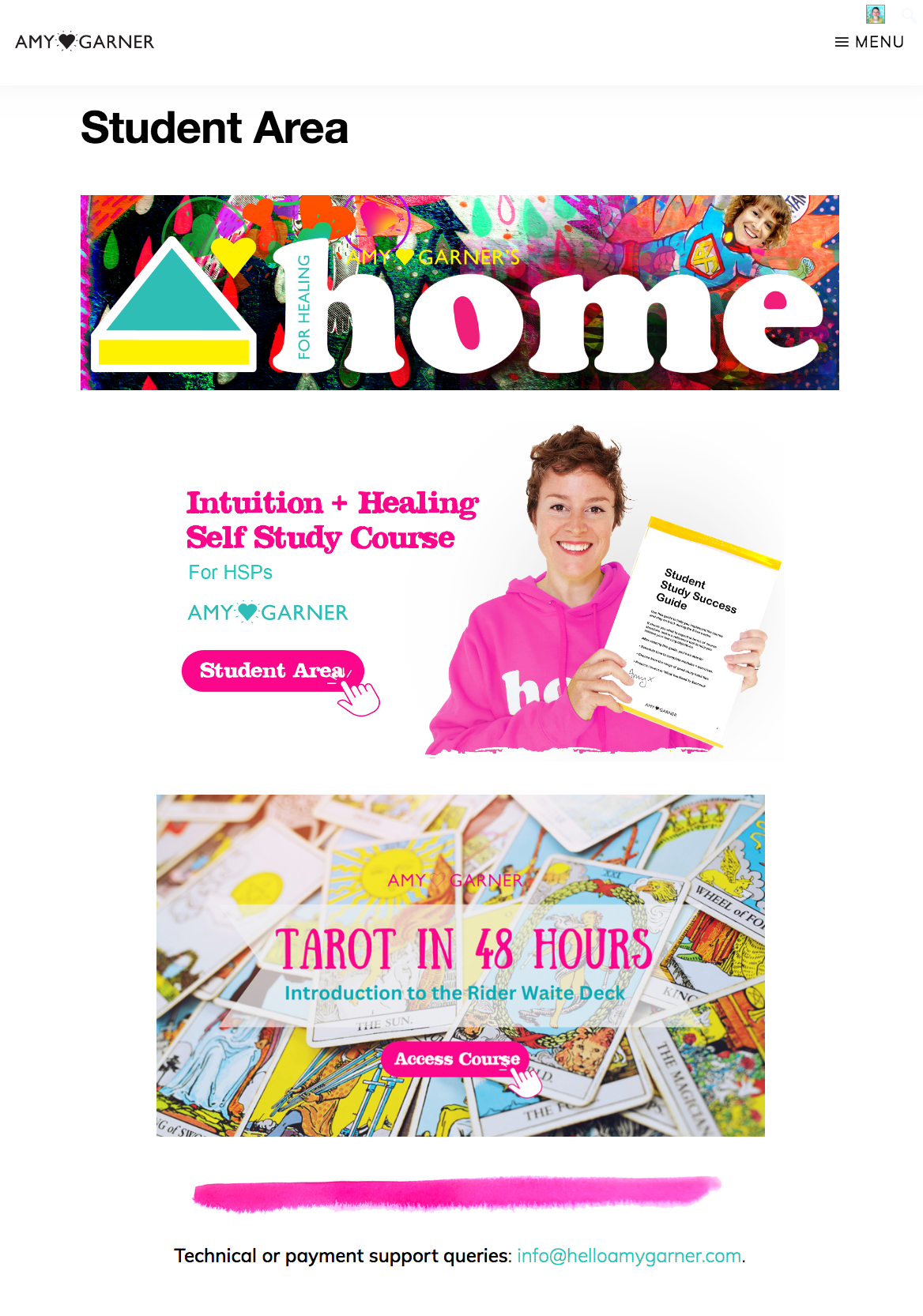 What You Get:
You will immediately get a PDF download with a link + password to access the Preparation Module.
This will be followed shortly after by log-in details for the main Members Area + your free Bonuses.
Course Content:
Guided Meditation Techniques for new Healers + Readers
How to Set Up Your Space
Intention, Connection + Disconnection
Grounding + the Root Chakra
Using The Heart Chakra for Healing
Cleansing + Clearing to Remove Spirits + Negativity
7 Psychic Tools Explained with Experiential Exercises
Practices to Develop Your Psychic Senses
How to Do Intuitive Readings – for yourself, as well as in-person + remote for others
What Questions to Ask
Future Prediction
How to Build Trust + Rapport
Ethics: Guiding Principles + Your Mission Statement
Connect with Higher Self, Angels, Guides + Ancestors, Source Energy
The 7 Planes of Consciousness
How to Protect Yourself, Connect + Stay Spiritually Safe
How to Raise Your Vibration + Become a Clear Channel
HSP Self Care, the Nervous System + Energy Management
Mental Health Issues + Dependency
Using White Light for Positive Outcomes
Exactly How to Do Ethical Energy Healing for Yourself, Friends + Family
How to Heal the Chakra System + Human Energy Field
Confidence + Mindset for new healers + intuitives
Belief Work: How to Identify + Heal Limiting Beliefs
Clear Mental Interference + Gain Confidence in Your Abilities

Plus:
Access to Any Future Live Q&As (Autumn 2023 dates TBA)
Lifetime Access to Course Content
"The course exercises kick-started a very deep + personal journey.
This had a knock on effect in all areas of my life.
I am listening [to my intuition] + acting on it with confidence!" 

Anne McLinden, Nottingham, UK, December 2022

More Testimonials
Bonuses
You get
automatic access
to the following free bonus trainings:
Free Bonus 1:
Tarot in 48 Hours Course
– Learn the Rider Waite Deck + Get Going!
Free Bonus 2:
Work With Angels Masterclass
with master healer Cherry Emery, UK.