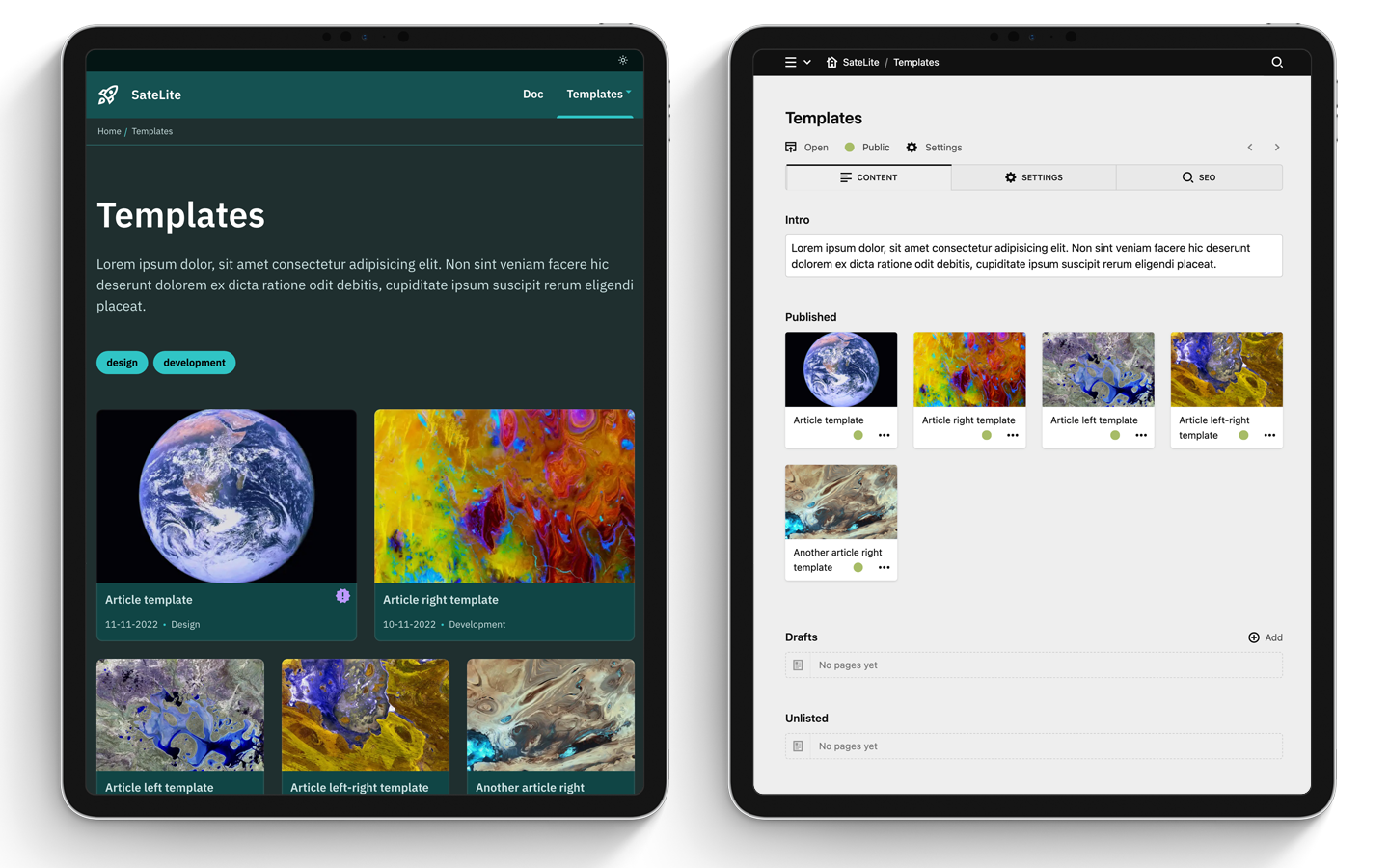 SateLite – theme for Kirby CMS
On Sale
SateLite for Kirby CMS
Kirby
is a file-based Content Management System, your content lives in text files and folders – no database involved. The lack of database makes a breeze of installation, backups and updates. 
SateLite offers a nice set of features, so you can kick off your website in no time.
Visit the
SateLite demo site
Updates
25-01-2023: Kirby update 3.9.0, update Markdown field and Kirby Fields block.
16-12-2022: Kirby update 3.8.3. Stylesheet adjustments; implementation of CSS Logical Properties. 
17-11-2022: Release of SateLite.
Features
Dedicated homepage and five templates;

Collection page, a table of contents for all pages in asection.
Article template, a single main column with adjustable widths.
Article right template, a main column with a sidebar on the right.
Article left template, a main column with a sidebar on the left.
Article left-right template, a main column with sidebars on the left and right.

Easy default menu or define a custom menu, with specific pages and optional subpages.
User controlled dark or light mode.
Layout the site footer to your liking.
Optional display of a logo, upload specific versions for light and dark mode, and adjust the size.
Instructions for the use of theme colors in svg logos and the use of icons.
Four color palettes (Blue, Indigo, Teal and Gray) to choose from. Colors can be adjusted according a predefined range. Colors can also be set per template allowing for different colors in certain sections of the site or when using multiple languages, per language.
Display the site name next to your logo, or use it on it's own.
Set the language code.
Date formatting options.
Twitter card integration.
Optional use of Google analytics.
Optional use of breadcrumbs navigation.
Define categories to be used in article templates.
The theme is ready for the use of multiple languages.

Available Blocks for building pages
Layout content in multiple columns and choose from 22 Block types:
Heading
Text
List
Quote
Table
Line
Code
Markdown
Image
Gallery
Video
Accordion
Button
Note
Pages
Slider
Thumbnail Slider
Tabs
Feature Slider
Random Image
Navigation
Social Media